The Amazing Junk Stackers of Palermo
Traders and travelers at Italy's historic port city of Palermo are perfecting the delicate art of stacking as much as they can on cars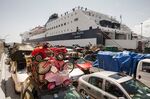 Since Phoenicians founded the city of Palermo in 734 B.C.,  the Italian port city has been a beacon for the Mediterranean's rich tradition of sea trade and commerce. Today a new form of sea trade has taken shape, as immigrants and merchants fight to make ends meet amid economic turmoil in Europe.
 Every Saturday, hundreds of  Tunisians gather at the port of Palermo for the ferry to Tunis. Some are weekly commuters going home for the weekend or a holiday, while others are professional salespeople who go back and forth as often as possible. All are carrying something to sell. 
Rusty bikes, old scooters, mattresses, unwanted furniture, stoves, ovens, and even the kitchen sink are stacked precariously on vans and even small hatchbacks for the journey home, or to a potential buyer. 
Like their ancestors, the traders and travelers exchange more than objects. This modern sea trade is keeping alive the Mediterranean's strong history of integration and the mixing of cultures, despite strict European immigration laws.