Rest in Peace for Less With Caskets Made in China
Armed with cheap Chinese imports, a Las Vegas entrepreneur takes on Big Casket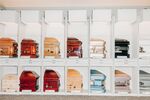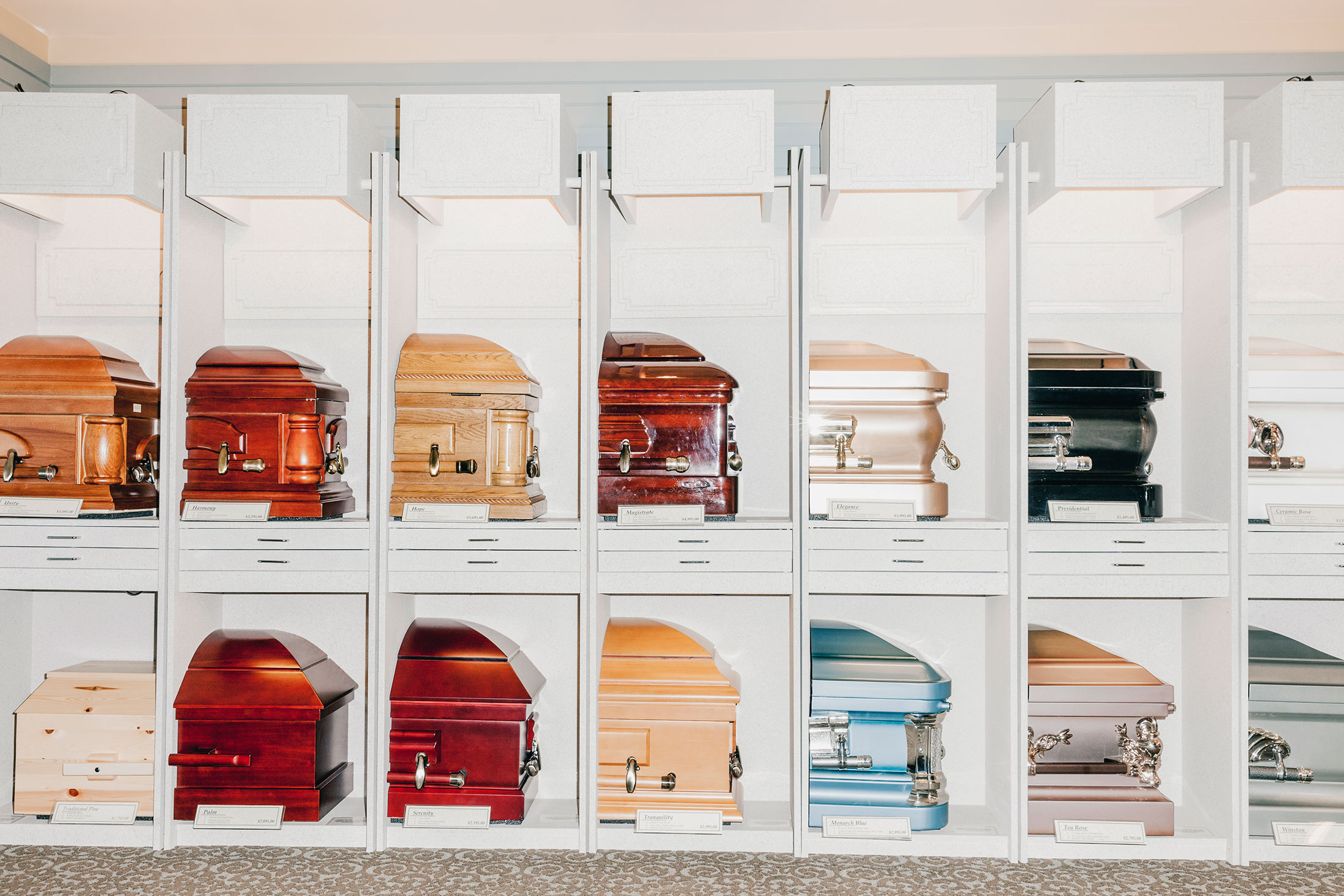 When Jim Malamas finally sat down to dinner with Steve Tzelalis, he knew his cousin was tired. Tzelalis had been up since 4 in the morning and working his shift at a Las Vegas strip club since 6. Haggling with liquor distributors. Glad-handing the daytime crowd. Auditioning talent. Malamas knew he would be in no mood to drive a casket into the middle of the Mojave Desert.
A peppy Greek Canadian with heavy bags under his eyes, Malamas, 58, owned a local company called ACE Funeral Products. A buyer in Los Angeles had missed a 4 p.m. deadline to have a casket shipped by FedEx. Meeting him halfway, in Barstow, Calif., would be a five-hour schlep. But ACE was young and feisty—one David up against the Goliath that has controlled the industry for decades. If a body needed a box, ACE was going to deliver. "This is a customer service business," Malamas told Tzelalis that night, sometime in the middle of 2009. "Sometimes you gotta suck it up."
Malamas and Tzelalis tucked into their food as they waited for the buyer to call and arrange the meeting, and when he did, Malamas signaled for the check. Tzelalis sighed, his belly full. "I'm coming with you," he said.
The company truck, an old U-Haul that Malamas had retrofitted with load-bearing shelves, sat in the restaurant lot. In the back lay a knockoff of the most popular casket for women in North America: the Primrose, made of 18-gauge steel with a crepe interior. The three major casket manufacturers that dominate the market sold the U.S.-made item for as much as $1,500. Malamas built his almost identical model in China, advertised it online, and charged $408. It was, after all, only a casket; it just had to look good for one day.
As the cousins turned south onto Interstate 15, night fell on Vegas. Casino lights pulsed on the Strip. At the edge of town, they passed the Silverton and the Grandview—buffet specials and $2 blackjack. And then: desert.
Tzelalis drove, and Malamas strained to be heard over the engine, which topped out at 55 mph. Revenue was doubling annually. How could they sustain that growth? What was ACE's next move? As they got close to the rendezvous, Malamas's phone rang every few mile markers.
Tzelalis pulled off at Exit 198 and cut the engine on the north side of the freeway. There was nothing but a few derelict signs and a shuttered gas station. The only light came from the stream of headlights on I-15.
The buyer pulled up in a Chevy Suburban. His name was John Kirk, the president of White & Day Mortuaries, a string of five L.A. funeral parlors. He had brought some extra muscle. Even without a body, a Primrose weighs 180 pounds. The four men shook hands. Tzelalis chuckled.
"What are you laughing for?" Kirk asked.
"If California Highway Patrol comes by," Tzelalis said, "they're gonna think there's some shenanigans goin' on."
After the men transferred the casket, they snapped a group photo, shook hands again, and returned home—the buyer to his corpse in cold storage and a funeral the next morning, and Malamas to his base of operations and his war on Big Casket.

By importing from China, Malamas has followed a well-worn outsourcing playbook that's upended markets for American-made goods from electronics to bedroom furniture. Working with four factories outside Shanghai, he imports 40-foot containers holding 64 caskets apiece and sells them to funeral homes and regional distributors for a fraction of the price. There is plenty of potential: In the U.S., caskets are a $1.6 billion business.
And yet since that night in the Mojave, Chinese casket imports haven't gone as planned—for Malamas or anyone else. His revenue has stumbled. Where almost every other American manufacturer has failed to keep Chinese exports at bay, the casket industry has succeeded. Through aggressive litigation against importers, xenophobic admonitions to consumers, and good old-fashioned palm-greasing of funeral directors, Big Casket has made sure that 9 out of 10 Americans go into the ground in boxes made in the USA.
"The funeral industry has had a goddamn easy ride for the last 150 years," says Joshua Slocum, the co-author of Final Rights: Reclaiming the American Way of Death and executive director of the Funeral Consumers Alliance, a Vermont nonprofit. "Why aren't as many caskets imported as Chinese dishware? It defies all known rules of supply and demand."

Salmon and chinchillas brought Malamas to caskets. A Canadian citizen, he ran a fishery outside Vancouver in the late 1980s. His wife's relatives had a chinchilla farm, and one year he accompanied them to China to explore investment opportunities. One morning in Heilongjiang province, Malamas says, he woke up to find a crowd of budding capitalists camped outside his hotel room—toilet seats, umbrellas, and other knickknacks in hand, hoping to impress him and gain entree to Western markets.
Malamas sold the salmon farm soon after that trip, and he's been importing from the Middle Kingdom ever since: flashlights, playing cards, even stadium seating for the Dallas Stars hockey team and the 2010 Vancouver Olympics. He spent years riding the wave of Chinese imports that was drowning America's manufacturing base.
In 2005, Malamas bet on caskets to become the next American industry felled by China. The field's Big Three companies—Hillenbrand, Matthews International, and Aurora Casket—controlled 70 percent of the market. Hillenbrand, more commonly referred to by its subsidiary's name, Batesville, and Matthews are publicly traded, with a combined market cap of $3.8 billion. Aurora was acquired by Kohlberg, a private equity firm in Mt. Kisco, N.Y., in 2012 for an undisclosed sum. Death is expensive: The average funeral costs $6,460, according to the National Funeral Directors Association. A full quarter of that price is the casket. Hillenbrand, Matthews, and Aurora declined to comment for this story, as did the NFDA.
China Daily, an English-language newspaper, hasn't been able to resist the puns—"China Seeks to Bury the Competition" and "A Matter of Grave Import." Dan Isard, president of Foresight Cos., an Arizona-based consultant to funeral homes and cemeteries, predicted early on to the Cincinnati Business Courier that by 2025 at least 75 percent of the caskets buried in the U.S. would be produced in China or other countries with cheap labor.
Malamas named his new company American Casket Enterprises, later changed to ACE Funeral Products. He kept overhead to a minimum. He's never had U.S. employees, and he still manages his business with a laptop, iPad, and toll-free hotline that routes directly to his smartphone. Early business was brisk. Revenue in his first quarter of operations, in 2005, was $60,000; it shot to $750,000 the next fiscal year and $3 million in 2008. Malamas still cackles with delight when he remembers those heady times: "We were taking out a showroom every 10 days. Ha!"

For much of the last century, funeral services were sold like prix fixe meals: Buy a casket and get embalming, transportation, and other services included. Then, in 1972, the Federal Trade Commission began a decade-long investigation into the industry's anticompetitive practices. In 1984 the FTC passed the Funeral Rule, which ended prepackaging and forced funeral homes to provide price sheets and offer services and products a la carte.
The law also requires funeral homes to let consumers bring their own casket at no charge. Malamas was far from the first to spot an opportunity. Online retailers began appearing in the late 1990s, and Costco jumped into the game in 2004, to much media coverage.
The casket business has railed against imports since the earliest days of Internet sales. "The caskets you get online are inferior, yes they are," Pat Lane, then-spokesman for the California Funeral Directors Association, told Wired in 1999. "Let's say your next-door neighbor dies, and the family buys a casket online. We put her in the casket, take four steps up the stairs at the ceremony, and Mom falls out the bottom."
In 2005 the Funeral Consumers Alliance filed suit against large funeral home operators and the Big Three casket manufacturers, alleging that the industry had conspired to inflate prices by boycotting and disparaging casket importers and online retailers. A judge denied the suit class-action status, and the FCA settled out of court in 2012.
Even boosters admit Chinese casket imports were initially of low quality. Colors and fabric textures were off. Poorly packaged caskets were damaged on the two-week journey across the Pacific. Malamas's early products sometimes had shoddy paint jobs, with embedded pieces of lint. U.S. manufacturers continue to beat the quality drum today, even as industry analysts say differences are now negligible.
Unlike with other Chinese imports such as smartphones, TVs, and microwaves, there are only so many ways to upsell a customer on a casket. Rubber-sealed caskets, for example, which are implied to be water- and air-resistant, cost more. But their preservative qualities have been called dubious. Several states, including California, require that funeral homes warn in placards on showroom walls, "There is no scientific or other evidence that any casket with a sealing device will preserve human remains."
To keep business, Big Three reps visit homes, meet families, and buy steak dinners. Funeral directors are often induced to sign nondisclosure agreements in exchange for discounts and goodies, such as the installation of casket showrooms.
Some funeral directors feel a patriotic duty to stick with the Big Three, analysts say. The industry still supports more than 3,300 U.S. workers, according to IBISWorld, an Australian market-research company. But protectionist instincts have their limits. Isard of Foresight Cos. tells the story of a funeral home client in North Carolina. A community built on manufacturing hardwood furniture, the area had itself been devastated by Chinese imports and was struggling with a 12 percent unemployment rate. Isard's client began carrying Chinese caskets, displaying them on the left of its showroom, with American models on the right. The former were a third to half the price. After six months, 70 percent of families were choosing imported. "When given the choice, it's just a box with a quilt," Isard says.

When Malamas entered the market, Big Casket moved quickly to defend its turf. In 2006 a Matthews subsidiary filed suit, alleging that ACE and its Chinese supplier were copying its designs. Matthews also sent letters to funeral homes and distributors, threatening to sue if they continued to buy from Malamas.
As the litigation dragged on, early customers bailed. Malamas had $2 million in legal fees. A judge almost detained him in Texas. Malamas says financial worries led his wife to divorce him.
"It was a nonsense lawsuit," says Isard, who's interviewed Malamas on his podcast at FuneralRadio.com. "But it slowed him down. The Big Three made their money back on legal fees many times over," he says, by keeping in the fold funeral home clients who might have switched to Chinese caskets.
Malamas—whose Twitter bio reads "Never Quit!!!"—got scrappy. In Las Vegas, his first cousin once removed is Pete Eliades, a Greek immigrant turned Sin City legend. "Uncle Pete" owns the city's Yellow, Checker, and Star taxi companies, the Pro Gun Club in Boulder City, and the Olympic Gardens (OG) strip club where his cousin Tzelalis worked. Eliades draws enough water in Las Vegas to give Malamas a little swagger.
In 2007, Malamas was at a funeral industry trade show in Vegas when a lawyer from Matthews approached. "He said, 'You're not supposed to be here,' " Malamas recalls. "He was a big, tall guy! But I said, 'Hey, buddy, we're in Vegas. I make a call, and in five minutes I got two gorillas here that make you look like a midget.'" Malamas laughs. "But I was quivering inside!"
Uncle Pete's strip club had its business-development uses on that trip as well. After staring down the Matthews lawyer, Malamas took more than 30 funeral directors to the OG. "I told 'em, 'First lap dance is on me. Don't go in the VIP room. Don't give anyone your credit card,' " he says.
In 2008, Malamas wooed White & Day Mortuaries—the L.A. chain whose president would later meet Malamas in the desert—away from York Casket, a subsidiary of Matthews. The industry-standard markup rate on caskets is 125 percent, Isard says. It can be far higher on a cheap model from China. White & Day buys the popular Mandarin, a 20-gauge steel unit, from Malamas for $338 and sells it for $2,495, a markup of more than 700 percent, while still charging competitive prices to customers.

Funeral homes, like the casket industry, are contending with the increasing popularity of cremation. The ripening crop of baby boomers, the oldest of whom are now 69, was supposed to be a windfall. Instead, cremation is offsetting those gains. In 1960 fewer than 4 percent of dead Americans were cremated, according to the Cremation Association of North America. In 2012 the figure was 43 percent and is expected to continue rising. Cremations cost less than a third of traditional funerals. At most funeral homes, the priciest urn costs less than the cheapest casket. "U.S. manufacturers have had a lock for a century," says David Nixon, a funeral industry consultant in Illinois. "But they are pricing themselves out of business." For companies such as White & Day, Chinese caskets and their fatter margins are a lifeline.
Distribution remains perhaps Big Casket's greatest defense. Aside from a few large chains, most of the $16 billion funeral home industry comprises mom and pop operations that annually perform about 100 "calls," industry parlance for funeral or cremation events. Most of these businesses are too small to justify buying caskets by the container load. The Big Three, however, deliver single caskets within 24 hours through well-oiled distribution channels. Chinese casket importers have tried to keep up. Place an order by 4 p.m. ET, and Best Price Caskets, a Dallas-based online retailer, will deliver a casket anywhere in the U.S., including Alaska and Hawaii, the next day.
ACE customers have to do more planning: A 40-foot container takes six to eight weeks to travel from factory to funeral home—longer around Chinese holidays. A funeral director needs to do at least 150 calls a year to justify importing a container. White & Day handles about 500 calls a year. To ensure a constant stock of Malamas's goods, the company last year extended a storage shed at its Pacific Crest Cemetery in Redondo Beach, Calif., and rebuilt a larger warehouse after a fire at its funeral home in nearby Gardena. On a recent winter day, the two facilities housed roughly 225 ACE caskets, boxed in cardboard and queued up like giant dominoes, each stamped with MADE IN CHINA and scribbled with their model names and delivery dates: Elegance 1/23; Harmony 12/3/14; Tranquility 12/3/14.
ACE eventually prevailed in the lawsuit with Matthews in 2012, and the company's Chinese supplier picked up most of the legal tab. But by then, Malamas's revenue had been cut in half, his clients were spooked, and the business was in shambles. He's since battled back and says his revenue is increasing again. "I cried for six months after that mess," Malamas says. "But they can't stop me. I'm bulletproof."
Meanwhile, the casket industry looks much the same way it did in 2005. Chinese imports are stuck at around 5 percent of the U.S. market, according to trade data and industry analysts. Imports of Chinese-made metal and wood caskets totaled only $119.7 million in 2013. But Big Casket isn't in denial about the realities of global trade. Both Batesville and Matthews have outsourced some manufacturing to Mexico. Isard predicts it's only a matter of time before the Big Three look to China or other cheap locales for their own production needs. If that happens, ACE and other importers will be fighting over the same suppliers.
Malamas says he isn't worried about that yet. On a recent night, he's speeding toward Las Vegas with a Winston casket in his truck bed and a Burger King coffee in hand, plotting his next lines of attack. A friend might open a warehouse in Reno, which would let Malamas crack the Pacific Northwest and Northern California markets. He's also making plans for the day that awaits us all. "It's gonna be a big party," Malamas says about his own funeral. "No cryin'. Just booze and laughs." And, presumably, a Chinese casket.
(Correction: It is some state laws, not a federal law, that requires funeral homes to post placards about sealed caskets.)