Find Our Style Director
A New York Fashion Week Where's Waldo? adventure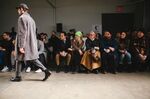 Like classic children's book star Waldo before me, I've become synonymous with my choice of headwear—a neon-green knit beanie—as well as my ever-changing whereabouts. It's an occupational hazard (actually, joy) as style director for Bloomberg to always be on the move. What better chance, then, to take you behind the scenes at all the venues and moments that make up the biannual frenzy known as New York Fashion Week?
So this year, instead of just shouting "Where's Nic?!" to an empty office chair, my editors had photographer Joshua Woods hunt me down on my work-related rounds. From the front row to backstage to chaotic presentation-style debuts, he managed to track my trademark pop of head-topping color, and even caught me taking a rare break.
You've all seen Fashion Week street style, but now you can dive straight into the business-side hubbub yourself. Play along below. You may just learn something about the industry along the way.

There is no such thing as "downtime" between shows at New York Fashion Week, what with upwards of 6 to 12 events a day peppered all over Manhattan. Editors, retailers, and influencers have to find places to station themselves—like the press area or cafes inside the tents at Lincoln Center—to answer e-mails, file story copy, and network it up with fellow industry professionals. Here inside the tents, I was double-dipping in a conversation with Jonathan Evans, the fashion director for retailer East Dane, and a publicist for a young brand called Onia (which makes incredible swimwear, by the way).
Row 1 is the best seat in the house, not because everyone can see you (despite contrary belief by the blogosphere), but because you can see everything. When you're that close to the actual clothes—which is the point of this circus, after all—you can see what makes the collection special, details such as contrast stitching, subtle shifts in fabrication, and choice of hardware. In the case of Perry Ellis by Michael Maccari (seen here), it was the unexpected layering.

Despite the onslaught of big-name designers (Michael Kors, Diane von Furstenberg) taking their shows from Lincoln Center to smaller, downtown venues, the cultural complex on the corner of 63rd Street and Columbus Avenue, known as "the tents," is still headquarters to NYFW. Complaints that the show space has gotten too commercial led to a reconfiguration that reduced seating capacity (for a hopeful return to exclusivity) and increased backstage space for designers. Two of my favorite shows at the tents this season were put on by Todd Snyder and the always impressively styled J.Crew (where, coincidentally, Snyder was once head of menswear).

Sometimes if you (or your brand) have a special relationship with a designer, it's a thoughtful sign of support to go backstage to send your best wishes or congratulations. This was my first time backstage preshow at Richard Chai (excellent outerwear for him and her, by the way), but hugging it out with my dear friend Billy Reid after his show has become a Fashion Week tradition of mine some seven seasons running. Reid, for the record, is not only a supreme talent, but also a genuinely kind and awesome man.

It's a treat to be able to sit down for a legit meal when the show schedule is full, or spread out hectically about the city. So since you never know when your next meal will be, having a go-to spot to refuel near and around every venue is smart planning (especially to get Wi-Fi, if you're perpetually on deadline—like me). By Lincoln Center, that spot is The Smith. Here, I'm breaking bread (actually: vanilla bean French toast) with my Fashion Week roll dog, associate market editor Moti Ankari.

A few seasons ago, a PR agency called Agentry created an NYFW event they dubbed Men's Day. Here, a handful of younger independent menswear brands get together to show their collections—under one roof, at the same time. The format is set up kind of like a trade show (sometimes with more space for an actual runway of sorts), which can become chaotic because there's a lot happening at once. It's grown so much in a few short seasons that they now do a morning and an evening session with a different lineup of designers. It can get overstimulating to overwhelming, but I like supporting (and discovering) emerging talent.

Some designers (like David Hart, seen here) wisely opt out of issuing a seating chart (a painful and time-consuming process, says every fashion publicist ever) and instead hold what we call a presentation. Some are static, where the models stand in one place for the duration of the show, and others involve an ongoing walkabout of the run-of-show. Both can be just as effective as an elaborate runway production—and perhaps more so, as you have more time to get up-close-and-personal with the clothing.

Gotcha! OK, this may not have been a Waldo clone–type situation, but that jolt of neon seen in this snap outside the Diesel Black Gold show on Wall Street isn't attached to me. But note two trends here: neon hats (you heard it here first) and labels showing at unexpected, nontraditional venues such as boutique hotel rooftops, art galleries, and … outside the New York Stock Exchange? Welcome to the business of fashion.
Nic Screws is the style director for Bloomberg. Follow her and her neon beanie (which is made by American Apparel, by the way) beyond New York Fashion Week on Instagram and Twitter.