Ten Flattering Coats to Wear This Winter
Plus, a tour of some of Dumbo's best street art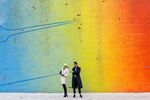 Every February, the gods of fashion play a little cosmic joke by sending an army of fussily dressed editors, bloggers, and buyers into the snow-slicked streets of Manhattan for a week's worth of runway shows. Watching the well-coiffed throng navigate the slushy sidewalks in heels and monkstraps is almost a spectator sport, but staying heated in the bitter cold is serious business. Now, we know that even though you're probably not headed to Fashion Week, this is just about the moment in winter when you get tired of your old coats. So we sent our style director, Nic Screws, and our market associate, Moti Ankari, to Barneys New York on a mission to find great outerwear looks to share.
And since they will be running around to the fashion shows this week, our boss decided to warm them up by forcing them to model the looks as well. The idea is to inspire you creatively, so we used the most dizzying street art we could find in Brooklyn's Dumbo neighborhood as backdrops. (The loft-filled area has a growing presence at NYFW: Buzzy brands such as Alexander Wang and Dior have all shown nearby, and Moncler will be there this season.)
Bring on the cold, New York: We've got this covered.