Ruth Bader Ginsburg Isn't Giving Up Her Fight for Women's Rights
The Supreme Court justice's biggest battle begins with the male majority sitting next to her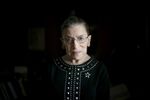 For much of the last half-century, Ruth Bader Ginsburg led the drive for women's rights. These days, she spends lots of time on defense. 
In disputes over equal pay, birth control and abortion access, the 81-year-old U.S. Supreme Court justice is battling a Republican-appointed majority she has accused of undercutting the ability of women to participate equally in the economy. 
Her increasingly pointed dissents — she called a 2007 ruling upholding a ban on some abortions "alarming" and said a 2014 decision limiting contraceptive coverage had "startling breadth" — have made her a symbol for her cause, venerated by fans with songs, T-shirts and tattoos. 
And while those arguments might not have won over her male colleagues, Ginsburg says she isn't giving up. 
"I was a law school teacher," she said during an interview in an oak-paneled conference room at the court, surrounded by portraits of the first eight chief justices. "And that's how I regard my role here with my colleagues, who haven't had the experience of growing up female and don't fully appreciate the arbitrary barriers that have been put in women's way."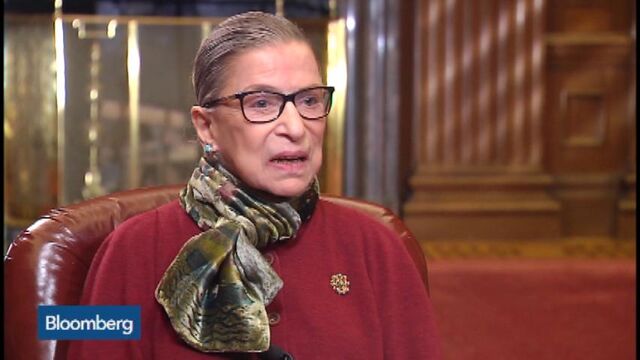 Her voice will again stand out between now and late June as the court deals with blockbuster cases on gay marriage and President Barack Obama's health-care law, as well as on lethal-injection drugs. The nine justices will also rule on an issue that goes to the core of her legacy — the workplace rights of pregnant women. 
Those cases will test the leadership mantle that Ginsburg has assumed since Justice John Paul Stevens's 2010 retirement left her as the senior member of the court's liberal wing. She has used that status most visibly in dissent, challenging the majority on point after point while articulating her own vision of the rights protected by the Constitution. 
"Certainly since Justice Stevens stepped down, but even before, she has been the backbone of the lawyerly approach to a liberal or progressive understanding of the Constitution," Harvard Law School Dean Martha Minow said. 
There was a time when Ginsburg used less-sweeping terms in her push for gender equality. As an advocate in the 1970s, she made her mark as an incrementalist, recognizing that pushing an all-male Supreme Court too hard could prove counterproductive.

The approach worked. As the first director of the Women's Rights Project at the American Civil Liberties Union, she won five of the six Supreme Court cases she argued, each victory representing a step toward the ultimate goal. 
Ginsburg succeeded in part through shrewd selection of clients. She won cases on behalf of an Air Force lieutenant whose husband wasn't given the housing and medical benefits offered to military wives; a widower seeking the same Social Security benefits as widows; and a murder defendant convicted in a state that made jury duty optional for women. 
"She's one of the very few members of the Supreme Court whose careers before were as memorable as their careers on the court," Minow said. 
Ginsburg's 1993 appointment by President Bill Clinton made her the court's second female justice, joining Sandra Day O'Connor, and the first with experience as a women's rights advocate. Three years later, she applied the equal protection principles she'd long advocated, writing the court's decision that let women attend the state-run Virginia Military Institute. 
Her role on the court began to shift in 2006 when O'Connor retired. That left Ginsburg as the lone female justice -- and as a more frequent dissenter, given the views of O'Connor's successor, Samuel Alito. With Alito in the majority in 2007, the court voted 5-4 to uphold a federal ban on a procedure that opponents called "partial birth abortion." 
In dissent, Ginsburg said the majority's thinking "reflects ancient notions about women's place in the family and under the Constitution." 
Although the Supreme Court hasn't ruled in another abortion case since then, states have enacted more than 200 new restrictions — regulations that Ginsburg says target poor women. 
"If the woman has the means to go to a neighboring state, if she can buy a plane ticket or a bus ticket and afford the cost of the procedure, she's safe," Ginsburg said in the interview. "And she and her daughters will always have the choice. The people who don't have the choice are poor women."

In another 2007 case, Ginsburg managed to win by losing in a gender-discrimination case filed by Alabama factory worker, Lilly Ledbetter. The court said on a 5-4 vote that workers can't claim that their current paychecks are affected by discrimination that occurred years earlier. 
Ginsburg wrote that the majority "does not comprehend, or is indifferent to, the insidious way in which women can be victims of pay discrimination." 
She called on Congress to overturn the ruling. Lawmakers obliged in 2009, and Obama signed the measure into law nine days after being sworn in as president. 
Since 2010, Ginsburg has been one of three women on the court and the senior justice of the four Democratic appointees. The latter position means she often has the prerogative to write the main dissenting opinion. 
She did just that in 2013, when a 5-4 court threw out a core part of the landmark Voting Rights Act of 1965, citing reduced incidents of discrimination as a reason. Ginsburg said the majority's approach was "like throwing away your umbrella in a rainstorm because you are not getting wet." 
That Ginsburg dissent, along with one that same year in an affirmative action case, proved inspirational to Shana Knizhnik, a law student at New York University. Knizhnik let out her frustration by creating a Tumblr site dedicated to her favorite justice.

It bore the provocative name Notorious R.B.G. and quickly became a go-to site for Ginsburg enthusiasts, now with 55,000 followers and a T-shirt.
Ginsburg's dissents "have really struck a chord with the left and young people in a way that I don't think we've seen before," Knizhnik said in an interview.
The justice herself became a devotee — after her clerks explained that the site was a play on the stage name of the late rapper Notorious B.I.G. — and even has her own collection of T-shirts, which she gives out as presents.
"I think it's amusing," Ginsburg said of the blog. "It's quite well done. There are some serious things on it. There are some funny things."
Not everyone is so enamored. Ginsburg has taken "a very political approach to the role of judging," said Carrie Severino, chief counsel of the Judicial Crisis Network, a Washington-based group that began as an effort to win confirmation for Republican-appointed judges.
"Justice Ginsburg is smart and a very hard worker," Severino said. "Unfortunately, because her judicial philosophy lends itself to importing political preferences into her decision-making process, her overall influence has been to unwaveringly push the law to the left." 
While she may be a source of political controversy, Ginsburg's measured side still surfaces. In 2012, when looking back on the 1973 Roe v. Wade decision, she said the court moved "too far too fast" by going beyond the abortion restrictions that were at issue in the case and legalizing the procedure nationwide.
 By all appearances, that approach by Ginsburg is helping to shape the court's handling of gay marriage. In September, she said that as long as federal appeals courts were unanimous in legalizing same-sex weddings, the Supreme Court need not intervene. 
The high court agreed to hear arguments only after the first federal appeals court ruled against such nuptials. The delay has given gay marriage more time to become entrenched — and perhaps accepted — around the country. New lower court rulings have increased the number of gay-marriage states to 37, plus the District of Columbia. 
Ginsburg said Wednesday that the American people are prepared to accept a ruling legalizing gay marriage. She said Americans had become far more accepting of gay people in recent years. 
"It would not take a large adjustment," she said.
Even in her ninth decade, Ginsburg shows few signs of slowing down. Though she had trouble staying awake during last month's State of the Union address, the current high court term has only burnished her reputation as the unstoppable justice. In October, she worked until the early morning hours to issue a 5 a.m. dissenting opinion in a voter-identification case. 

The following month, she heard arguments five days after having a stent implanted in her heart. That was nothing new for a justice who previously missed no time while successfully fighting breast and pancreatic cancer. She took the bench in 2010 the day after the death of her husband, Martin Ginsburg. 
The Ginsburgs had been one another's mainstays for more than half a century, dating back to their days together at Cornell University and their marriage in 1954. Both were students at Harvard Law School — Ruth among a handful of women — when Martin contracted testicular cancer.
The future justice cared for him and went to his classes for him, all the while tending to her own studies and looking after their young daughter.
She finished her legal studies at the top of her class at Columbia Law School after he got a job in New York. She tasted discrimination firsthand upon graduation. She found herself unable to get a job at a major law firm and secured a clerkship only when a top professor at Columbia pressured the judges on the federal district court in Manhattan.
Ginsburg said she still sees signs of what she calls "unconscious bias" toward women. One thing that might make a difference, she said, is a female president.
"But I have to add a caveat," Ginsburg said. "I know we have seen women heads of state in Israel, in India. And that doesn't necessarily mean that the rest of society will progress along the same lines."
Ultimately, she says she's confident that bias won't last.
"Yes, there are blind spots," Ginsburg said, "but in time they will go."
—With assistance from Matthew Winkler in Washington.