Israel's U.S.-Born Ambassador Tangles with the White House
Ron Dermer began his career working for Republicans in Washington. Now he's arranged for his boss to visit with them—without waiting for a welcome mat.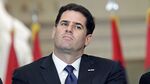 The annual Christians United for Israel conference is a big summer gathering for U.S. conservatives. Last year's began days after Israeli Defense Forces launched attacks on Hamas strongholds in the Gaza Strip, and Israel's ambassador to the U.S., Ron Dermer, was making one of his first major public appearances since Prime Minister Benjamin Netanyahu had sent him to Washington. As he spoke, a clamor broke out: Protesters unfurled banners with pro-Palestinian slogans. The ambassador leaned into his microphone. "There is a section for moral idiots in the back of the room," he snapped. "Why don't you join your friends?" Security hauled the protesters out, as Dermer called for IDF soldiers to win "a Nobel Peace Prize for fighting with unimaginable restraint."
Dermer, an American-born political strategist, earned the nickname "Bibi's brain" during the years he spent as Netanyahu's senior government adviser and speechwriter in Jerusalem. In Washington, he's become Bibi's id. Last month, Dermer arranged for Netanyahu, who has close ties to Republican leaders, to address a March 3 joint session of Congress on the subject of Iran's nuclear weapons program. Some Israelis saw it as an attempt to boost Netanyahu's political standing at home, where he faces a tough election on March 17. Republicans saw it as a way to undermine Obama's foreign policy. In a major breach of protocol, Dermer failed to clear the speech with the White House first. On Jan. 28, the New York Times ran a story citing unnamed administration officials who blamed Dermer for putting Netanyahu's political fortunes ahead of Israel's standing with the president. Obama will not meet with Netanyahu during the prime minister's visit.
The next day, White House Press Secretary Josh Earnest reminded reporters that Israel's former President Shimon Peres and Dermer's predecessor, Michael Oren, had both just publicly criticized Netanyahu for accepting the invitation. (Oren is running for a seat in Israel's parliament with a new splinter party rather than Netanyahu's Likud.) "This relationship between the United States and Israel is bigger than any single diplomat," Earnest said at his daily briefing. "It's an alliance that shouldn't be turned into a relationship between two political parties."
Dermer began his career working for Republicans in Washington. In 1993 he was an assistant to pollster Frank Luntz, his former University of Pennsylvania professor. At the time, Luntz was helping Newt Gingrich craft his Contract With America, the strategy that led to a Republican takeover of Congress in 1994. Luntz was also responsible for Dermer's move to Jerusalem: He suggested that his assistant, whose mother was born in Israel, go work for Natan Sharansky, the former Soviet dissident who was then beginning his political career in Israel.
Since 2000, when he went to work for Netanyahu, Dermer has been a natural bridge between the conservative Israeli leader and his Republican counterparts in Washington—a figure who speaks the political language of both sides with ease. "Ron's seen as the consigliere supremo to the prime minister," says Illinois Republican Senator Mark Kirk, who's led the congressional push for new Iran sanctions. Netanyahu backs tougher penalties, despite repeated veto threats from the White House, which argues sanctions could derail nuclear negotiations.
Some Democrats have rumbled about boycotting the March 3 speech. Vice President Joe Biden hasn't said whether he'll join Netanyahu in the House chamber. "I've met [Dermer]. I've had very good conversations with him," says Connecticut Democratic Senator Chris Murphy, who sits on the Foreign Relations Committee. "My hope is just that this is a play for domestic political advantage by Netanyahu, and his ambassador was carrying out his wishes."
Initially, Dermer responded to the uproar by shifting blame for his apparent failure of manners to the office of Speaker John Boehner, who previously hosted Netanyahu in 2011. He told reporters later that he thought Boehner would let the White House know about his invitation to Netanyahu, who will be in Washington to speak before the annual convention of the American Israel Public Affairs Committee, a group that strongly backs Iran sanctions. Dermer even met for two hours with Secretary of State John Kerry on Jan. 20, one day before Netanyahu's speech was announced, but never mentioned it.
"I'm not trying to be partisan here," Dermer says. "We do have an issue that threatens the survival of our country. I do not want to be involved in your partisan politics, and I will do everything I can to repair any misperceptions about that." He calls the Luntz connection "media baggage" and fuel for a "false narrative" that he's a Republican operative. He plans to meet every member of Congress and has already sat down with 82 members of the Senate from both sides of the aisle. "I did not encounter skepticism toward me personally," Dermer says. "I've tried very hard not to get sucked into political debates."
Dermer's defenders ask why he was ever expected to stay out of politics in the first place. They point to a long history of Israeli involvement in U.S. politics—and vice versa. Bill Clinton's longtime advisers James Carville, Bob Shrum, and Stanley Greenberg were instrumental in ousting Netanyahu from the prime minister's office in 1999, when they went to work for Netanyahu's rival Ehud Barak, a Labor politician more receptive to Clinton's efforts to broker a peace deal with the Palestinians. Jeremy Bird, Obama's national field director in 2012, is in Israel doing grass-roots organizing for a group called V15 (Victory in 2015), which doesn't back any particular party but aims to replace Netanyahu as Israel's leader.
"It's pretty obvious what's going on here," says Noah Pollak, the executive director of the Emergency Committee for Israel, a group that's run campaign ads in New York and other heavily Jewish areas linking Democratic congressional candidates to the White House's policy of engaging with Iran. "The Israelis have the most to lose if Obama cuts a bad deal with Iran. It seems to me that the administration's goal right now is to shut them up by attacking the most credible spokesman, and that's Ron Dermer."
The already frayed relationship between Obama and Netanyahu may now be torn beyond repair. Dermer and his boss might believe that, with Republicans in control of Congress, there's no need to play nice with a president who differs with them on Iran, has openly criticized their approach to handling the Palestinian issue, and whose advisers have disparaged Netanyahu in the press. At the end of January, Dermer gave an interview to the Atlantic's Jeffrey Goldberg in which he insisted that talk of an international feud was totally misplaced. "The prime minister and the president have disagreed on issues," he said, "but the prime minister has never intentionally treated the president disrespectfully—and if that is what some people felt, it certainly was not the prime minister's intention." But he couldn't resist tweaking his critics. On Super Bowl Sunday, he sent out a tweet from his official account: "Breaking protocol, choosing sides. Go Patriots."
This story appeared in the Feb. 9-15 issue of Bloomberg Businessweek.
—Correction: An earlier version of this article incorrectly stated that Illinois Republican Senator Mark Kirk sits on the Foreign Relations Committee.