A Target and a Threat: What It's Like to Be a Black Cop in America
Officer Darren Sims is on the street every day fighting for his neighbors and his life. One morning it looked like he had to choose.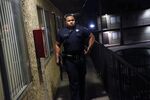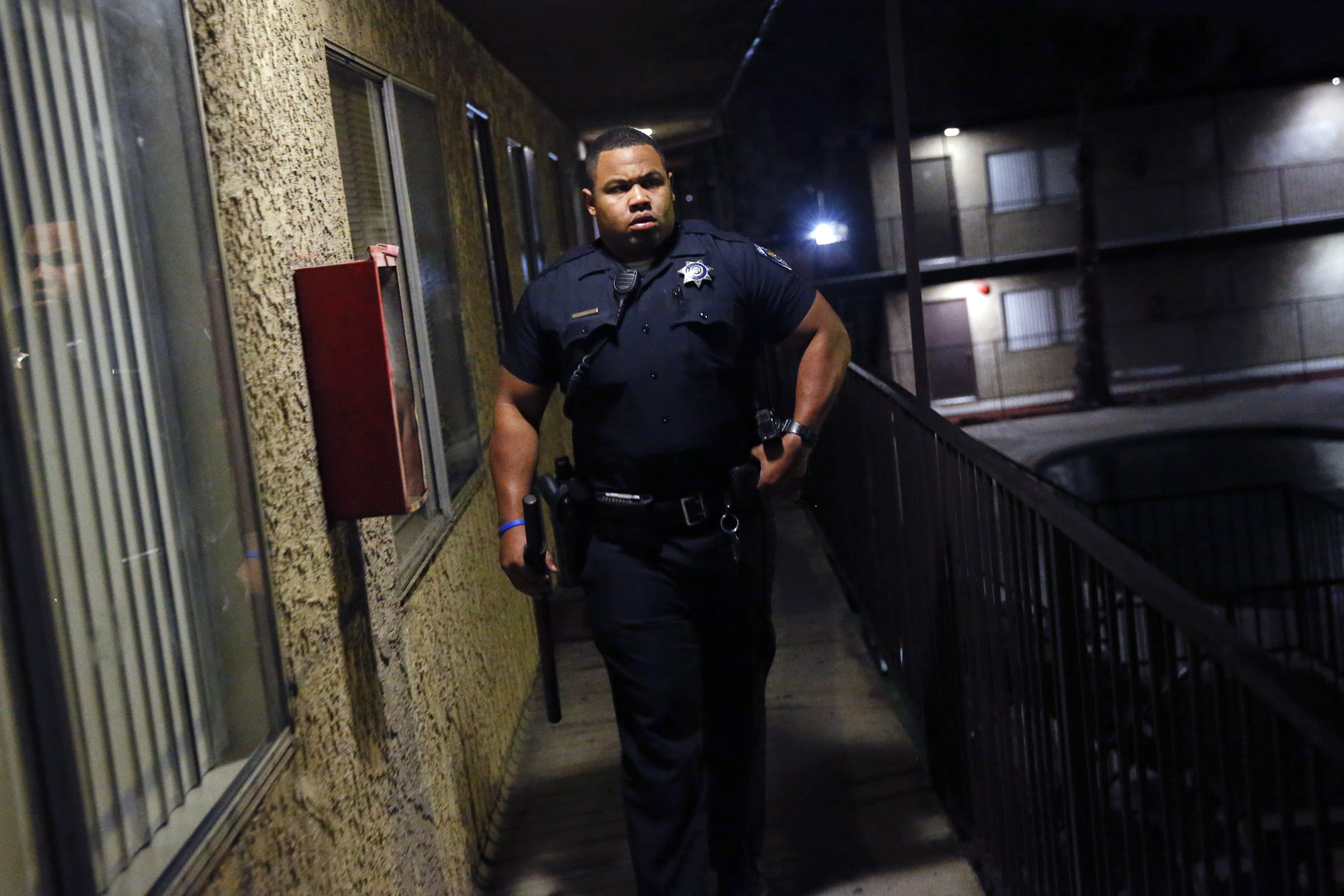 Officer Darren Sims was first to answer the 5 a.m. call about a man lying in the street, perhaps shot. Sims spotted him and, near his left shin, a 9-millimeter semi-automatic. Sims kicked the gun to the curb and pocketed it. The body sprang to life, thrashing and bellowing, "I'm going to kill you!"
"I'm away from my patrol car, there's no concealment, there's no cover, there's nowhere for me to go," recalled Sims, a 29-year-old rookie cop in San Bernardino, California.
What Sims did next that night defies the efforts of activists and politicians to draw clear lessons from encounters in which race and luck play opaque roles. The two black men were struggling on a street in a town that's 60 percent Hispanic, with a police department that's almost 60 percent white. Sims's dilemma was whether to respond with his gun, hands or persuasion, whether to preserve a life or take it.
The July 14 incident was pivotal in Sims's first year patrolling the Southern California city. It played out in the days preceding the fatal shooting of teenager Michael Brown in Ferguson, Missouri, and the chokehold death of Eric Garner in New York, black men killed by white police. Protesters, and in some cases rioters, filled the streets, assailing law officers for resorting too quickly and too often to deadly force.
For Sims, the combination of black skin and blue uniform makes him feel, by turns, like a threat and a target. Last summer, his beat partner almost died after being shot in the head, an event that still haunts him. He empathizes with minorities who feel unfairly treated, yet he's also been the target of their scorn. As an officer, he says, he upholds the law, regardless of a lawbreaker's race.
San Bernardino, a city of 214,000 people 60 miles (97 kilometers) east of Los Angeles, has long been one of the most dangerous of its size. Things have gotten only worse after the city in August 2012 declared bankruptcy. The police force has shrunk to 230 officers from more than 350. Homicides surged to 46 in 2013 from 32 in 2009.
Those numbers are why Sims, who grew up in nearby Riverside, wanted to join the department: Higher crime means more people in need of protection. In August 2013, he was sworn in, following stints counseling troubled youth at group homes, supervising park workers in nearby Moreno Valley and playing football at Kentucky State University.
Sims describes those drawn to policing as protectors of everyday citizens—sheep—from criminals intent on doing harm—wolves.
"Racism does exist," he said on a recent day after an all-night shift. "I don't believe it's the underlying factor, the underlying thing, that drives law enforcement to oppress a certain person, a type of people, a certain demographic of people."
Superiors describe Sims as eager to please and eager to learn. Lieutenant Richard Lawhead, the police spokesman, says the department would give anything to hire 100 more officers like him.
Sims is one of just 21 blacks on San Bernardino's force; 9 percent of sworn officers are black, compared with 15 percent of the population. Whites compose 59 percent of the department and 19 percent of the city. Hispanics are the most underrepresented minority, at 28 percent of the department, versus 60 percent citywide. 
Some of the loudest criticism has been over the failure of police agencies to reflect the communities they patrol. When Brown was killed in Ferguson, outside St. Louis, just four of its 53-member force were black. In New York, 52 percent is white, compared with the city's 33 percent. Nationally, whites made up 75 percent of all sworn police personnel in 2007, the latest year for which U.S. Justice Department data are available.
Diversity is essential but elusive, said San Bernardino Police Chief Jarrod Burguan. Screening whittles the applicant pool, often disproportionately along racial and socioeconomic lines. A felony is an automatic disqualifier, he said, one that a quarter of blacks nationwide had in 2010, compared with 6 percent of whites, according to the Washington-based Sentencing Project. Of the last batch of 508 candidates, only three people, all whites, made the final cut.
"We cannot go down the road of filling our ranks with people that have no business doing this job just simply to make something look right on paper," Burguan said. "We've got a responsibility to make sure that the people who are wearing a badge and carrying a gun for a living and do the things that we empower police officers to do are the best possible people we can get our hands on."
It takes only one fatal slip to destroy years of work building community trust, Burguan said.
That danger was in the air July 14, when Sims found himself in a neighborhood known for gangs and drugs. The dispatcher had told him the 26-year-old man was lying in a pool of blood, according to the report Sims later filed. As Sims approached, he saw only vomit and smelled alcohol.
"Everything in my body was telling me to turn around and get away," Sims said.
Sims pinned the man's back with his knee, did a quick search for weapons and announced he was there to help. The man began raging, abrading his face and shoulders as he ground his head on the pavement. He fought Sims's attempts to handcuff him.
Sims did a mental check of what the man could use against him: a department-issued Glock 21, a Taser, baton and pepper spray on his belt, a knife and the confiscated gun in his pocket, and perhaps something Sims hadn't found.
"If he's willing to fight me, he's probably willing to take a weapon out and use it against me," Sims recalls thinking. "I got called out there for one thing and it ended up being completely different."
He pressed his bulk harder on the struggling man.
Sims has the 5-foot-10, 260-pound (118 kilogram) stature of the football player he once was. He has a fade touched up weekly by a childhood barber friend, a baby face and a joviality that earned him the nickname Baloo, after the bear in "The Jungle Book."
In uniform, his medium-brown skin invites taunts: Oreo, sellout, Uncle Tom. The ugly names have increased since Ferguson, Sims says. Now, as he approaches people, they'll often raise both hands and say, "Don't shoot," as some witnesses said Michael Brown did.
"They don't view us as being black," Sims said. "They view us as being a cop."
Those views were once his own. Growing up in a gang-infested neighborhood, Sims listened to rap music that glorified cop-killing, and shared his friends' conviction that police were to be shunned. Now, on patrol, he is reminded of that sentiment by "187 SBPD" graffiti, referring to the penal code for murder and the San Bernardino Police Department.
Sims credits an after-school schedule of football and religious activities, including choir and dance, for his ability to avoid the street life that ensnared many peers. His father worked two or three jobs to provide for him and his older brother, mostly as a mental-health counselor. His mother worked for a time as a 911 dispatcher for Riverside's sheriff's department.
Both instilled a respect for authority reinforced with a wooden paddle to the backside. "Rules are made for winners to win and losers to lose" is a phrase his father repeated often, Sims says.
The way to demolish barriers between police and community is a mutual exchange of respect, Sims says. He prides himself on talking with suspects as he would with his watch commander—or grandmother.
He changes his body language and vocabulary to mirror his interlocutor, asking young men what gang "set" someone is from while inquiring about the turf wars that drive much of San Bernardino's crime.
"My personality and who I am and how I treat people is the same," he said. "How I relate to people will be different."
Sims did most of the talking when he and his white beat partner recently responded to a black family's disturbance in an apartment complex. A man had called 911 after his younger brother came home drunk and looking to fight.
Amid a murk of tobacco smoke and dim lighting, Sims told the brother that he'd be better off sleeping elsewhere. The youth mumbled that Sims had done well for himself.
"Hey man," Sims told him, "we come from the same place."
In November, Sims bought a four-bedroom house outside San Bernardino in a subdivision a mile from a horse pasture, where he can leave his garage door open without worry. Friday through Monday, he makes the 30-minute commute for the 10-hour graveyard shift, beginning at 10 p.m.
Each night, before pulling his black-and-white Ford Crown Victoria out of the department's gated parking lot, he calls his parents to tell them he loves them. He says he's ready to kill but hopes he never will. On that July night, he came the closest he ever has.
Sims radioed to dispatch that he had the man pinned, but that he was resisting arrest. As the suspect tried to sit up, Sims made his decision.
He hooked the bend of his right arm around the man's neck and tightened, restricting the flow of oxygenated blood to the brain.
Sims described it in the report as a lateral vascular neck restraint, a so-called control hold.
Officers using neck pressure walk a fine line between restricting blood flow with a control hold and fatally cutting off oxygen with a chokehold. In New York, where police have banned chokeholds since the 1990s, Garner died from one.
Lawhead, the San Bernardino police spokesman, says Sims's technique is authorized to be used on a combative person.
Within seconds, the man had gone limp and lost consciousness. Sims handcuffed him, called paramedics and followed the ambulance to a hospital, where the man continued to threaten public safety and health workers. He was charged with and later pleaded guilty to felony assault of an officer.
The suspect was, however, alive, and so was the man who arrested him. Sims, confronting an unknown threat alone on a dark street, made the risky decisions that kept them both above ground.
"We get paid to put our life on the line, we get paid to step in harm's way," Sims said. "But it doesn't make it any less scary."
Since July 14, Sims said, he has a new first move when he responds to a call he finds even vaguely suspicious. He removes his gun from his holster and holds it concealed at his side.