The NFL's Trashtalker of Truth
The Seahawks' Richard Sherman is the most eloquent critic of his own league.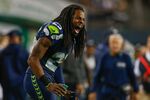 PHOENIX—The first thing you learn being in town during Super Bowl week is that this time of year makes everyone insane. There hasn't been a single story—not a single shrug—that hasn't been blown up into something massive since I got here. Seattle running back Marshawn Lynch answers every question with "I'm here so I don't get fined" and it turns into a culture war between the old-guard press and the new school. New England owner Bob Kraft interrupts a press conference to demand that the NFL apologize to him and the Patriots for the DeflateGate accusations, and it's the lead story on every newscast, sports and otherwise, in the country. Tom Brady pleaded in his much-derided press conference last week to keep this all in perspective, that "this isn't ISIS," and he was right: ISIS is the story you tease, maybe, after you've got Bill Nye's exclusive thoughts on air pressure. This is how the Super Bowl is now: It's the biggest media event in the United States and everything about it must be broadcast accordingly, at maximum levels. It'd give you a splitting headache if your ears weren't already filled with blood.
But the strangest thing about it may be that, despite the Super Bowl's screaming insistence, the one guy you would have expected to be at the centerpiece of every storyline this week has been so overlooked. Where in the world, I ask, is Richard Sherman?
It was only one year ago that Richard Sherman became the most ubiquitous athlete and media presence in the country. It only took a few seconds.
After that, the Super Bowl stopped being about Peyton Manning's attempt to pull an Elway and retire with a Super Bowl victory—a struggle that's still ongoing—or whether or not New York City's first attempt to host a Super Bowl would end up being railroaded by a sudden blizzard. It became wholly about Richard Sherman. Whether or not he was some sort of "thug." (He wasn't.) What it meant that so many people were tossing the world "thug" around concerning a guy who got straight A's in high school and graduated with honors from Stanford. Whether you should judge someone for 10 seconds of television, particularly directly after they've sweated and bled for four hours on a football field. Whether showmanship was actually a better, more honest replacement for "sportsmanship." 
Sherman backed all this up with not just his play—and he's generally considered one of the best cornerbacks in the NFL—but with his mouth. He's famous among reporters for being one of the most willing and eager interviewees in the league, happy to sit at his locker post-game for hours answering every question from every reporter. (In this way, he's the anti-Lynch.) He has said he wants to be a commentator when he retires so he can "keep talking." He even took it to famous ESPN bag-of-hot-gas Skip Bayless on live television, saying, "I am better at life than you."
Sherman hasn't stopped talking this week—he's basically everywhere you look here—but none of it has quite broken through amidst all the DeflateGate and Lynch kerfuffles. But that's what's so fascinating: He might be the only one we should be listening to.
Sherman—whose Blanket Coverage charity is considered among the most influential and altruistic in all sports—decided to use his sudden notoriety to expand his profile in a refreshing way, and that way, for most of this season, was to hammer the NFL. The NFL is a league that values anonymity for its players—they have witheringly short careers, and they wear masks—and is renowned for laying down the heavy boot on the neck of those players who dare criticize it. Yet Sherman, one of the 10 most well-known players in the NFL, has defied the league repeatedly this season. He has become perhaps the most outspoken player in sports.
In April, he wrote a piece for SI.com blasting the Philadelphia Eagles for its insinuations that wide receiver DeSean Jackson, whom the team had just released, had some sort of gang ties. (His masterstroke was to point out that the Eagles released Jackson for his "ties to gang activity" but kept fellow receiver Riley Cooper, who had just been caught screaming "I will fight every n----r here!" on tape, despite his "ties to racist activity.")
In May, he bashed the NFL and the Washington football team, claiming that the league, unlike the NBA, would not have kicked Donald Sterling out, given that they have a team with a racist nickname.
In November, after his teammate Lynch had been fined yet again by the NFL for not talking to the press, Sherman used his weekly media availability to put together a comedic skit that bashed the league for a number of policies, including but not limited to its hypocritical stand on player safety, its policing of its players' speech and its cold, clinical insistence on profit and endorsements over anything else.
 And just this week, he said that he didn't believe the Patriots would be punished by the NFL because Roger Goodell and Kraft were such good friends. This was just actually the day before a big GQ piece detailed just how deep that Kraft-Goodell connection went. 
Needless to say, no one talks like this in the NFL. Sherman is a dissenting voice in a league traditionally bereft of them, in a league that desperately needs them. (As Deadspin joked this week: NFL players should consider unionizing!) He has challenged the league in a way not even the media does: He has been far more critical of the league than the average NFL reporter desperate for insider scoops. And if his desire to become a talking head when he retires comes true—and as charismatic as he is, there's no reason to think it won't—he may just be getting started.
While we've all been focusing on deflated footballs and Marshawn Lynch's daily mockery of the sports media, Sherman has been right there, trying to guide us to the correct story, the one we should be talking about: The NFL's perpetual, megalomaniacal need for total control over its athletes, its image and its money. He's going to keep on talking about it. It's on us to listen.