For Lawyers, a Rocky Walk Down the Gay Marriage Aisle
On the verge of an historic decision, feuds erupt over credit and money.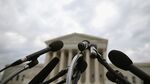 An historic triumph for gay marriage may be within reach this spring on the biggest possible stage, but attorney Dana Nessel's chief frustration at the moment is actually not anti-gay opponents. Rather, she's taking aim at an unlikely target: the biggest, richest civil rights and gay rights organizations, all of which have left her team to beg and scrape for the estimated $1 million they need to litigate at the Supreme Court. "Nobody even wanted us to file this case, they all tried to stop us, and even now they're not helping much," she says tartly. "The great irony is, we're the ones going to the Supreme Court."
Nessel and two other attorneys represent April DeBoer and Jayne Rowse, a lesbian couple from suburban Detroit who seek to wed in order to co-adopt their four children, two of whom have special needs. Their case is one of four that will be argued before the Supreme Court in April; the high court is expected to finally rule by June on whether it is unconstitutional to deny same-sex couples the ability to legally wed.
When the DeBoer case was filed in January 2012, Nessel says, the ACLU LGBT Project and the Lambda Legal Defense and Education Fund tried to dissuade the plaintiffs from suing for fear that a loss in Michigan could harm lawsuits in other, more amenable states. Then, when DeBoer made it past a series of legal hurdles, national and local gay-rights groups tried to muscle into the case, or used it for fundraising.
"Our clients are a private family, and if they want to pursue procuring rights for their family and nobody else is doing it, I don't think it's the place of these organizations to tell private citizens when they should assert their constitutional rights or shouldn't," says Nessel who, like her two co-counselors, has worked on the case for free for more than three years. "I have a problem when they try to sabotage a case that's pending because they're fearful there won't be a victory or they don't want someone else to achieve that victory without their name attached."
Meanwhile, Nessel and her allies have had a very difficult time raising their own funds to cover the expected $1 million in costs they expect to incur between now and June. The only non-profit committed to helping the group, the National Marriage Challenge, currently has about $47,000 in its bank account, a quarter of which is already owed for past court costs and other expenses, NMC treasurer Mary Barr says.
Nessel has gone hat in hand to local groups like Equality Michigan and national groups like Human Rights Campaign since the case first began in 2011, but her pleas have mostly been ignored.
"Per usual, I just had a big potential donor ask 'Why aren't any of the big orgs supporting you?' " she wrote Monday, via e-mail.
Nessel's ire is a reminder that, while the story of gay marriage in America is an heroic narrative created by the hard work of people both sung and unsung, it also has been—as such dramatic historical movements usually are—a struggle over credit, money, and tactics, as the bureaucracies of social change maneuver for control over the market of their product. The national groups have tried to claim a monopoly on sound strategy and tactics in the fight, even though most of the biggest gains in court have come in cases they initially advised against.
It is clear that Nessel, a family law attorney, continues to bristle at the implications that she and her colleagues aren't capable of appearing before the high court. "It was basically a matter of 'If you want to give us your case, we will handle the case and you won't have to handle it anymore,'" she says. "But there really was not an offer of, 'Oh, you can still do the case and we'll give you financial assistance and then whatever kind of other assistance you need in the background.' It was, 'We'll argue your case for you. We'll take your case.' We really felt as though we had the ability to do this, we just needed the financial support."
Similar feelings in other states
Nessel isn't the only little guy to complain about ham-handed or adversarial treatment from national gay groups. Joshua Newville, a Minnesota attorney who filed lawsuits in federal court last spring in North Dakota and South Dakota to challenge those states' marriage bans, said Lambda Legal first tried to dissuade his clients from filing those suits and then wanted to take over key parts of them.
And Laura Landenwich, a private attorney in Louisville, Ky., also recalled Lambda telling attorneys looking to file marriage challenge lawsuits in Kentucky in the summer of 2013 that the state "wasn't part of the national strategy." Similar efforts by national groups to discourage plaintiffs seeking to overturn California's gay marriage ban (known as Proposition 8)—for fear of losing—were documented by New York Times reporter Jo Becker in her controversial best-seller, Forcing the Spring: Inside The Fight For Gay Equality.
Lambda's Marriage Project director Camilla Taylor rejected the criticism, insisting: "We don't ever try to take over someone's case. To my knowledge [the Michigan attorneys] are thrilled with all of the help we have provided, including financial resources." She would not specify what those resources were and would not respond to questions about whether the group advised various plaintiffs not to file their suits. Attorney-client privilege extends to potential clients even if they don't end up retaining the organization, Taylor said.
Nobody from the ACLU or the Human Rights Campaign replied to requests for comment. Equality Michigan's director Greg Varnum promised on Friday that someone would respond over the weekend, but nobody did.   1

While national groups pressured Nessel to back off her critique for this report, unaffiliated activists say blaming her for speaking out is yet another illustration of the problem. "This is the case of our lifetime," said Bob Witeck, a public-relations strategist who has worked with Human Rights Campaign and the National Lesbian and Gay Journalists Association, and advises American Airlines on their gay marketing outreach. "If others are raising large chunks of money and they're not feeding and servicing the lawyers and the litigants in these cases, what are we giving it to? There can't be weak links. We have to have our 'A' game going in. There can't be any part of this defense that isn't fully prepared."
A moment for marriage
The Supreme Court on Jan. 16 agreed to hear arguments in April in cases from Michigan, Ohio, Kentucky, and Tennessee. These cases challenge those states' same-sex marriage bans, and their refusal to recognize legal marriages conducted elsewhere in the U.S. In all of them, federal district court judges struck down those bans as unconstitutional, but in November, the states won appeals of those rulings in 2-1 decision by the 6th Circuit Court of Appeals, a famously conservative court. Yet the 6th Circuit's ruling upholding gay marriage bans was the first in the nation, putting it in conflict with rulings by three other circuit courts. That all but required the Supreme Court to step in.
The DeBoer case is the oldest of the cases heading to the Supreme Court and therefore may become a household name, in the way of Miranda and Roe and Brown. It is the only marriage case filed and appealed across the nation in the past four years that involves a proper trial, in which expert witnesses testified and were cross-examined. As such, it has the most complete record, which legal experts believe will be of great interest to the Supreme Court's swing vote, Justice Anthony Kennedy.
DeBoer began in 2011 when the couple retained Nessel to challenge Michigan's ban on second-parent adoptions for same-sex couples. It was expanded in early 2013 to challenge the state's marriage ban at the direction of Federal District Judge Bernard Friedman. Friedman, a Reagan appointee, said he felt the problem for the couple stemmed from not being permitted to wed, rather than the state's adoption statutes.
In June 2013, in Windsor v U.S., the Supreme Court struck down the federal Defense of Marriage Act in what many interpreted as a finding that same-sex couples are constitutionally protected from marriage discrimination. At that time, 10 states already had legal same-sex marriage. In the 19 months since, a wave of rulings by federal district court judges and circuit courts have brought same-sex marriage to a total of 37 states. The Supreme Court passed on several chances to block or review those decisions, implying to gay-rights activists and other federal judges that the commonly held interpretation of Windsor is correct.
Only upon the contrary decision at the 6th Circuit, then, was the court forced to make a national ruling to resolve the differing interpretations. Of the cases to be argued, all but DeBoer were filed after the Windsor decision, at a point when gay advocates believed they had the legal wind at their backs.
Nessel said she first asked the ACLU to join her on DeBoer in 2011. But they declined, she said, because they predicted she'd lose and, should they win, they doubted the 6th Circuit, known to be among the more conservative, would rule for same-sex marriage. "We were being told by organizations in San Francisco and Boston and D.C. and New York, 'Don't take any cases through the 6th Circuit,'" Nessel said. "The irony now is that all of the cases at the Supreme Court are out of the 6th Circuit. Why did I even go to law school if I'm going to sit here and be told by groups on the coasts that, basically, gay and lesbian people in your state don't count? That's what it felt like."
Friedman's instruction to expand DeBoer from just an adoption case to a gay marriage case, Nessel said, unnerved national groups. In December 2012, the ACLU, Lambda Legal, the Human Rights Campaign, Equality Michigan, and five other local and national organizations jointly filed an amicus brief to Friedman advising them that he "may find that denying same-sex couples the ability to obtain second parent adoptions is unconstitutional without addressing the question of whether Michigan may deny same-sex couples the ability to marry."
Nessel said she took this as an effort to discourage Friedman from ruling on marriage at all, but Lambda's Taylor insisted the brief was written at the request of Nessel and her co-counsel, Ken Mogill, to give the judge a way to help DeBoer and Rowse if he wasn't inclined to rule their way on same-sex marriage. "It was what they wanted us to file and it was in support of the plaintiff's view," Taylor said.
Mogill referred Bloomberg Politics back to Nessel for comment. Nessel wrote via e-mail, "Ken Mogill claims he did not encourage any groups to file an amicus [brief] stating that Judge Friedman should not rule on our marriage claim."
In October 2013, when Friedman decided to schedule the trial, national groups finally became interested in the DeBoer case, Nessel said, "not to help, but to take it over."
Among those who made takeover offers was Americans Foundation for Equal Rights, or AFER, the non-profit that raised nearly $15 million to back the challenge to Prop 8 and paid $6.4 million to the lawyers who handled the case. That 2010 trial, litigated for AFER by megastar attorneys Ted Olson and David Boies, produced one of the first sweeping judicial rebukes of arguments against same-sex marriage. Its transcript, in fact, later became the play "8" by Oscar-winning screenwriter Dustin Lance Black, performed by Brad Pitt and George Clooney.
"There was going to be a trial, there was going to be a show," said Nessel who, like Mogill, has worked on the case pro bono for more than three years. "I think [national groups] thought 'oh this is a case that's winnable for us now, so now we'll come in because now we have nothing to lose.'"
Newville, who earlier this month won a federal court judgment striking down South Dakota's same-sex marriage ban, said there "needs to be a bit more respect paid by these national groups that are doing very good work to private attorneys who are also doing very good work."
Landenwich, the Kentucky attorney involved in one of the other cases heading to the Supreme Court, is less bothered by the late-inning interest. "I'm happy to have them on board now that we're on the Supreme Court," said Landenwich, who last year entered a co-counsel agreement with the ACLU. "The fact that they didn't see Kentucky as a place to focus their resources before didn't bother me in any way."
Several groups did provide back-end help in Michigan, Nessel said. The ACLU provided an attorney, Leslie Cooper, to cross-examine a sociologist widely cited by same-sex marriage opponents for a paper that asserts same-sex parenting harms children; Cooper was an expert on that sociologist's work. Others helped review and write briefs, and Gay and Lesbian Advocates and Defenders, or GLAD, arranged for a $50,000 grant to cover the cost of hiring and prepping expert witnesses for the trial. That money came from a variety of sources, including Lambda Legal.
But beyond that, Nessel said, the DeBoer team was on its own as bills piled up. A crowdsourcing account set up around that time has now brought in about $42,600 of its $250,000 goal, and Nessel recruited the Plymouth Democratic Club, a small political group in a rural town near Ann Arbor, to set up a non-profit to help support the suit. That group, made up of straight allies who held spaghetti dinners and sent out mail solicitations, raised about $40,000. All told, the group, which began as Michigan Marriage Challenge and changed to National Marriage Challenge, or NMC, after the appeal to the Supreme Court began, has raised a total of $110,206, Barr said.
"What do we have to do to convince people to help us with this?" asked Barr, a retired health care data analyst who is straight. "A lot of folks don't realize when they're giving to one organization, they're actually not giving to us. From the LGBT groups, it's pretty disappointing that we haven't gotten more support."
Many hands outstretched
That confusion over donations has been a key sticking point. Last fall, in fact, Nessel said she complained to Michigan For Marriage, the local affiliate of national advocacy group Freedom To Marry, that a fundraising e-mail misled people to think they were giving to support the litigation. A spokeswoman, Gina Calcagno, said they "happily turned over" to Nessel's group "every penny raised so as to avoid any friction. We all have our parts to play, in Michigan as in other states, with cases and with advocacy, and we all need to do our parts, keeping our eyes on the prize."
Nessel said NMC received about $3,500 in that transaction, but her requests to Freedom To Marry and other groups to host fundraisers for them were either dismissed or ignored.
"If you look on Facebook or something, you're constantly being inundated by e-mails and replies from different organizations who will say 'Support here if you want to support the right to marry in Michigan,' and there'll be language that will be like, 'We're SCOTUS-bound,'" she said, referring to a common nickname for the Supreme Court. "I'll be like, 'Why are you SCOTUS-bound? You don't have a case that's pending before the Supreme Court.' It's deceptive because people will give money and we'll say, 'Well that didn't go to us' and they'll say, 'Well, I gave.' There's only so much money that people have.
"I'm not saying it's not good to have community awareness," she continued. "But do you think judges care about community awareness or do you think they care about having a good case presented to them?"
The private attorneys in Tennessee, Kentucky, and Ohio have all teamed up with major national groups as co-counsel to defray expenses. On a conference call with the other attorneys involved in those cases, Nessel said, there was discussion of meeting at Georgetown University School of Law to run through simulations of what it's like to appear before the Supreme Court. "We're like, 'How are we going to get to Georgetown?' Nessel recalled. "We'll be the only legal team taking a Greyhound to Washington and staying at the Y."
CORRECTION: This story has been corrected to reflect the fact that Equality Michigan did return the reporter's call over the weekend.
On Wednesday, Emily Dievendorf, Executive Director of Equality Michigan, reached out to say that they did call, but the message was missed. She added this comment:

<br>
<br>

"Statewides are not part of what is 'Goliath.' We don't have extra money to offer. We don't work through the courts, we do grassroots organizing and work through the legislature, and that is where our donors expect their funds to go to. We understand Dana's frustration, but we also cannot neglect to support every possible route to victory and we are proud of the work that is being done to pave all of them right now."