Casualties of the Cosby Vortex
The comedian was a celebrity endorser of politicians, colleges, whole schools of thought. Now he may bring them down faster than he built them up.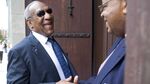 Last September, Jacksonville Mayor Alvin Brown lived the dream of any up-and-coming politician from outside the Eastern Seaboard: A group of celebrities invited him to New York City explicitly to raise his profile and raise him a lot of money.
Fifty-two years old, handsome and coming seemingly out of nowhere (the mayorship was the first time he'd ever run for public office), Brown was a darling of those dreaming of a bipartisan, biracial future. He was a Democrat who had won in traditionally conservative Jacksonville, and he'd gone so far as to refuse to say he would vote for Barack Obama, claiming, "I ran a bipartisan campaign, I have a bipartisan administration with Republicans and Democrats. I made a promise I would focus on governing, not politics." He was a rising star, and he was being feted as such, with a "Taking Jacksonville to the Next Level" event at the Harvard Club, at $1,000 to $10,000 a plate, with an introduction from former New York City Mayor David Dinkins. Brown took some heat from some Jacksonville pols who didn't like that he left town in the middle of budget negotiations, but Brown would have been a fool not to go. This was the big time.
There turned out to be only one little problem: The official host of the evening was Bill Cosby. The man who gave the event its star power back in September–a man who had hosted countless similar fundraisers for (often African-American) politicians whose careers he wanted to support–now, two months later, is as toxic a figure as there is in American culture. Two more women added their voices Monday to the cavalcade of stories accusing Cosby of inappropriate behavior at best, and vicious sexual assault at worst. NBC has scuttled plans of a new Cosby series, Netflix has canceled its Cosby standup special "77," and even TV Land has stopped showing reruns of "The Cosby Show." The world has collapsed around Cosby, and the vortex, inevitably, is sucking others down too.
This is a nightmare for any politician. Not only do you have to separate yourself from the public figure, and not only do you have to likely have to return any money they raised for you (as Brown was forced to do), you have to erase the connection between you and the celebrity that you were once so eager to promote.
Cosby, whose involvement in social issues, particularly those in African-American communities, was well documented (and occasionally lambasted, most famously by Ta-Nehisi Coates in The Atlantic back in 2008 in a cutting piece Coates now admits was too soft on Cosby's reputation involving women), and he wasn't afraid of supporting candidates he considered on his side. He campaigned for Obama and supported him even at his nadir, and he gave money to politicians such as Representatives Barbara Lee and Jesse Jackson Jr. (In the House's ethics investigation into Jackson three years ago, it was revealed that Jackson's staff urged Cosby to call then-Illinois Governor Rod Blagojevich and urge him to appoint Jackson to Obama's open Senate seat.) Cosby also has more honorary degrees than one would even consider possible. He even publically shunned the late Marion Barry, who desperately sought Cosby's approval.         
This comes with real ramifications, of course. Temple University has been feeding off alumnus Cosby's name for decades, running videos of him during football games and having him serve as a school trustee. He has spearheaded fundraising initiatives, sponsored scholarships and served as the public face of the university. What happens to Temple now? Forget just the school's reputation: Cosby's money has funded countless university enterprises, and not just at Temple: Cosby and his wife gave Atlanta's Spelman College $20 million in 1988, at the height of Cosby's powers. Do they have to give that back? What about the school's professorship endowment? Do they rename the Education Center? An institution like the National Football Foundation–which gave its Gold Medal award to Cosby in 2010, an honor given in the past to Dwight D. Eisenhower, John Glenn, John F. Kennedy, and Jackie Robinson–can shake off an embarrassment, but others aren't so fortunate: Their connection with Cosby is inextricable.
Politicians are generally better than Brown–who has gone silent since his campaign said he was giving back the money—at sprinting away from someone like Cosby; someone is a public asset until they are, suddenly and violently, a serious image problem. If Maryland Governor Martin O'Malley decides to run for president against Hillary Clinton, as he has hinted, there's one press conference you can guarantee won't be showing up in his ads: The one where he signed Grace's Law, a piece of anti-bullying legislation that had been endorsed by Baltimore Ravens running back Ray Rice, less than a year before Rice would be arrested for knocking out his wife in an elevator. Sitting behind O'Malley when he signed the bill: Rice himself. When the TMZ elevator video came out, O'Malley, a Ravens fan, backed away from Rice as fast as humanly possible.
The biggest political casualty of the current scandal stems from the fact that Bill Cosby stood for something. In politics, Cosby's primary driver was his belief–refuted memorably by Coates–that African-Americans were the central cause of their suffering, that they needed to take care of their own problems before expecting others to rise to their defense and fight injustice. This belief is actually where it started. Comedian Hannibal Buress, whose comedy routine in Philadelphia may have been what pushed the Cosby story to its tipping point, called Cosby the "smuggest old-black-man public persona that I hate. He gets on TV, 'pull your pants up, black people, I was on TV in the '80s. I can talk down to you because I had a successful sitcom.' Yeah, but you rape women, Bill Cosby, so turn the crazy down a couple notches.")
The conflagration that Burress started shows no signs of abating, and it's not only Cosby's genial-dad reputation that's been destroyed. A whole strain of African-American political thought, having lost its leader, has been decimated by the scandal. If, say, Rudy Giuliani's "black-on-black crime protests" riff on "Meet The Press" last week had happened a week ago, one can imagine Cosby chiming in, in Giuliani's defense. He has no such standing to do so now, and he presumably never will again. That's the peril of getting into the political game from the outside: If you go down, you very well might take your cause down with you. Right now, Bill Cosby is a cultural and political vortex that no one can escape.