Elbert Guillory Knows the Math in Louisiana
If he can win over 10 percent of Senator Mary Landrieu's African-American vote, there's no limit to how far he can go.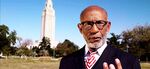 BATON ROUGE – On Monday morning, a few hours before Bill Clinton arrived in Louisiana to campaign for Senator Mary Landrieu, black voters were supposed to start seeing TV spots about how she'd coldly betrayed them.
There was State Senator Elbert Guillory, the only black Republican in the legislature, standing in the center of Opelousas. "Academy Street," he said into the camera. "The hill section." Three out of four residents of the small city were black, and almost half lived below the poverty line. Guillory's video crew illustrated this with footage of abandoned homes, loiterers, and cop cars, evidence that life in the hill section was worse than ever.
"Mary Landrieu first ran for Senate promising to be a champion for black people," said Guillory, wearing a three-piece suit, passion flowing into his voice. "While you scrounge together food stamps to buy Kool-Aid, she sips champagne at cocktail parties. Let's send her back home to her father's house, or to her mansion in D.C., or to wherever the heck she lives."
The spot was memorable, if a little choppy. Guillory had actually debuted this argument a month earlier, at more that twice the length, as a statement and a way to pique donor interest in his Free At Last PAC. It worked. The state senator was a PR natural, a mountain climber who'd rappelled down tall Baton Rouge buildings for charity. With the Landrieu video, he'd outdone himself. Guillory figured he'd cross $1 million in donations by the time the buys started, helped by rapturous coverage on conservative media.
"The Republican pol doesn't mince words," opined The Weekly Standard.
"If conservatives embrace the Guillory ad as an early stage in a trial and error process," offered National Review, "the ad might be of great historical importance."
"Republicans regularly complain that Democrats take the black vote for granted," wrote the Wall Street Journal's Jason Riley, "and rightly so, but seldom have I seen this argument made as cogently and eloquently as Mr. Guillory makes it."
This was lofty and selfless praise from the author of Please Stop Helping Us: How Liberals Make It Harder for Blacks to Succeed. If Landrieu lost, as polls suggested, conservatives were going to pore over her margins with black voters. They'd tried everything to convince the Democratic Party's most solid supporters that the party had abandoned them. What if Elbert Guillory had cracked it?
One day last week, Guillory met me in the parking lot next to the Louisiana governor's mansion in Baton Rouge, and walked over to the green rocking chairs set up on the porch.
He dealt with a few messages on his iPhone, then slipped it into one of his lizard-skin cowboy boots, not to disturb him again, as he described the goals of his campaign.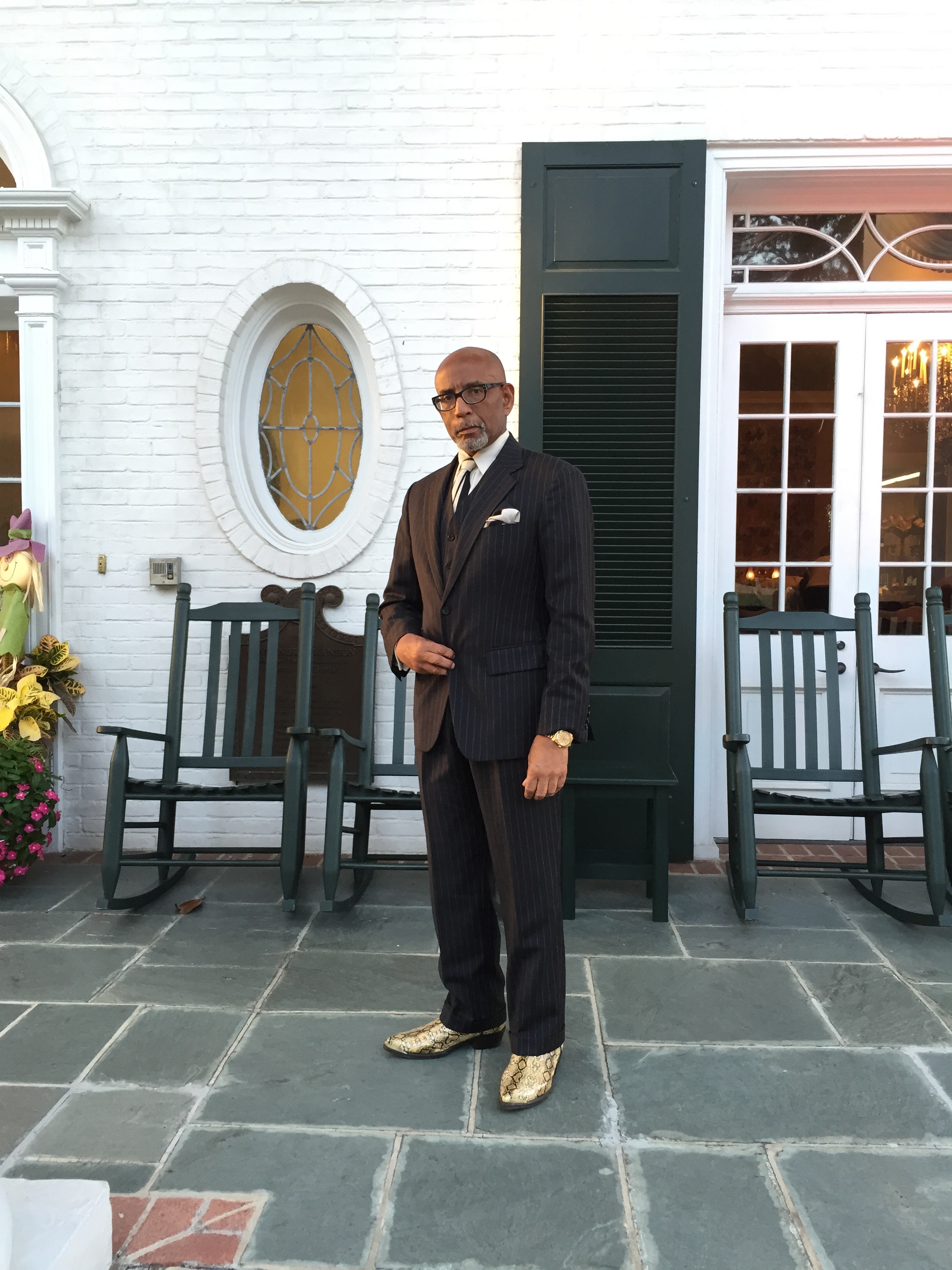 "If we convert 10 percent of the black vote, I will drink champagne that night," Guillory said. "My job is to deliver the message."
Guillory knew the math, and so did Democrats. To win, Landrieu would need a rollicking black turnout, 95 percent of the vote—as she always got—and a little more than 30 percent of the white vote. Polls had her falling short of that, but if the black vote became just a little less monolithic, she'd have no path to victory whatsoever. No Southern Democrat would.
The senator had chosen this spot not for the pomp, but because he needed to drop into a meeting of Louisiana's college Republicans. They strolled by as he talked, leaning down to shake Guillory's hand, calling him "lieutenant governor"—the job he's running for in 2015. He switched acrobatically between talking to the mostly white future leaders of the GOP and explaining how he, personally, was going to change the pigment of his party.
"When I speak to black voters, I sometimes say that we should not put all our eggs in one basket," he said. "Well, I preached a sermon a couple of weeks ago. The subject of my sermon was about not putting all our eggs in one basket! Every breath that I breathe is political. Every prayer that I pray is political."
Republicanism came easy to Guillory.
(Democrats, who are dumbfounded at the attention the senator gets, have pointed this out whenever they've been able.) Guillory, who turned 70 this year, was born under Dixiecrat rule to parents who voted for Dwight Eisenhower. He'd gone to Baton Rouge's Southern University and written editorials that attacked segregation. That got him expelled—"I was raised to be my own man"—so he went into the Navy, then colleges up north, and then the Nixon administration's Equal Employment Opportunity Commission.
"When black voters find out the truth about Barack Obama, they will be up in arms," said Guillory. "They will chip his name off the buildings. We should have Richard Nixon's photograph in our homes, because Richard Nixon breathed life into affirmative action."
Whenever it was necessary, Guillory registered as a Republican; when he ran for the legislature, in 2006, he ran as a conservative Democrat.
"We nearly came to blows a few times," he said of his career in the caucus. "During my last year as a Democrat, every Democratic senator here received $80,000 for their campaign." He raised an index finger. "Except one. I didn't get it."
Most Louisiana Democrats maintain that they are not worried about Guillory and his PAC peeling away the black vote—he's spent too many years as an outlier to have a constituency. Even Guillory's conversion story is unrelatable, dating to his outrage at a comment that simply doesn't outrage other black voters. In May 2013, Democratic Sen. Karen Carter Peterson, the chair of the state party, told her colleagues that the failure of Obamacare in the Louisiana legislature was "down to the race of the president of the United States." Guillory, who'd actually voted with the losing side and tried to expand Medicaid in the state, was thinking about bailing on his party when his iPhone started to ring.
"My mother called me up," recalled Guillory, "and she asked me, 'You don't agree with that, Elbert?' I did not. I went on the phone and called my registrar right then."
Guillory's mother was 103 when she made that call. She lived a little longer to read the news of his coming-out party, at a Baton Rouge conference called "@large," organized by Republican consultants to bring together black conservatives. The senator arrived onstage in an all-white suit, the kind a character in a "That's Entertainment!" musical might wear in a dream sequence about heaven, and explained why he'd left the "party of disappointment."
"Their support of dependency over self-reliance, of everything but traditional marriage, of abortion on demand—their policies have encouraged the high teen birth rate, high unemployment rate, high incarceration rate," said Guillory. He accused Democrats of pushing for an immigration reform bill without asking about "the impact of millions of people on our already fragile Social Security system, or our schools, our hospitals, our jobs?"
Republican legislators filed behind him onstage. Guillory lifted his registration form for the audience to gander at.
"Is it a surprise, or is it the best-kept secret in Louisiana?" he asked. "I am, as of today, joining Frederick Douglass as a Republican."
He was on Fox News before the ink was dry. First, the network ran a story about Guillory's viral video, explaining the switch. Then he was booked for a segment about the president insisting that Martin Luther King would have supported Obamacare.
"To wrap Obamacare around Martin Luther King is a cheap hijacking," he said.
Days later came a segment about Harry Reid's speculation that the president's race was multiplying his opponents.
 "It just makes a good American sick to hear that kind of humbug," said Guillory. "Some people have only one card in the whole deck, and it's the race card."
More TV hits followed, and the anti-Landrieu ad brought even more of them, but Guillory wasn't exactly plugging into black voters by going on Fox News. The cable giant's audience is reportedly less than 2 percent black.
In Baton Rouge, Guillory got up from the rocking chair to make his commitment to the College Republicans, who looked a little more diverse than that. He gestured at the state capitol, towering over the rest of the city, down the highway.
"Being on the inside has always been important to me," he said. "I've never been wedded to a party, I've been wedded to service and values. And when those values turn, I'm outta there. There is one black Republican in that building. It's much easier for me to deliver as a Republican being on the inside."
How much did Republicans actually need Guillory? What could he offer them that the party's other would-be black ambassadors—Herman Cain, Allen West, Michael Steele—tried, and failed, to offer?
A few hours before Guillory spoke in Baton Rouge, I drove to Opelousas. The week prior, Guillory had shown Rep. Bill Cassidy, the GOP's nominee against Landrieu during a "surprise" visit this month. (The visit had been announced to reporters.) The white, khaki-clad Republicans marched through the site of the TV ad and shook hands at Guillory's direction.
"I don't want you to come by and kiss us once every six years," Guillory had told him. "I want you to kiss us all the time."
"Many of my uninsured patients were from neighborhoods such as this," said Cassidy, whose campaign ads highlight his medical experience—he's a gastroenterologist by training, and co-founded a free dental and health-care clinic for the working uninsured—much more than his three terms in Congress.
Republicans counted the visit as a clear win, in the enemy's backyard. The mayor of Opelousas happened to be Donald Cravins, whose namesake son happened to be Landrieu's chief of staff. Last week, sitting at his desk and with a massive poster of Martin Luther King above him, Cravins, Sr. reported that Cassidy "didn't even have the courtesy of picking up the phone, calling the mayor, and saying, 'When I'm the senator, we're going to work together.'" A stunt was a stunt.
"On a scale of zero to ten, I'd probably give it a minus zero," said Cravins, who would not let Guillory's name escape his lips. "I don't think it had any effect all with black voters. The visit, the video, all of that—I don't think people even take that particular individual seriously enough for it to make a difference or for it to move the needle at all. I certainly wouldn't get on television as the elected legislator from an area and try to highlight the fact that it's one of the most impoverished areas of the state. You want to ask him: What have you been doing for the last eight years besides sitting on your laurels?"
Democrats had seen this before—recently, many times. The Republican Party was forever promoting black conservatives who could allegedly crack the Louisiana coalition, which wins statewide when the ascendant black Democrats turn out and stay solid. It seldom works.
After I talked to Cravins, I drove 15 minutes down the road to Leonville, where Mary Landrieu had come to the small town to cut the ribbon on a bridge built with FEMA grants, which—as city leaders in thick Cajun accents told the assembled—seemed to have fallen out of reach. Landrieu worked the crowd, talking to white and black politicos whom she knew by sight, then gave a short speech about why she needed a new term.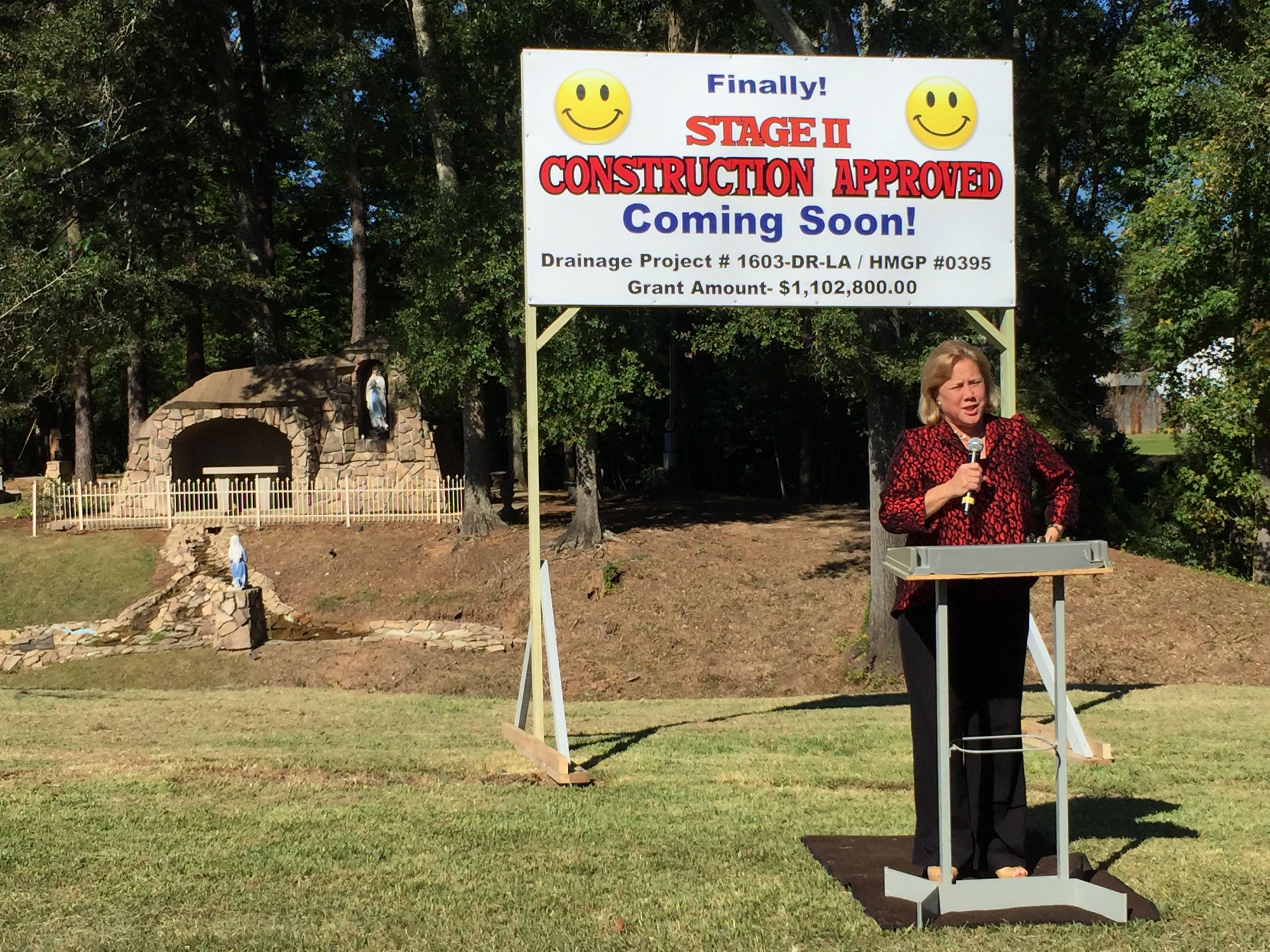 "We have the chairmanship of the [Energy] committee, which we don't want to give away," she said. "You will also have, as chief of staff, Don Cravins, who is at home here in St. Landry parish. Don Cravins is my chief of staff. I think y'all call him Little Donnie? T-Don? He is the only African-American chief of staff in the entire United States Senate. We're proud of that. It's a shame that the Senate is not more diverse in representing people of all different backgrounds."
After the speech, I asked Landrieu if she'd seen Guillory's ads or worried about the new Republish push.
"Oh, what should I say about Elbert Guillory?" asked Landrieu. "There's one in every crowd that will promote himself above the people that he's supposed to serve. You know, he serves black and white, just like I do. But the only person that I know that promotes himself more than Elbert Guillory would be Bobby Jindal, and the two of 'em belong in the same boat. I wish he was running against me."
Jindal or Guillory? "Either one! [Guillory's] message is all about himself. It's not about the people. And very few people listen to him around here."
As night fell in Baton Rouge, Guillory headed into the mansion to deliver a short prayer.
He was still there, between a throng of college students and a portrait of Gov. Bobby Jindal by the late painter George Rodrigue, when Cassidy made an impromptu appearance and pitch to future leaders. He acknowledged Guillory's presence, but didn't talk much about the outreach to Guillory's own base.
"The Landrieu strategy is to go to college campuses and get people who otherwise wouldn't vote and have them turn out," Cassidy said. "Frankly, your generation doesn't vote very much. You do. If you can get your colleagues out to vote, we will offset whatever efforts they have done."
Cassidy left, and the College Republicans moved on to leadership elections, as some unaffiliated members meandered over to a table of swag and sweets offered by the Koch network millennial group, Generation Opportunity. Guillory headed outside to finish our conversation, and ran right into one-term Rep. Jeff Landry, a Cajun country politician who had turned around to run for attorney general.
"If Mary loses, the party's gonna owe him!" said Landry. "The message doesn't have to resonate with all the people out there, just a small percentage."
Guillory's message to black voters this year was that they did not need to change at all. Like him, they were natural Republicans. They'd have more clout if they joined a GOP that was coming dominate Louisiana, and they'd no longer be in a coalition with the sorts of progressives who backed gay marriage and abortion-on-demand.
What about the rise of Rand Paul? Guillory pumped his fist at the senator's name. He was showing, almost by himself, that the GOP could toward black voters on criminal justice reform. And Louisiana's own prison reforms, Guillory pointed out, had been proposed by "a senator by the name of Elbert Guillory."
There was no limit to the freedoms that Republicans offered Louisianans—black Louisianans, especially—if they would only get an audience. When I asked Guillory about a decade-old, pre-politics column he wrote about the glories of cockfighting, he launched into a defense of the pastime and an explanation of why cultural snobs wanted to end it.
"The chickens that end up on dinner tables live in the worst, crowded, filthy conditions," explained Guillory. "It would hurt your heart as a human being to see the way they're maintained. Fighting chickens on the other hand, live the life of Riley. They have the best food, the best accommodations, individual homes. And chickens like to fight. If no one is watching, they'll fight. I believe that putting little boxing gloves on them, and entertaining people with their pugilistic skills so that human beings can pay their rent, pay for college—that makes sense to me. It's a completely bloodless sport."
Night came on, and Guillory posed for pictures with a gaggle of young Republicans, but he really needed to head back to his pickup truck to make his date with "a lovely young lady." I asked what he'd do if he won the race for lieutenant governor. Was that as far as he planned to go?
"Haven't you been listening to me?" he laughed. "My mother lived to be 104. I may take some sort of emeritus status in politics after I'm 105, but I plan to live until I'm 114," said Guillory.
He jerked a thumb at the door of Bobby Jindal's mansion. "I may end up in there one day."