Politics
First Woman Set to Run Sweden Has a Fight to Keep Power (Repeat)
The ruling Social Democrats are banking on Magdalena Andersson being just what the Scandinavian country needs right now.
By and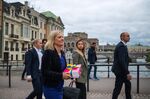 (This story was originally published on Sept. 29. Today, Magdalena Andersson was named the new leader of Social Democrats.)
Magdalena Andersson calls herself Europe's most frugal finance minister, and some factions of Sweden's governing party want her to tax and spend more. For now, that's about as controversial as she seems to get.