Climate Adaptation
As Climate Change Fries the World, Social Media Is Frying Our Brains
More than 5 billion mobile connections and 3.6 billion social media accounts may add up to existential risk.
By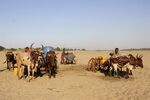 Sign up to receive the Green Daily newsletter in your inbox every weekday.
Amid emergency heat, flooding, and famine, it's even more critical that people recognize and agree at least on the big picture. And yet, as recent history has shown us time and again, they don't. Much of that can be blamed on the pandemic of misinformation—concerning climate change, Covid-19, vaccines, and so much more— now running rampant on social media.