Walmart's Fight Against a $15 Minimum Wage Could Thrust It Into the Inequality Debate
The retailer's resistance risks pulling attention away from its improved pay, plus education and maternity leave benefits.
By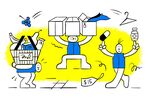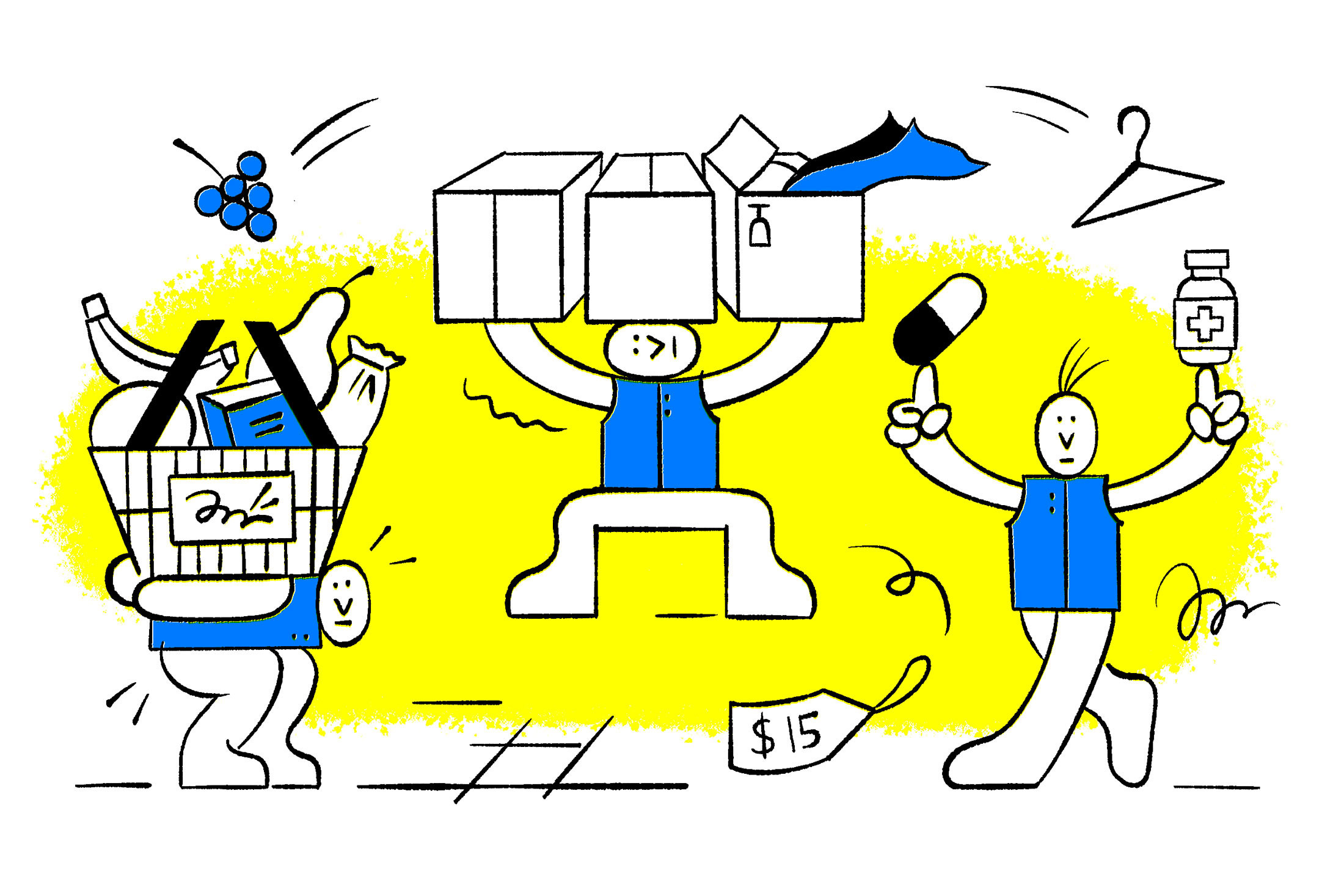 Every evening for more than a decade, after finishing a daylong shift, Walmart cashier Mendy Hughes drives from the superstore that employs her back to her home in rural Arkansas. If she's short of Lunchables or frozen dinners, she'll stop at a McDonald's drive-thru and pick up $1.59 chicken sandwiches from the value menu for her and her children. She says the $11.85 hourly wage Walmart Inc. pays her—which makes the company an outlier to rivals Amazon, Best Buy, and Target, all of which pay at least $15—means she struggles to afford groceries.
For almost a decade, the movement to push businesses to pay at least $15 an hour has gained momentum, spawning groups such as Fight for $15 and United for Respect—an organization of mostly Walmart workers that Hughes belongs to. But Walmart, the U.S.'s largest employer, with more than 1.5 million employees, has consistently shot the argument down. For Hughes—who at times has fallen behind on paying thousands of dollars in medical bills from a knee injury while also paying for treatment for her diabetes and son's asthma—the company's stance feels born out of "pure greed." She's especially critical of management and theWalton family that controls the chain for keeping lowly paid workers down, even as they enrich themselves through measures such as a $20 billion share buyback announced in February.

"They don't care about the associates [entry-level employees such as cashiers] at all. They just want more money for themselves," Hughes says. After 11 years of service in the retail giant's home state of Arkansas, she says she no longer feels proud to work there. "It's just not the same company it used to be."
A spokeswoman for Walmart defended the company's treatment of employees. "It's very important to understand that Walmart offers careers, not just jobs, because we're investing in our associates' long-term success through a combination of stability, consistency, benefits, wages, training and upskilling, and creating a ladder of opportunity," she said.

With President Joe Biden's initiative to mandate a $15 minimum hourly wage at the federal level by 2025 stalling, many of the U.S.'s largest businesses are taking matters into their own hands and setting their lowest nationwide pay at that level voluntarily. Costco Wholesale Corp. has set its minimum at $16.
Walmart, meanwhile, pays a minimum of $11, and its long-standing reluctance to follow rivals in raising that figure is especially jarring to critics given the company's financial might. As the pandemic raged last year and shoppers raided store aisles to stockpile foods and sanitizers, Walmart's annual revenue increased by $35 billion to more than $500 billion, on which it earned $22 billion in profit. The fortune of the Walton family, the world's richest, soared to $250 billion during that period. Groups pressing the retailer for higher pay complain that the founding family's wealth grew every minute during 2020 by the same amount earned in a year by Walmart's poorest employees, some of whose incomes are so low they receive federal food stamp assistance.
For all the perks Walmart says come with being an entry-level worker, such as enrollment in online academic degree programs for $1 per day, plus decent maternity leave, its stiff resistance to raising minimum pay has opened a flank to critics who portray it as a prime symbol of soaring wealth inequality in the U.S. That's happened despite Walmart's recent initiatives to boost salaries. Since 2015 the average wage paid to its associates has risen 50%. And in February, Chief Executive Officer Doug McMillon said Walmart would invest a fraction of its earnings toraise the average—not minimum—associate wage to more than $15, with about 730,000 workers being paid at least $15.25 per hour beginning in March. The impact on the company's annual operating income in the U.S. will be about 14%, the company acknowledged on its most recent earnings call.
Still, Yannet Lathrop, a policy researcher at the National Employment Law Project, an advocacy group, says the retail industry's annual turnover rate of about 60% would cause a significant portion of entry-level employees joining the company to still be paid $11 an hour. So the "announcement that they'll raise wages to an average of $15 really is more of a PR move," Lathrop says. "Obviously, Walmart has built a business model around paying low wages and will keep doing that for as long as possible."
Walmart doesn't agree. In a presentation to investors after announcing the pay increase, McMillon, who began work at Walmart as an hourly associate, said raising wages to a blanket $15 minimum would compromise a "ladder of opportunity" that encourages its employees to strive to earn more as they climb the ranks.
"The alternative would be to invest all of that to try and get to $15 faster, but if we do that, then we wouldn't be able to create this succession that we are committed to creating," McMillon said during the February investor call. "We are obviously really aware of what's happening nationally with this discussion around $15, and I think that that's an important target. But I also think that it should be paced in a way that's good for the U.S. economy, and you can kind of see us as a model working through how that works."

In a sense, Walmart is a microcosm for the economic tensions at the heart of Biden's $15-an-hour ambition. The company is investing heavily in becoming a broader competitor to Amazon.com Inc., opening medical clinics, funding a financial-services startup, and exploring opportunities in video streaming as part of a costly plan to transform itself into an e-commerce colossus. It's not that Walmart can't afford to pay $15 today. Some critics say its strategy could be a calculation that the return on the investment in human capital needed to do that wouldn't be worth the toll on its profit margin when the company is making strategic investments elsewhere, such as automating parts of its supply chain and building out a digital advertising network to make it more efficient against rivals such as Amazon.
McMillon's statement about pacing employee pay increases in a manner that benefits the U.S. economy also seems to lean on a controversial premise: that for all the good a raise to $15 per hour could do for workers, it could also do a lot of damage by spurring job cuts. Earlier this year, the Congressional Budget Office estimated that while $15 would lift 900,000 people out of poverty, about 1.4 million jobs would be lost as companies seek to lessen the impact on their bottom lines. That perceived trade-off makes $15 "the mother of all economic debates," JPMorgan Chase & Co. economists Michael Feroli and Daniel Silver have said.
A number of wage academics have argued that the much-feared job loss impact is grossly overstated. Arindrajit Dube, a professor of economics at the University of Massachusetts Amherst and a research associate at the National Bureau of Economic Research, wrote an opinion piece for the Washington Post criticizing the CBO's calculations. He noted that he and several colleagues conducted a thorough analysis in a 2019 study published in the Quarterly Journal of Economics that examined the effects of 138 state-level minimum wage increases from 1979 to 2016 in the U.S. "Understandably, jobs paying below the minimum decreased—since wages rose," he wrote. "But at least as many jobs were added at the new, higher wage—meaning jobs were upgraded, not destroyed. All told, the number of low wage jobs barely budged."
The time frame of Biden's 2025 goal would also allow businesses to offset the impact of wage increases by gradually raising the prices of their goods, which historically have been absorbed by shoppers, according to research by Michael Reich, an economist at the University of California at Berkeley and co-chair of the Center on Wage and Employment Dynamics. Over the next four years, those cents-on-the-dollar increases would be almost indiscernible to America's average shopper, says Lathrop, at the National Employment Law Project. She also says McMillon's argument that wage increases should reflect regional norms rather than be thought of as a federal issue could also be flipped, with Walmart charging more for its products in cities that can afford to pay for them. That would offset the impact of a $15 minimum while lifting members of the impoverished communities, she says.
For Hughes, the associate earning $11.85 an hour, Walmart's refusal to commit to raising its nationwide minimum to be in line with those of rivals exacerbates the regional divide between affluent states and those left limping behind on lower pay, including its own backyard. Her dream is to leave Walmart and relocate to Florida, which last year voted in favor of raising its minimum wage to $15 by 2026. "I would love to get out of Arkansas if I could afford to move," she says.
 
Read next: DoorDash Workers Try to Game the Algorithm to Increase Pay
Before it's here, it's on the Bloomberg Terminal.
LEARN MORE