Politics
Biden to Pick Former Army Weapons Buyer Shyu for Pentagon Job
By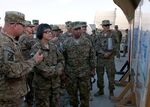 President Joe Biden is likely to nominate Heidi Shyu, a former assistant secretary of the Army, to be the Pentagon's undersecretary for research and engineering, according to a person familiar with the decision.
Shyu, an American citizen who was born in Taiwan, spent five years as the army's top weapons buyer during the Obama administration. In recent years, she's served as member of the board of the space-focused Aerospace Corp. and on companies including Levitate Capital, a venture firm that invests in technology such as drones.
If confirmed by the Senate, Shyu's portfolio would include serving as point person on the development of next-generation hypersonic weapons. She would join Deputy Defense Secretary Kathleen Hicks, Army secretary nominee Christine Wormuth and Pentagon cost assessment unit director nominee Susanna Blume as the top women in the Biden Pentagon.
Officials at the White House didn't immediately respond to a request for comment.
Shyu has engineering degrees from the University of California, Los Angeles and a Masters degree in mathematics from the University of Toronto, according to her LinkedIn profile.
— With assistance by Jordan Fabian