Politics
Republican Challenges Pelosi Mask Requirement at House Hearing
By and
Republican Challenges Pelosi Mask Requirement at House Hearing
By and
McClintock questions speaker's authority to enforce rule

Move follows another lawmaker testing positive for Covid-19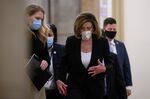 A House Republican objected Wednesday to Speaker Nancy Pelosi's decision that committee chairmen should exclude or refuse to recognize lawmakers who refuse to wear masks at meetings.
The issue flared hours into a House Judiciary Committee debate on a Democratic police overhaul bill, when Representative Tom McClintock challenged whether House rules allow him to be required to don a mask.
Committee Chairman Jerrold Nadler had announced that a member raised the point that some lawmakers in the room weren't wearing masks. McClintock of California asked him to cite any House rule that allows masks to be required.
"You choose to wear a mask, I do not," McClintock said. "I consider masks much more effective at spreading panic and much less effective at stopping a virus" that he contended is "less severe than the flu" for healthy people under age 50.
Nadler responded that committee chairmen can enforce matters of decorum, including "the safety of members of the committee."
Nadler told McClintock that Congress's attending physician, Brian Monahan, determined that masks are needed for safety, and therefore he won't recognize members who do not wear masks. Monahan's guidance said face coverings should be required for House gatherings in an enclosed space, such as a committee room, that last longer than 15 minutes.
Based on that guidance, Pelosi issued her decision on Tuesday, a day after GOP Representative Tom Rice of South Carolina said he and his family had tested positive for Covid-19 and were recovering. Several other lawmakers have previously tested positive.
Pelosi said the sergeant at arms will deny entry to committee meetings to lawmakers who refuse to comply, according to a senior Democratic aide, who asked for anonymity to discuss the matter.
After Nadler and McClintock's exchange, Madeleine Dean, a Pennsylvania Democrat, said that members should participate in meetings remotely if they don't want to wear a mask.
"It is dismaying, the willful ignorance as to the science in terms of the use of masks to protect yourself and others," Dean said. "We do have a right to not wear a mask. But you do not have a right to expose others. Why don't you do this by way of video?"
Another Democrat, Veronica Escobar of Texas, called it "stunning" that some members would argue for the right to put their colleagues at risk.
— With assistance by Kathleen Miller