U.S.
Loans Averaged $206,000 in Small Businesses Fund That Ran Out
By
Money dried out for Paycheck Protection Program on Thursday

Applications processed from all U.S. states and territories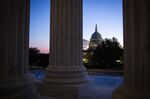 More than 1.6 million small businesses were approved for funding before the money ran out Thursday under a federal program to help them survive the coronavirus pandemic, and almost three-quarters of the applications were for loans of $150,000 or less, according to a new report.
The U.S. Small Business Administration processed applications from all 50 states and territories totaling $342.3 billion out of the $349 billion Paycheck Protection Program before the agency stopped accepting applications, the report released Friday shows. The balance of funding is for fees and processing, officials have said.
Lawmakers continue to negotiate for additional funding with many small businesses still waiting to apply or get approved for a loan. The amount is what has been approved for lenders to disburse, and there's no comprehensive accounting of how much funding has been received so far by small businesses.
The average loan amount processed was $206,000, with 74% of the applications for $150,000 or less and about 4% for $1 million or more, data show. The program, enacted last month as part of a $2.2 trillion relief package, offers loans of as much as $10 million. The loans convert to grants if proceeds are used to keep workers on the payroll and cover rent and other approved expenses for about two months, a stopgap designed to help businesses get by until the economy reopens.
Firms in Texas had the most applications approved at 134,737 for $28.5 billion in loans, while California had the largest amount in loans at $33.4 billion, data show. California officials had complained they appeared to be getting shortchanged when initial results were released Monday.
The industries that received the largest share of loans were construction; professional, scientific and technical services; manufacturing; and health care and social assistance, according to the report.
Almost 5,000 lenders participated, with significant lending by community banks and credit unions, according to the release from Treasury and SBA. Almost 20% of the amount approved was processed by lenders with less than $1 billion in assets, and about 60% from banks with $10 billion or less in assets. No lender accounted for more than 5% of the total amount, the release said.