Business
New Yorkers Flock to Grocery Delivery Services Amid Food Crunch
By
New Yorkers Flock to Grocery Delivery Services Amid Food Crunch
By
Amazon Fresh delivery windows hard to come by across New York

Many deliveries have products missing as demand exceeds supply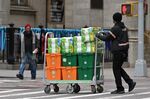 New Yorkers are flocking to grocery delivery services like Amazon Fresh and closely-held Instacart as store shelves go bare amid the coronavirus outbreak.
The shift in consumer appetite comes amid warnings from New York City Mayor Bill de Blasio that residents should prepare to stay home and self-isolate as the number of confirmed cases in the city nears 1,000. In advance of the emergency restrictions and after many stores were left without things like chicken breast, ground turkey or toilet paper, new users signed on to get food shipped to their doorstep.
Gil Maher, a 26 year old who lives in Brooklyn, signed up for a grocery delivery from New York-based Wegmans Food Markets for the first time just this week as he avoided his normal trips to Whole Foods after work.
"We placed our order yesterday and it isn't going to get here until Saturday," he said. "We tried to order food on Amazon Fresh to be delivered here in Brooklyn, but most things were not in stock."
While Maher is new to ordering grocery deliveries, other New Yorkers like Alex Hill, who lives on the Upper West Side, said finding available delivery windows has been hard, let alone the fact that when he places orders some items are unaccounted for.
"My orders show up with half the things missing because they're going out of stock in between me placing the order and getting the delivery," he said. The Amazon Fresh homepage offers a warning of potential shortages saying "inventory and delivery may be temporarily unavailable due to increased demand."
Read more: Amazon Glitch Stymies Whole Foods, Fresh Grocery Deliveries
New Yorkers receiving the cold shoulder from places like Amazon Fresh are not alone, however, as New Jersey cities just across the Hudson River aren't able to get groceries delivered. An attempt to get an order of chicken, turkey and bananas to nearby Hoboken, New Jersey, is met with a message that no delivery windows are available.
— With assistance by Andres Guerra Luz