Politics
Israel Expands West Bank Restrictions Due to Virus Concerns
By
Israel Expands West Bank Restrictions Due to Virus Concerns
By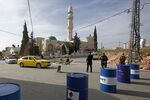 We're tracking the latest on the coronavirus outbreak and the global response. Sign up here for our daily newsletter on what you need to know.
Israel limited the number of Palestinian workers able to enter the country in order to stem the spread of the coronavirus.
Workers older than 50 will not be allowed to cross into Israel and Israeli citizens will not be allowed to enter areas administered by the Palestinian Authority, according to a statement from Israel's Defense Ministry. Palestinian Authority President Mahmoud Abbas declared a 30-day state of emergency last week after the first cases of the coronavirus were identified in Bethlehem.
There are now 30 patients in West Bank areas who have tested positive for the illness.