Markets
Wells Fargo Boosts Minimum Wage in Most of Its U.S. Markets
By
Wells Fargo Boosts Minimum Wage in Most of Its U.S. Markets
By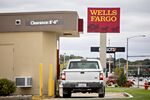 Wells Fargo & Co. said it will boost the minimum wage it pays employees in most U.S. locations, with the announcement coming the week before its top leaders testify on Capitol Hill.
The change will increase pay for more than 20,000 workers, the bank said Wednesday. The minimum wage will range from $15 to $20 per hour, depending on location.
Key Insights
Wells Fargo is the latest bank to raise wages for its lowest-paid workers. Bank of America Corp. said last year that it would boost its minimum wage to $20 an hour by the end of this month. JPMorgan Chase & Co. in 2018 increased its minimum hourly pay to a range of $15 to $18.
Chief Executive Officer Charlie Scharf is set to testify in front of the House Financial Services Committee next Tuesday. Wells Fargo Chair Betsy Duke and board member James Quigley will appear for their own hearing the following day. Committee Chair Maxine Waters has prodded other firms to boost their minimum wages.
Get More
Wells Fargo said employees in New York and San Francisco will get minimum hourly pay of $20, while those in Charlotte, North Carolina, and Des Moines, Iowa, will receive at least $16 per hour.