politics
Johnson Fails to Secure Poll, Suspends Parliament: Brexit Update
By , , and
Johnson Fails to Secure Poll, Suspends Parliament: Brexit Update
By , , and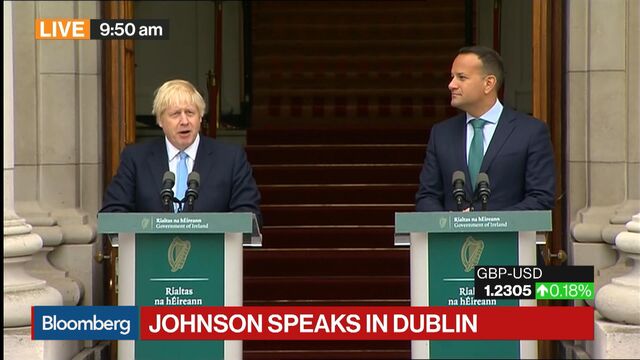 Follow @Brexit, sign up to our Brexit Bulletin, and tell us your Brexit story. 
Members of Parliament voted again to deny Boris Johnson an early general election, which the prime minister wants to break the Brexit impasse. The government suspended Parliament as planned.
Key Developments:
Johnson fell short of two-thirds majority needed to secure an early general election
Parliament was suspended at the end of business until Oct. 14
Speaker John Bercow said he plans to step down by Oct. 31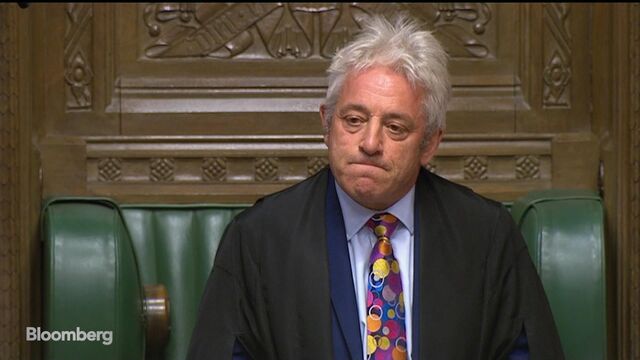 Parliament Suspended Until Oct. 14 (1:30 a.m.)
The U.K. Parliament began its suspension or prorogation at the end of Monday's business. It was proposed by Prime Minister Boris Johnson, who plans to begin a new parliamentary session with a Queen's Speech on Oct. 14. But he received strong opposition from MPs, who accused him of trying to avoid scrutiny over his Brexit policy.
Labour MPs Protest Prorogation (1:25 a.m.)
With the ceremony for Parliament's prorogation or suspension under way, a group of Labour MPs protested with signs reading "Silenced" next to House of Commons Speaker John Bercow's chair, according to the Press Association.
"I am perfectly happy to play my part, but I do want to make the point that this is not a standard or normal prorogation," Bercow said when MPs were asked to move to the House of Lords for the ceremony, pointing out that it would be "one of the longest in decades."
Many opposition lawmakers stayed in the Commons. Benches in the House of Lords were also virtually empty.
MPs Again Reject Early Election (12:40 a.m.)
U.K. Members of Parliament again rejected Prime Minister Boris Johnson's bid for an early general election on Oct. 15. The result was 293-46 in favor of a poll, but that was short of the two-thirds majority -- 434 votes -- that Johnson needed to win.
"I urged the House to trust the people, but once again the opposition think they know better," Johnson told the House of Commons after the vote. He reiterated that he will not delay Brexit, and confirmed Parliament will be suspended until Oct. 14.
In response, Labour leader Jeremy Corbyn said the prime minister didn't accept the votes in the House of Commons against a no-deal Brexit.
Lib Dems Would Revoke Article 50 If Elected (11:45 p.m.)
Liberal Democrats leader Jo Swinson said her party would revoke Article 50 -- keeping the U.K. in the European Union -- if it was elected to government.
She also called for a second referendum pitching any Brexit deal the government reaches with Brussels against remaining in the bloc. Swinson said her party will vote for a general election only once the prime minister has secured an extension from the EU. "This is about the national interest."
"I don't think there is a majority for any specific type of Brexit in the country," she said. "We want to stop Brexit."
Corbyn: PM Has No Mandate for No-Deal Brexit (11:10 p.m.)

Opposition Labour Party leader Jeremy Corbyn responded to Johnson's statement by accusing the prime minister of pursuing a no-deal Brexit with no mandate to do so, and calling the government's negotiations with the European Union a "sham."
Corbyn demanded the government produce its proposals for a new Brexit deal. Asked by Johnson why Labour wasn't backing an election, Corbyn replied: "Because we are the responsible party and we don't want to crash out with no deal."
Corbyn accused Johnson of shutting down Parliament to avoid scrutiny. "We are not walking into traps laid by this prime minister," he said.
Johnson: 'I Will Not Ask for Another Delay' (11 p.m.)
Prime Minister Boris Johnson reiterated that he's prepared to leave the European Union without an agreement if necessary, and that he "will not ask for another delay." That has enraged opposition lawmakers, who complain he's refusing to acknowledge the legislation that passed into law earlier blocking a no-deal Brexit on Oct. 31.
Johnson: Election 'Only Way to Break Deadlock' (10:50 p.m.)
Prime Minister Boris Johnson is delivering his pitch for an early general election, accusing the Labour Party of "preposterous cowardice" for not voting for one in his speech to the House of Commons.
"They have a constitutional duty to oppose the government and seek to replace it," Johnson said. Labour are "abrogating their fundamental responsibility."
He needs two-thirds of MPs -- 434 of them -- to vote for this. Last week he got 298, and there's no reason to think he'll get any closer this week.
MPs Back Corbyn Motion on No-Deal Bill (9 p.m.)
Labour leader Jeremy Corbyn's motion (see 7:45 p.m.) was passed in the House of Commons without a formal vote. It means Parliament expects the government to comply with legislation that passed into law on Monday demanding it seek a Brexit extension if there's no divorce deal reached with Brussels.
Raab: No-Deal Bill Is 'Flawed Legislation' (8:55 p.m.)
Closing the debate for the government, Foreign Secretary Dominic Raab said the bill blocking a no-deal Brexit on Oct. 31 is "flawed legislation" that weakens the U.K.'s hands in negotiations with the European Union. The prime minister will not go to Brussels to negotiate a Brexit delay, Raab said, reiterating that the government is committed to leaving the EU with or without a deal on Oct. 31.
The government "will always respect the rule of law," Raab told the House of Commons, but he indicated it would be seeking legal advice on the legislation, echoing his previous comments.
Raab also urged the opposition parties to support an early general election when it comes to a vote later on Monday. An election is "constitutionally the correct course of action" and the only way to break the deadlock in Parliament, Raab said.
Corbyn: Government Must Adhere to Rule of Law (7:45 p.m.)
In the House of Commons, Members of Parliament are debating whether the prime minister can ignore the legislation -- which entered law earlier on Monday (see 3:24 p.m.) -- intended to stop the U.K. leaving the European Union without an agreement on Oct. 31. The debate was requested by Labour leader Jeremy Corbyn in an effort to exploit divisions in Johnson's administration.
Opening the debate, Corbyn said the government must give an unequivocal assurance to Parliament that it will adhere to the law, adding that many people are "truly frightened" about the prospect of a no-deal Brexit.
"The fact that Parliament is compelled to pass a law to ensure the will of Parliament is upheld shows what extraordinary times we now live in," Corbyn said. "The House has rejected no deal, businesses and trade unions are united in rejecting no deal, and there is no majority for it across the country."
MPs Vote to Force Govt to Publish No-Deal Plans (7:35 p.m.)
Members of Parliament voted 311 to 302 in favor of Dominic Grieve's motion (see 5:05 p.m.), which seeks to force the government to publish its preparations for a no-deal Brexit, as well as correspondence and documents related to the decision to suspend Parliament by Sept. 11.
Grieve used a so-called humble address mechanism, the same one used by politicians -- ultimately successfully -- to get the government's Brexit planning papers at the end of 2017.
Gove Says Grieve Motion Unprecedented (7:15 p.m.)
Closing the debate for the government, Michael Gove, the minister in charge of no-deal Brexit planning, called Grieve's motion (see 5:05 p.m.) unprecedented because it would force the government to give up communications potentially in violation of privacy regulations.
MPs are now voting on the motion.
Cox: Government Can't Force Staff to Comply (6 p.m.)
In the House of Commons, Dominic Grieve presented his motion demanding the publication of government papers on no-deal plans, along with communications between government advisers on the suspension of Parliament (see 5:05 p.m.).
In response, Attorney General Geoffrey Cox questioned whether the government had the right to force employees to comply with Grieve's demands, given his motion includes private email addresses and other communications.
Grieve disagreed, and said Cox's response was evidence of a "slide towards a government that will not respect the conventions without which orderly government in this country cannot take place."
Commons to Debate Johnson Obeying Law (5:12 p.m.)
Bercow also granted an emergency debate on the question of whether government ministers should obey the law.
The debate was requested by Labour leader Jeremy Corbyn in an effort to exploit divisions at the top of the Johnson administration about whether the government can simply ignore the law blocking a no-deal Brexit passed by Parliament last week.
Read more: Defiant Johnson Pushes On With Brexit Plan as Court Threat Looms
Bercow Grants Debate on No-Deal Brexit Plan (5.05 p.m.)
House of Commons Speaker John Bercow granted an emergency debate intended to force the publication of communications between government officials about the suspension of parliament.
The motion, brought by former Attorney General Dominic Grieve, also requests the publication of all the paperwork about Operation Yellowhammer, the government's planning for a no-deal Brexit.
The parliamentary device that opposition MPs are using, a "humble address," is the same one used successfully to get the government's Brexit planning papers at the end of 2017.
The proceedings were delayed by almost an hour-and-a-half of tributes to Bercow by MPs after he announced he would be stepping down.
MP Questions Timing of Bercow's Departure (4 p.m.)
Former cabinet minister Rory Stewart, reacting to Bercow's announcement, questioned the timing of his departure at such a crucial juncture.
"Whatever people's view of him we are in a very unstable situation and in desperate need of stability at the moment," Stewart said in an interview. "With an unwritten constitution the whole thing is so dependent on personality at the moment. So it's unfortunate he's gone, I would rather he'd stayed until next year."
Bercow said leaving on Oct. 31 would be "least disruptive" because he would stay in post for the votes on Johnson's legislative program -- a potentially major flashpoint in Parliament and an opportunity for the premier's opponents to try to oust him or force an election.
Bercow Quits as Commons Speaker (3:38 p.m.)
John Bercow announced he is to stand down as Commons speaker by Oct. 31, the current Brexit deadline. In a surprise announcement to members of Parliament, he said he would quit later on Monday if they vote to trigger a snap general election. This isn't likely as the main opposition parties are set to vote against the prime minister's plan for a national poll.
So Bercow said his term in office will come to an end at the end of next month. This would be "the least disruptive and most democratic action," he said. An election will be held among MPs to choose a new speaker. After finishing his emotional statement, Bercow received applause and tributes from politicians across the House.
His exit is a potential blow to those MPs who have been working to avoid a no-deal Brexit as he has repeatedly made time for them to take action to limit the government's room for maneuver.
"I wish my successor in the chair the very best of fortune in standing up for the rights of honorable and right honorable members individually and for Parliament institutionally," Bercow said.
Profile of John Bercow, the government's Brexit nemesis
And It's Law (3:24 p.m.)

The anti-no deal Brexit backed last week by rebel Tories has now become law, the House of Lords Speaker Norman Fowler announced.
The new law requires the prime minister to seek a three-month Brexit extension to Jan. 31. The only way he could avoid a delay would be to get Parliament's approval for a no-deal Brexit or a divorce deal by Oct. 19. Read more about it here.
However, Johnson has said he would rather die than seek a delay and the government is already consulting its lawyers, seeking loopholes in the bill to get around it, according to a person familiar with the matter.
Expelled Tory MP Says Party is Bad for U.K. (2:15 p.m.)
Margot James, one of 21 Members of Parliament expelled from the Conservative Party last week for rebelling over Brexit, said it would be bad for the country if the Tories win a majority.
"I'm afraid that is the conclusion I have reached," James, a former minister, told BBC TV on Monday. "Under the current leadership, with the current policy I think it would be a bad thing for the country for it to be returned with a majority."
James went further, saying that former Prime Minister Theresa May's government was "turbulent," and Johnson's administration is "even more chaotic." In more than nine years as an MP, she said, the only government she served in that was progressive and tackled the country's challenges was the five-year coalition with the Liberal Democrats.
Johnson to Return to Domestic Agenda (1:50 p.m.)
Boris Johnson plans to switch focus to the domestic agenda after the suspension of Parliament as he seeks to build support for the expected general election, according to a person familiar with the matter.
The campaign will have a similar style to Johnson's messaging during the summer, the person said. While Parliament wasn't sitting, Johnson regularly announced new funding and policy promises for his campaign priorities of crime, health and schools.
Government lawyers are exploring ways for the prime minister to get around the law, passed last week, that requires him to delay Brexit if he hasn't got a deal. Part of the reason for that is to show the prime minister will do everything in his power to deliver Brexit on Oct. 31, the person said.
Read more: Johnson Is Campaigning Again, But What Exactly Is He Selling?
Applications for Emergency Debates at 3:30 p.m. (1 p.m.)
The timings of the votes in Parliament will become clear at 3:30 p.m. and traders should brace themselves for a late night.
That's because Speaker John Bercow has agreed to hear two applications for emergency debates today. Labour leader Jeremy Corbyn will apply for a debate to ensure the law barring a no-deal Brexit is respected by the prime minister after Johnson's insistence he will not extend negotiations with the EU.
The other application is being made by former Conservative Dominic Grieve. He wants the government to publish its assessment of no-deal preparedness.
If the speaker grants both debates, that adds another six hours to this afternoon's proceedings, pushing back the time of the vote on whether the U.K. should hold an election.
Opposition Plot Their Path to Election (12:44 p.m.)

There is some reluctance to commit to any specific plan or date for an election at this stage as they await Johnson's next move. A lot will depend on how things play out.
U.K. and Ireland Flag 'Significant Gaps' (12:15 p.m.)
Johnson and Varadkar held two meetings lasting more than an hour in total on Monday morning, according to a joint statement from their two governments.
"While they agreed that the discussions are at an early stage, common ground was established in some areas although significant gaps remain," the statement said.
Both nations remain "committed" to securing an agreement between the U.K. and the European Union, and also to restoring devolved government in Northern Ireland, they said.
Johnson's Parliament Suspension Draws Criticism (12 p.m.)
Johnson's decision to suspend -- or prorogue -- Parliament at the close of business on Monday stoked the anger of opposition MPs.
Labour's Catherine West described the decision as "utterly irresponsible at a time of political crisis.'' Her colleague Alison McGovern said that, rather than "being suspended and sent away," the conference recess could be canceled to deal with the tight Brexit timetable. "Anyone who says this is normal has got it wrong,'' she said on Twitter.
In the House of Lords, opposition lawmakers said they would boycott the prorogation ceremony, which involves dressing in ermine and the use of 12th Century Norman French.
The close of business may not happen until after midnight. While that would be Tuesday in the real world, in the House of Lords it will still be considered Monday.
Government Confirms Parliament Suspension (11:45 a.m.)
Johnson's spokesman, James Slack, said Parliament will be suspended once Monday's business has been completed.
Opposition Parties Agree To Stick To Plan (11:40 a.m.)
Opposition leaders agreed to stick to their plan to oppose Boris Johnson's call for a general election when it's voted on later on Monday, the Labour Party said in a statement (see 9:45 a.m.).
"All leaders agreed that they would not support Boris Johnson's ploy to deny the people their decision by crashing us out of the EU with No Deal during a general election campaign," Labour said. "They agreed to work together today to hold the government to account in Parliament."
Talks Continue as EU Seeks U.K. Proposals (11:30 a.m.)
"Technical meetings" on Brexit will continue this week between Johnson's envoy David Frost and the European Commission, commission spokeswoman Mina Andreeva told reporters in Brussels.
The EU is still looking for concrete proposals from the U.K., Andreeva said. While there were "some ideas" from the U.K. last week on a joint Northern Ireland-Ireland agri-food area, proper solutions "were not presented," she said.
Read more: With the U.K. in Turmoil, Brexit Talks Are Slipping Backward
What We Learned When Boris Met Leo (10:50 a.m.)
The bottom line from the press conference between Irish Prime Minister Leo Varadkar and his U.K. counterpart, Boris Johnson, is that little really new emerged.
Standing in the rain in Dublin, both restated previously held positions. Varadkar was probably more forceful than expected, and appeared less conciliatory than in his outings with Theresa May.
At times, during his opening statement, it felt like the Irish premier was lecturing Johnson -- as he warned the British leader he faces a "herculean task" in achieving trade deals with the EU and US after Brexit and told him there's no such thing as a clean break from the bloc. Such messages won't play well with the hardliners in Johnson's Conservative party, who believe the EU is effectively trying to trap the U.K.
Varadkar may be merely setting out his stall before a tough renegotiation, but it didn't feel like compromise is in the air. Varadkar seemed determined not to inject more false optimism into the process after the U.K.'s reaction to mildly encouraging words from Angela Merkel and Emmanuel Macron.
'Ideal' Time for a Brexit Deal, Johnson Says (10:06 a.m.)

Johnson says the U.K. has "an ideal" amount of time to achieve a deal with the EU as the tight timetable will focus minds. "We can make a huge amount of progress," he said before talks with Varadkar in Dublin.
But Varadkar said Johnson's key demand, to remove the Irish border backstop, is not "ideal for us" and not "attractive."
Johnson Says Deal Can Be Done By Oct. 18 (10 a.m.)
Johnson told Varadkar he is determined to find a deal by Oct. 18, when the next European Council meets. Not to do so "would be a failure of statecraft," Johnson said.
Johnson said he wanted to "manage expectations" that there would be a "breakthrough" on the Irish backstop at the talks in Dublin today.
He assured Varadkar that the U.K. "would never, ever" impose checks at the border between Northern Ireland and the Republic.
Varadkar Wants Guarantees, Not Promises (9:50 a.m.)
Irish Prime Minister Leo Varadkar said he needs guarantees, not promises, to fix the problem of the border with Northern Ireland after Brexit.
"We are open to alternatives but they must be realistic, legally binding and workable," Varadkar said before talks with Johnson in Dublin. He added that no proposals have yet been received from the U.K. "What we can't do and will not do is agree to the replacement of a legal guarantee with a promise," he said.
Varadkar says he believes a deal with the U.K. "is possible."
Opposition Parties Discuss Strategy (9:45 a.m.)
Labour leader Jeremy Corbyn will host a meeting of the smaller opposition parties this morning. Attendees including the Scottish Nationalist Party, Plaid Cymru and the Liberal Democrats, according to two people familiar with the matter.
They will discuss the timing of the election and strategy for tackling Johnson, including a possible impeachment if he presses ahead with no-deal against the will of Parliament.
Welsh Party Eyes Johnson Impeachment (9:30 a.m.)
Plaid Cymru, the Welsh nationalist party, said opposition groups should be prepared to impeach Boris Johnson if he ignores legislation forcing him to seek another delay to Brexit.
"It only takes one MP to make the accusation of High Crimes and Misdemeanors against a public official for the impeachment process to begin," Plaid said in a statement on Monday. "Once the accuser has presented his or her proofs to the Commons and if the House agrees that there is a case to answer, a committee is established to draw up articles of impeachment."
The House of Lords, who act as judges in the case, then appoint prosecutors to try the case, and if there is a conviction the Commons decides the sentence, the party said. The procedure was last used – unsuccessfully – on Henry Dundas, the minister for war, in 1806, according to the House of Commons Library.
Ireland Favors Brexit Extension (Earlier)
Irish Finance Minister Paschal Donohoe said his country is in favor of an extension to Brexit talks so long as it "creates the space" for solutions to be found. He warned that in a no-deal Brexit, "we would put in place the kind of arrangements that would be needed to ensure that we would stay inside the single market."
Efforts are focusing on how to keep the U.K.-Ireland border open while dropping the contentious Irish backstop policy from the deal brokered by Theresa May. Johnson has suggested maintaining common standards on agri-foods. Donohoe said that while that idea, "when fleshed out, would clearly have merit," it's also not enough to get a deal.
"This is something that only covers off a portion of the trade between the United Kingdom and Ireland on the island of Ireland and would not be a solution that would deal with all of the other issues we have to manage in terms of the flow of trade and also the protection of the Good Friday Agreement," Donohoe said.
Asked about alternative arrangements such as trusted trader programs that the U.K. is promoting, Donohoe said: "We have yet to see examples of how they would work not only on our own island but indeed anywhere else in the world."
Earlier:
Defiant Johnson Pushes On With Brexit Plan as Court Threat Looms
With the U.K. in Turmoil, Brexit Talks Are Slipping Backward
Britain's Steve Bannon Is Tearing Johnson's Tories Apart
— With assistance by Ian Wishart, Dara Doyle, Alex Morales, Kitty Donaldson, and Jess Shankleman