politics
'MAGA Bomber' Gets 20 Years, Says He Read Trump on Self-Help
By and
'MAGA Bomber' Gets 20 Years, Says He Read Trump on Self-Help
By and
Sayoc avoids life by arguing he didn't mean to kill targets

Weekend massacres renew debate on impact of incendiary speech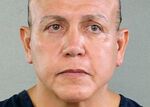 The Florida man who mailed pipe bombs to critics of President Donald Trump was sentenced to 20 years in prison on Monday, the day after back-to-back mass shootings sparked a fierce national debate over the impact of incendiary political speech.
Cesar Altieri Sayoc, who plastered his van with pro-Trump messages and the faces of Hillary Clinton and others in crosshairs, sent a wave of fear across the U.S. for two weeks in October, targeting Barack Obama, Joe Biden, CNN and others -- 13 in all. None of the bombs went off, and Sayoc's lawyers argued their client didn't mean them to.
The judge agreed.
"While Mr. Sayoc was no firearms expert, he was perfectly capable of concocting pipe bombs that were capable of exploding," said U.S. District Judge Jed Rakoff in Manhattan, rejecting the government's request for a life sentence. "He hated his victims, he wished them no good, but he was not so lost as to wish them dead, at least by his own hand."
Still, in doubling the sentence the defense had recommended, Rakoff made it clear Sayoc had caused great harm, as the defendant acknowledged.
"I feel the pain and suffering for these victims, and I will be apologizing to them for the rest of my life," Sayoc, 57, told the judge. He said a string of "personal major tragedies" had led to depression and steroid abuse.
'Love of My Life'
"Now that I am a sober man, I should have listened to my mother, the love of my life," he said. "She told me to get help."
Instead, Sayoc -- known as the MAGA bomber for his devotion to Trump's Make America Great Again campaign -- turned to self-help books, including some by the president, Sayoc's lawyer, Ian Marcus Amelkin, told the court.
Trump's "rhetoric" may have spurred Sayoc on, Amelkin said, referring to studies showing a spike in hate crimes in areas where Trump has held rallies. Rakoff questioned the link, noting that "correlation and causation" are two different things.
"Sayoc's domestic terrorism challenged our nation's cherished tradition of peaceful political discourse," Geoffrey Berman, the U.S. attorney in Manhattan, said in a statement.
Read More: Trump Condemns White Supremacy After Facing Blame for Shootings
The sentencing comes after two massacres in 24 hours. On Saturday, a white gunman killed 22 people in an onslaught against Hispanic Americans at a Walmart Inc. store in El Paso, Texas. Early the following morning, another shooter mowed down nine people in Dayton, Ohio's nightlife district before he was killed by police. Dozens more were wounded, some gravely.
Sayoc pleaded guilty in March to charges including use of a weapon of mass destruction and using explosives to commit a felony. His targets included Senator Cory Booker of New Jersey, a Democratic presidential candidate, who on Sunday said of the weekend shootings that Trump was "sowing seeds of hatred in our country." On Monday, Trump condemned racism and white supremacy in his strongest terms yet, though he blamed mental illness and didn't call for broad gun control measures.
In court on Monday, Amelkin said his client had hit "rock bottom" over the past decade and ultimately turned to self-help books, including some by the president that "really resonated with him," given his lack of friendships and strong relationships with family.
Because of his mental illness and limited cognitive abilities, Sayoc's attorneys argued in court papers, he believed "outlandish reports" that "increasingly made him unhinged" and became more "obsessive, paranoid and angry" as the 2018 midterm elections approached.
Found the Light
Sayoc "found light in Donald J. Trump," they wrote. He "found the sense of community that he had been missing for so many years."
Prosecutors argued his attacks were the result of years of violent threats and months of planning. Sayoc put photographs of his intended victims on each bomb, with a red "X" over their faces, added black flags resembling those used by ISIS and other terrorist groups, and packed explosive powder from fireworks and shards of glass into the devices.
Assistant U.S. Attorney Jane Kim said in court that Sayoc "created a climate of terror" across the country and that a 10-year sentence would be less than a year for each of the bombs he mailed.
They were capable of exploding, she said.
The case is U.S. v. Sayoc, 18-cr-820, U.S. District Court, Southern District of New York (Manhattan).
(
Updates with material under Love of My Life.
)