business
Plant Protein Goes Mainstream for Canadian Meat Giant
By
Plant Protein Goes Mainstream for Canadian Meat Giant
By
Company bets on meat alternative to bolster core growth

Maple Leaf builds biggest North America plant-protein facility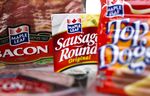 Plant protein is no longer on the periphery for Canadian meat giant Maple Leaf Food Inc.
The Mississauga, Ontario-based company is building a $310 million facility in Shelbyville, Indiana, that's expected to double its alternative-meat production capacity. On Thursday, it warned of a potential hit to margins from "new and aggressive" goals when it comes to plant-based protein.
"Our view of the plant-based protein business has pivoted from a diversification strategy to a core and exciting growth platform that can literally transform this company over the next decade," Chief Executive Officer Michael McCain said on a conference call with analysts.
Read More: Pea-Protein Craze Lures Second Processing Plant to Manitoba
The "game has radically changed," with new entrants using a a fast-paced, technology-based playbook, he said. Beyond Meat Inc., emerged as this year's darling in the IPO market, with UBS Group AG predicting the plant-protein market to reach $85 billion by 2030 from $4.6 billion now as part of technological revolution in agriculture.
Maple Leaf acquired Lightlife Foods in 2017 and later created a plant-based subsidiary, Greenleaf Foods SPC.

— With assistance by Deena Shanker