politics
EU Power Broker Selmayr Headed to Vienna Amid Changing of Guard
By
EU Power Broker Selmayr Headed to Vienna Amid Changing of Guard
By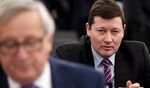 Martin Selmayr, the top civil servant of the European Union's executive arm and a major behind-the-scenes power broker, will become the head of its representation to Austria as the decks are cleared for a new EU leadership team in Brussels.
Selmayr will take up the job in Vienna on Nov. 1, the same day that fellow German native Ursula von der Leyen is due to succeed Jean-Claude Juncker as European Commission president. The heads of commission representations in EU member countries including Austria essentially perform a communications role.
Selmayr will remain secretary general of the commission until Aug. 1 and then serve for three months as a special adviser to Juncker, the organization said in an emailed statement on Wednesday in Brussels. Selmayr, 48, was Juncker's chief of staff before being named secretary general in March 2018.
EU Puppet-Master Exits, Leaving Behind Enemies and Intrigue
A trained lawyer, he shot up the EU ladder in 15 years through a combination of hard work, cleverness, ambition, savvy and luck. In the process, Selmayr earned respect and ire throughout the EU's institutional machinery. He will become the shortest serving of the commission's seven secretaries general to date.