politics
Debt Limit Deal Is Poised to Pass the House, Democrats Say
By and
Debt Limit Deal Is Poised to Pass the House, Democrats Say
By and
Majority Leader Hoyer says House vote will be on Thursday

Republican and Democratic leaders urged support for the deal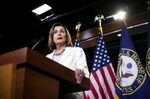 House Democrats said Wednesday the bipartisan deal to suspend the debt limit and increase government spending for two years will pass the House of Representatives this week.
"Everyone is going to hold their nose and pass it," Florida Representative Donna Shalala said as House Democrats discussed the compromise in their weekly meeting.

House Speaker Nancy Pelosi led negotiations this month with Treasury Secretary Steven Mnuchin to give the U.S. more borrowing authority andlift budget caps that restrict how much taxpayer money Congress could spend over the next two years. President Donald Trump announced the deal Monday, and leaders from both chambers and both parties urged their members to vote for it.
"We were just talking about what a great negotiator our speaker is," said Illinois Representative Jan Schakowsky, a close Pelosi ally. "It will pass in the House certainly."
Pelosi told reporters Tuesday that she thinks the House will pass the debt limit and budget deal. The bill then would go to the Senate for a vote before being sent to Trump for his signature.
Democratic Majority Leader Steny Hoyer said the deal will get a vote on the House floor Thursday -- the day before members are scheduled to leave Washington for a six-week recess -- and he expects the measure to pass.
Read More: Mnuchin Defends Debt-Limit, Budget Deal to Skeptical Republicans
However, there are two pockets of dissatisfaction within the Democratic caucus, from opposite ends of the ideological spectrum. Progressive Democrats wanted more domestic spending and less defense spending than the deal allows, and some moderate Democrats are wary of adding to yearly budget deficits that are already on track to top $1 trillion.
Utah Representative Ben McAdams, a member of Blue Dog Coalition of fiscally moderate Democrats, said he is still undecided on how he'll vote.
"I do have concerns about the fiscal impact," McAdams said.
Fellow moderate Collin Peterson of Minnesota called it a tough vote. "We've got to start paying for this stuff," he said.
The leaders of the Congressional Progressive Caucus, Wisconsin Representative Mark Pocan and Washington Representative Pramila Jayapal, said they haven't decided whether they'll vote for the measure.
California Representative Barbara Lee, also a progressive Democrat, said she shares some of the same concerns as Pocan and Jayapal. While she hasn't committed to support the bill, she said she knows the alternative is "chaos."
— With assistance by Laura Litvan
(
Updates with Hoyer quote in the sixth paragraph.
)