politics
Braced for Boris Johnson, Europe Tries to Gauge an Unpredictable Leader
By and
Braced for Boris Johnson, Europe Tries to Gauge an Unpredictable Leader
By and
EU finds Johnson unpredictable and fears a no-deal Brexit

Merkel and Macron united in not wanting to reward new premier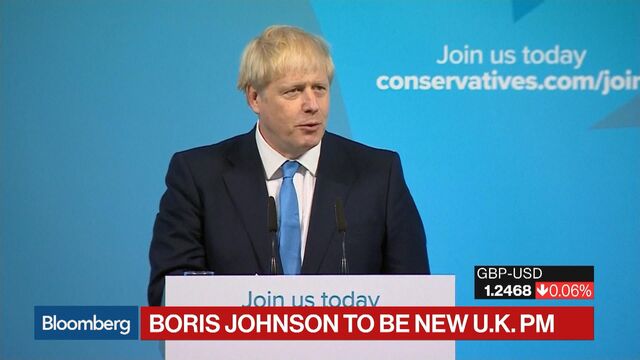 European leaders aren't sure how to read Boris Johnson.
As Johnson takes over as U.K. prime minister, European governments are struggling to figure out how to deal with their new partner in Brexit negotiations. They don't want to reward what they see as populist behavior that contributed to the current impasse. They are wary that Johnson might put bonds with the U.S. ahead of ties with Europe.

But they also want to avoid the economic catastrophe of Britain crashing out of the bloc without an agreement, according to several European officials.
Johnson has set himself a deadline of Oct. 31 to renegotiate a whole new Brexit deal and get it through a deeply divided Parliament. The EU says it's not prepared to reopen the accord his predecessor struck but is willing to offer some tweaks around the edges. The bloc says the twice-delayed divorce can be pushed back again -- but Johnson says Halloween is the "do or die" cut-off.
How Boris Johnson Plans to Deliver Brexit in 100 Days
EU governments -- while publicly congratulating Johnson -- are braced for relations to get rockier. In play is the overall economic, diplomatic and political relationship -- the crisis in the Gulf is a reminder of what's at stake for both sides once Britain goes it alone. The mood has already soured since it became clear that Johnson was likely to win the leadership race, according to officials from several European states.
Since May's resignation in early June, discussions at diplomatic level between Berlin, Paris, Dublin and Brussels have centered on the unpredictability of a Johnson premiership, officials said. While Johnson, like U.S. President Donald Trump, might consider being difficult to read a strength, it won't help either side reach a negotiated settlement on Brexit, they said.

Neither German Chancellor Angela Merkel nor French President Emmanuel Macron, the EU's two most powerful leaders, are in a mood to give Johnson what he's asking for. Even where the bloc has suggested it's open to some compromise, Johnson has pushed the door firmly shut, EU officials said.
Johnson was the face of the Leave campaign in 2016, which was criticized in Britain and in Europe for oversimplifying the consequences of Brexit and misleading voters. Merkel doesn't want to meet Johnson's demands as it would send a signal that a populist approach works, said a German government official.
With an eye on the continent's other outspoken leaders, such as those in Italy and Hungary, Merkel and Macron know there's more at stake than just Brexit.
U.S. vs EU
The EU still thinks all Brexit options are on the table: the U.K. could leave with or without a deal, its departure may be delayed again or it could end up remaining after all. Some officials within European governments even think sentiment in Britain has shifted toward remaining in the EU and that Johnson -- chosen by members of the Conservative Party rather that the public at large -- doesn't reflect that. There's no clear evidence of that in opinion polls.
"Johnson is proof of the weakness of Britain's electoral system." Juergen Hardt, foreign policy expert of Merkel's ruling CDU caucus, said in a phone interview. "The person who has the majority in the Conservative party in the lower house stands for a policy that isn't supported by a majority of the British people." All the more reason why Merkel shouldn't meet Johnson's demands, he said.
The EU expects Johnson to make early visits to see Trump and to the most important European capitals. He will then head to the G-7 summit in Biarritz, France at the end of August, which is increasingly seen as a crucial rendezvous.
Johnson's Past
Johnson's reputation in Europe was shaped by his period as Brussels correspondent for the Daily Telegraph in the 1990s. He earned him a reputation for whipping up euroskeptic sentiment with stories that weren't always credible. Three years ago he likened the EU's ambitions to Adolf Hitler's attempt to dominate the continent.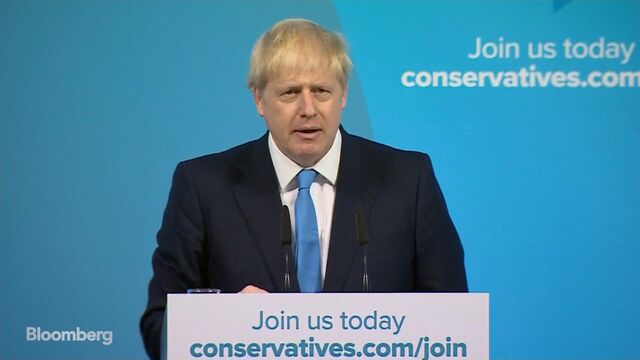 EU governments know the difference between public rhetoric during an election campaign and the serious business of running a country and are willing to reserve judgment on Johnson, a French official said. Johnson has also struck a conciliatory tone during the campaign and since his victory, referring to the EU as "friends" and partners.
But France is also worried that Johnson could be ready to favor the U.S. over Europe, according to a person familiar with Macron's thinking. Johnson has promised to negotiate a trade deal with the U.S. and was endorsed by Trump before he was even elected.
"I don't know what the U.K. position will be tomorrow -- there are uncertainties," Macron said an EU summit in Brussels last month. May "always acted in a very responsible and loyal way. We don't know how the next leader will behave."
— With assistance by Helene Fouquet, Gregory Viscusi, and Milda Seputyte