politics
Roger Stone Assails Effort to Punish Him for Social Media Posts
By
Roger Stone Assails Effort to Punish Him for Social Media Posts
By
He says his 'lonely voice' doesn't threaten a fair trial

Government said posts violated terms of Stone's bail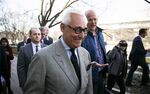 Embattled political consultant Roger Stone told a judge that his recent social media posts didn't violate the terms of his bail, and he assailed the government's "disproportionate response" to them.
Stone also said in a filing Thursday that his three posts on Instagram and Facebook weren't statements and didn't threaten the court's ability to conduct a fair trial.
He said he will continue to respect the orders of the court and that the government ignores thousands of hostile articles that have been published about his case, as well as cartoons, editorials and television programs, "even a comedic portrayal of Roger Stone by Steve Martin on Saturday Night Live which satirically portrayed Stone as a caricature of himself."
"The 'prejudice' to be concerned about is prejudice against Stone," his lawyers wrote in the filing. "His lonely voice presents no threat to a fair trial."
Read More: Roger Stone Violated Bail With Social Media Posts, U.S. Says
Prosecutors accused Stone, a longtime ally of President Donald Trump, of breaking the terms of his bail by attacking the Russia probe led by former special counsel Robert Mueller. Stone may have tainted the jury pool by questioning the veracity of Mueller's finding that Russia hacked into the Democratic National Committee's servers, prosecutors said in a letter to the judge handling the case.
"The government's disproportionate reaction is an effort to deprive Stone of the narrow latitude the court left him," according to the Thursday filing. "A latitude that was not violated by the posts, and a latitude which, if curtailed, based on the posts, would violate Stone's First Amendment rights."
Stone was indicted in January for lying to Congress and obstructing lawmakers' probe into Russian meddling in the 2016 election, including its DNC hack. Stone said there's no evidence to support Mueller's charges because the U.S. can't prove the Russian government hacked the servers or sent the stolen emails to WikiLeaks for publication -- the very events Stone allegedly lied about.
The case is U.S. v. Stone, 1:19-cr-00018, U.S. District Court, District of Columbia (Washington).
(
Updates with excerpts from court filing.
)