politics
After Trump Snub, Kremlin Relishes Chance for Putin Meeting
By and
After Trump Snub, Kremlin Relishes Chance for Putin Meeting
By and
U.S. leader drops conditions he'd earlier set for meeting

Kremlin benefits from fact of talks, despite lack of substance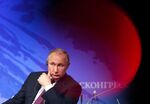 Smarting from Donald Trump's sudden snub six months ago, the Kremlin is trying to play it cool about the meeting between the U.S. and Russian presidents set for Friday in Japan. But the anticipation is palpable.
For Moscow, even a brief conversation would confirm Vladimir Putin's status as a go-to global leader despite years of efforts by the U.S. and its allies to isolate him. It means Trump would have dropped the condition he set for a meeting when he canceled the last one in November -- the release of two dozen Ukrainian sailors held in Russian jail.
"Expectations are low. If the meeting happens, it will be brief," said Andrei Kortunov, director general of the Russian International Affairs Council, a Kremlin-founded think tank. "But the meeting itself is positive for Putin and Trump. The absence of contact throughout the whole year creates tension."
There are no plans for any statement from the Osaka chat and no details yet on the agenda, according to Kremlin officials. Moscow has all but lost hope that Trump will be able to deliver on his pledges to improve relations, even after his assertions this year that the Mueller report on Russian meddling in the 2016 election exonerated him of colluding with Russia.
Read more: Democrats Turn Mueller Frustration Into Election Security Focus
But the leaders might be able to at least stop the downward spiral in ties, possibly with some kind of preliminary agreement to revive efforts at arms control.
"I do not accept many of his methods when it comes to addressing problems," Putin said of Trump in an interview published yesterday with the Financial Times. "But do you know what I think? I think that he is a talented person. He knows very well what his voters expect from him."
Chances for a deal to extend a key pact limiting nuclear arms that expires in 2021 -- something Russia has signaled it wants to do -- are small as top U.S. officials have said they don't see an extension as a priority and have called for a new treaty including China, which rejects the idea.
"Trump always wanted to make a success of Russia, as his predecessors had always failed," said James Nixey, head of the Russia and Eurasia program at Chatham House in London. "But even he can probably see that's a busted flush now."
Read more: Iran Set to Overshadow G-20 as Leaders Try to Save Nuclear Deal
The U.S. has a host of concerns about Russian activity in the Mideast and Europe, ranging from the Kremlin's military support for Bashar al-Assad's regime in Syria to the Nord Stream 2 gas pipeline Russia and Germany are building in the Baltic Sea. The U.S. would like Russia to apply pressure on Iran to withdraw from Syria, and Trump has threatened to sanction companies involved in constructing the pipeline.
Acting U.S. Defense Secretary Mark Esper yesterday called Russia the "instigator of aggression in Europe today." Speaking in Brussels after his first meeting with counterparts from the North Atlantic Treaty Organization, Esper said Russia "seeks veto power over its neighbors and interferes in the sovereign democratic processes of other countries."
American officials have also recently warned that Russia is likely to undertake a renewed interference campaign in the 2020 elections.
Special Counsel Robert Mueller said in his report that Russia interfered in 2016 but he couldn't conclude whether Trump's campaign conspired in that effort. Mueller also said Department of Justice policy prevented him from reaching a conclusion about whether Trump committed a crime -- obstruction of justice -- by interfering in the investigation itself.
Keenly, Clearly
The U.S. leader has claimed full exoneration, repeatedly declaring that the special counsel found "no collusion, no obstruction."
Speaking in his Financial Times interview, Putin said Trump had capitalized on the sense America's middle class had not benefited much from globalization.
"The Trump team sensed this very keenly and clearly, and they used this in the election campaign," Putin said. "It is where you should look for reasons behind Trump's victory, rather than in any alleged foreign interference."
It's unclear to what extent Trump will bring up specific disputes with Putin. A White House official said earlier in the week the leaders would focus on regional security, arms control and improving relations between the countries. Asked on Wednesday before departing for the G-20 whether he'd warn Russia against election interference, he told reporters "it's none of your business."
Congressional Opposition
Trump is nearly alone in Washington in desiring improved relations with Russia. Members of Congress from both parties want to sanction Russia further for a 2018 incident in the U.K. in which a Russian-made chemical weapon was used in an attack on a former Russian spy and his daughter. The Kremlin has denied involvement.
Trump canceled a meeting with Putin on the eve of the November G-20 in Argentina to punish Russia for capturing Ukrainian ships and sailors in a Black Sea naval clash. Russia has yet to return the ships or sailors. The U.S. president hasn't mentioned the incident ahead of the Osaka summit.
A year ago in Helsinki, the summit between the two leaders yielded an agreement on limiting Iran's military presence near the Syrian border with Israel. But that was overshadowed by the furious domestic response to Trump publicly defending Putin against the conclusions of his own intelligence agencies on Russian election meddling.
Transcripts released yesterday from Rex Tillerson's testimony to the House Foreign Affairs Committee may offer a cautionary tale for today's meeting. The former secretary of state was asked about the lack of a formal note taker when Trump sat down with Putin in Helsinki, and said the U.S. had agreed because it was supposed to just be a "courtesy meeting" to allow the leaders to "get a sense of one another," but it ended up going for two hours.
The presidents held a long phone call in April, but efforts to find common ground have since foundered. A meeting this week in Jerusalem of security chiefs from the U.S., Russia and Israel brought the two sides no closer to an agreement amid American demands for an Iranian pull-out from Syria.
"For Trump, Russia remains toxic," said Kortunov. "And nobody in his administration wants to repeat what happened after Helsinki. He will also have very difficult meeting with (China's president) Xi, so talks with Putin do not seem like a priority for him."
— With assistance by Alex Wayne, Nick Wadhams, and Rosalind Mathieson