politics
Pelosi Conditions Border Funds on Better Care for Migrant Youth
By
Pelosi Conditions Border Funds on Better Care for Migrant Youth
By
Senate passed $4.6 billion measure for extra border resources

Pelosi tells Trump Congress must reconcile the two versions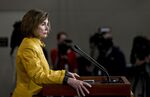 House Speaker Nancy Pelosi outlined late Wednesday Democrats' demands for the border funding bill Congress has debated for weeks to respond to a worsening humanitarian crisis on the U.S.-Mexico border.
Pelosi is balancing the demands of her progressive members who want to ensure that federal resources are used to help migrants, while her more moderate members are willing to accept the $4.6 billion bipartisan bill that passed the Senate 84-8 on Wednesday.
There's a tight timeline for the measure, and Senate Republicans haven't said whether they'll accept Pelosi's changes and pass the bill again this week before Congress recesses until July 9. The House passed its version of the border-funds bill Tuesday, and Pelosi called President Donald Trump Wednesday to say House Democrats won't simply pass the Senate bill.
After meeting with leaders of Democratic factions, Pelosi said her members want to change the Senate version to limit how long children can be held, enforce high standards for "influx" facilities and require immediate notification of any child deaths in U.S. custody. The House plans to amend the Senate bill on Thursday, according to a statement from Pelosi's office.
"They pass their bill and we respect that, and we passed our bill and we hope they respect that," Pelosi told reporters Wednesday after speaking with Trump. "There are some improvements to their bill that I think we can reconcile."
House Approves Border Funds as Pelosi Overcomes Liberal Revolt
Reports and images of migrants, including children, detained in inhumane conditions and dying en route to the border have underscored the urgent need for short-term relief and long-term changes to U.S. immigration law.
Trump, whose administration was widely criticized last year for a policy of separating migrant parents from their children, accused Democrats of holding out on a solution to score political points.
"We cannot tolerate the endangerment, abuse or smuggling of children," Trump said earlier Wednesday at an evangelical conference sponsored by the Faith and Freedom Coalition. "And the only way to really stop it is to change the law, and the Democrats can do that immediately."
Trump later told reporters he had a good conversation with Pelosi on the border bill.
"I think that Nancy wants to get something done," he said.
American Values
Health and Human Services officials warned this week they will run out of money to care for migrants arriving at the southern border in July.
"House Democrats have been consistently uncooperative and uninterested in anything except political posturing," said Senate Majority Leader Mitch McConnell. "They have talked endlessly about the suffering at the border but have resisted every effort to actually make a law and get help on the way."
Senate Minority Leader Chuck Schumer said he and Pelosi would be seeking a few changes to the Senate bill, and the differences between the two versions should be "resolved" quickly.
Republican Senator Richard Shelby, chairman of the Senate spending panel, said that a deal depends on how many demands Pelosi is making.
"We were told there were a few and then we were shown there were many," he said after reviewing documents from the Democrats.
Republicans have not yet responded to the list of demands Pelosi released publicly.
— With assistance by Alyza Sebenius
(
An earlier version of this story corrected the timing of the Senate vote.
)