economics
Why Massachusetts Is the Best Place to Work
A new report ranks where U.S. college graduates can find the best jobs, and the best quality of life.
By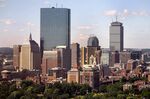 If you're looking for a job, it turns out that Massachusetts, Washington or Colorado are your best bet—even better than New York or California—when it comes to all the reasons you would want to live and work somewhere.
Massachusetts ranks No. 1 overall thanks to a strong education and healthcare system, according to a study from personal finance website WalletHub, which gauged 33 indicators of job-market strength, opportunity and economic health. West Virginia came in last.