markets
China Just Missed the Dubious Honor of Importing the Most-Ever Oil
By
China Just Missed the Dubious Honor of Importing the Most-Ever Oil
By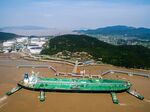 The world's biggest oil importer barely missed becoming the all-time record holder.
China imported 10.68 million barrels of crude a day in April, General Administration of Customs data showed Wednesday. That's 0.8 percent shy of the 10.77 million mark that the U.S. set in 2005, the most any country has ever imported in a single month.

Becoming the all-time leader is a bit of a dubious distinction. While it's certainly a sign of a vibrant economy in need of fuel to ferry around people and goods, it also represents a hefty bill owed to oil exporters. The U.S. tried to reduce its dependence by promoting biofuels and fuel-efficiency standards, though it ultimately succeeded thanks to the unexpected boom in output from shale wells. China is pursuing a different course for slowing import growth, investing in high-speed rail and pushing for the adoption of electric vehicles.
— With assistance by Sarah Chen