business
Ciudadanos Ready to Work With Sanchez in Spain From Opposition
By
Ciudadanos Ready to Work With Sanchez in Spain From Opposition
By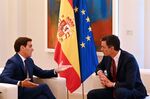 Ciudadanos, the party that came third in Spain's election last month, will join the opposition to acting Prime Minister Pedro Sanchez's Socialist Party in parliament, but is prepared to offer support on issues of state, leader Albert Rivera said.
"We will offer loyal opposition," Rivera said in a news conference in Madrid Tuesday after talking for nearly an hour with Sanchez. Sanchez is holding talks with his political rivals to work out how to form a government after he won most seats in the April 28 ballot.
Ciudadanos will back steps to improve Spain's education system, tackle a shrinking rural population, step up the fight against terrorism and fine-tune immigration policy, Rivera said. He said he'd also offered his party's 57 seats to vote for suspending the powers of the separatist government of Catalonia if it keeps defying the constitution.
Spain needs a strong opposition because it's clear that Sanchez will try to form a government with the anti-austerity party Podemos, Rivera said. They will need to be confronted over policies aimed at raising taxes, he said.