markets
'Flash Boys' Exchange Adds Ex-SEC Member Kara Stein to Its Board
By
'Flash Boys' Exchange Adds Ex-SEC Member Kara Stein to Its Board
By
Democrat left agency in January after serving for five-years

Move comes as IEX struggles to gain market share from rivals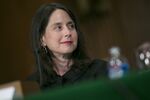 IEX Group Inc., the trading platform operator featured in Michael Lewis's book "Flash Boys," said it has added a former U.S. Securities and Exchange Commission member to its board as it struggles to gain market share from more established rivals.
Kara Stein, a Democrat who left the agency in January after a five-year term, is the latest in a series of high-profile hires the IEX has made since it won SEC approval to start operating in June 2016. The company attracted Lewis's attention and drew the ire of industry giants NYSE Group Inc. and Nasdaq Inc. by offering trades with a so-called speed bump, a split-second delay designed to blunt high-frequency trading strategies.
Stein comes aboard as IEX and its competitors face the prospect of an SEC overhaul of rules that underpin U.S. stock trading. The agency is also in a legal battle with NYSE, Nasdaq and Cboe Global Markets Inc. over a review of fees and rebates that help power their business.
"The industry is at a turning point," IEX Chief Executive Officer Brad Katsuyama said in a statement. "Kara's experience and insight will be invaluable in this period of positive momentum toward meaningful change that benefits investors, issuers, and brokers."
Stein said in the statement that she's "excited about the company's mission of developing cutting-edge technologies to enhance and create new standards of performance in the marketplace."