markets
Five Things You Need to Know to Start Your Day
Get caught up on what's moving markets.
By
Five Things You Need to Know to Start Your Day
Get caught up on what's moving markets.
By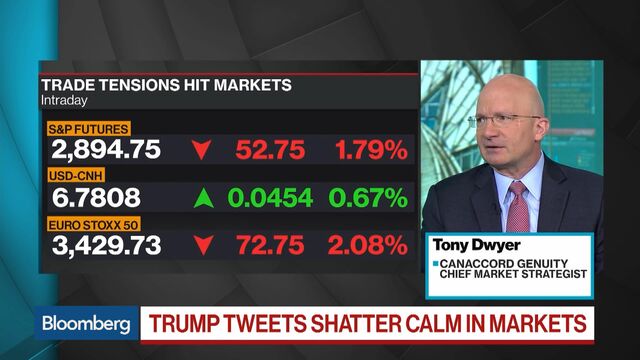 Want to receive this post in your inbox every morning? Sign up here
Trump tariff tweets threaten trade talks, markets tumble, and the U.S. brings a saber to rattle at Iran. Here are some of the things people in markets are talking about today.
Tariff man
President Donald Trump put trade talks between the U.S. and China at risk over the weekend when he sent out two tweets that threatened to increase tariffs on $200 billion of Chinese imports to 25 percent on Friday. Foreign Ministry officials in Beijing said a delegation still planned on travelling to Washington for talks, but it is unclear whether Vice Premier Liu He would attend, or even whether China would be willing to negotiate with a gun to their heads. The president's input is a major about-face from the White House, which had lately been sticking to Treasury Secretary Steven Mnuchin's line that talks continued to be "productive."
Sea of red
Whether Trump's tweets are a change of sentiment or just a negotiating tactic, one thing is clear: Market's don't like the intervention at all. Despite  media silence on the comments in China, the country's Shanghai Composite Index tumbled 5.6 percent overnight, while the regional MSCI Asia Pacific Index dropped 1 percent. Oil fell to a five-week low, and measures of volatility soared. In Europe, the Stoxx 600 Index slid 1.6 percent by 5:45 a.m. Eastern Time in a broad-based selloff. S&P futures pointed to a close-to-2 percent drop at the open and gold rose.
Unmistakable message
The U.S. said it's sending an aircraft carrier strike group and bomber force to the Middle East in what National Security Advisor John Bolton said was a "clear and unmistakable message to the Iranian regime that any attack on United States interests or on those of our allies will be met with unrelenting force." The move comes less than a week after the U.S. allowed Iran oil-export waivers to expire. The White House's penchant for gunboat diplomacy can also be seen in the South China Sea after two U.S. warships sailed close to islands in the disputed Spratly chain which are claimed by China, the Philippines, Taiwan and Vietnam. 
Annual meeting 
The investor love-in that is the Berkshire Hathaway Inc. annual shareholder's meeting happened over the weekend, where Warren Buffett unusually was in the position of defending his investment approach. The company admitted overpaying for a part of Kraft Heinz Co. and a failure to realize the potential of Amazon.com Inc., while the meeting also offered a glimpse of who would lead a post-Buffett Berkshire. The $739 billion company announced a ramp-up in share buybacks as the current leadership finds it harder to uncover deals that move the needle for the investment behemoth. 
Coming up...
After last week's huge economic data dump, this one is relatively quiet on that front. There may be some investor interest in Philadelphia Fed President Patrick Harker's views on the economic outlook when he speaks at 9:30 a.m. The Sohn Investment Conference begins in New York today. Tyson Foods Inc. and Hertz Global Holdings Inc. are among the companies bringing up the tail end of earnings season. 
What we've been reading
This is what's caught our eye over the weekend.