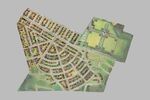 Welcome to the latest edition of MapLab. Sign up to receive this newsletter in your inbox here.
---
Inside the San Francisco Public Library's Mission District branch, history is holding court. A miniature, three-dimensional view of the neighborhood—the same streets and aging buildings where falling rain and rushing tires can be heard from outside—stands in the middle of the luminous reading room.
This is the Mission's slice of a 1,000-foot scale model of the whole city, which WPA workers built for the San Francisco Planning Commission in the late 1930s. Now, for a few more days, the fully restored model is on full display for the first time since 1942, with each of the city's 27 library branches showing off their corresponding neighborhood pieces.

A collaboration between the SFPL and the San Francisco Museum of Modern Art, the project is called Take Part. Conceived by the Dutch artists Liesbeth Bik and Jos Van der Pol, the idea is to spark conversation about how locals and visitors relate to the city, and to find a permanent home for the mini-city after the library exhibition wraps up at the end of this month. "Is there room for San Francisco in San Francisco?" Bik and Van der Pol write on the project's website. A petition is underway in support of finding a way to display the model in its entirety, in perpetuity. (Already, David Rumsey's map collection website has made a stunning high-resolution photograph of the entire model available to all online.)

The model is a simple wood and paint construction, but it's always been packed with a lot of purpose. Built as a planning and educational tool, and as a means of making work for people at the end of the Depression, it was meant to help guide the city through the huge transformations it was undergoing at the time. The Bay Bridge, Treasure Island, two airports, and the East Shore Highway were all being built. The topographical scale model, which is reconfigurable, apparently came in handy for the hilly city's planners, at least for a time. As computer-based modeling came into vogue, most of the model ended up in storage by the 1960s, and hasn't seen the light of day until now.

And now seems an especially good time to look at the past, in light of the further tectonic shifts San Francisco is experiencing, this time socioeconomic. With the median monthly rent for a one-bedroom apartment in San Francisco now upwards of $3,000, residents have become wealthier, younger, and more educated on the whole. The Mission District has been ground zero for the gentrifying forces these newer faces have brought—and the local battles to prevent too much change. In that context, one of the most striking things about the model is how little San Francisco's housing stock has changed since the middle of the 20th century, a fact that is putting upward pressure on the cost of living.
Still, for some long-timers, the WPA model has served as a map of their memories. "I have lived in this [ever-]changing city for 77 years," wrote a commenter on one recent blog post about it. "Hoping the current City Planners learn something from this model and what we have lost." For others, it seems to be adding historic depth to the place they live now: "Strange to see my block with almost no houses on it," a person scrawled in the visitor's log at the Mission branch. And for others, a microscopic view of San Francisco is a chance for a broader urban horizon. "I never knew it was so big!" wrote another library visitor. The signature: "Rosy, age 7."
---
Mapping gentrification
There's no single definition for gentrification, and no one way to measure it. Income, education levels, neighborhood amenities, and housing costs are all factors. But for many of us, gentrification is more a know-it-when-you-see-it situation.
That's part of the reason a mapping project by MIT featured in MapLab two weeks ago was so striking. By using novel data sets to compare the types of people spending time in local restaurants and shops, it offers a closer look at neighborhood change than normally is possible. That made me curious to hear from MapLab readers about other examples of mapping urban transformation, and you didn't disappoint.
Paul Bindel wrote in offering a number of ideas, including Governing's nice interactive map of gentrification in Denver, which is based on changes in median income and home values.

Bernardo Loureiro pointed out a controversial project from a few years back, also from MIT, that used Google Street View images to gauge how "safe" certain neighborhoods look compared to others. "In my opinion it turned out to be much more about people's perception of safety, which in turn is directly connected to gentrification and neighborhood change," Loureiro wrote.
And Allison Lau wrote in offering a historical perspective on America's capital city—"Mapping Segregation in Washington D.C.," an online project that looked at neighborhoods changed throughout the 20th century, on the 50th anniversary of the Fair Housing Act. "It reveals the impact of restrictive housing and redlining on race and urban gentrification in past and present day D.C.," Lau wrote.

---
Mappy links
Risky business: A crime-tracking app may mirror little more than paranoia. (CityLab) I'm itchy just reading this: Where climate change will make mosquito domination the worst. (CityLab) No bias? Map your county's level of political prejudice. (The Atlantic) A stone's throw: Magnetic north is moving, and crumbly old walls can show where. (CityLab) When Fruit Belt meets "Medical Park": A Google Maps neighborhood name change threatens a Buffalo, NY neighborhood's existence. (Medium)
---
Everyone's a map lover. Some people just don't know it yet. Sign your friends up for this newsletter here.
See you in April!