business
SocGen Weighs Thousands of Job Cuts at Investment Bank
By
SocGen Weighs Thousands of Job Cuts at Investment Bank
By
Restructuring plan could also bring in partner for cash equity

Cost pressures and an ugly fourth quarter prompting changes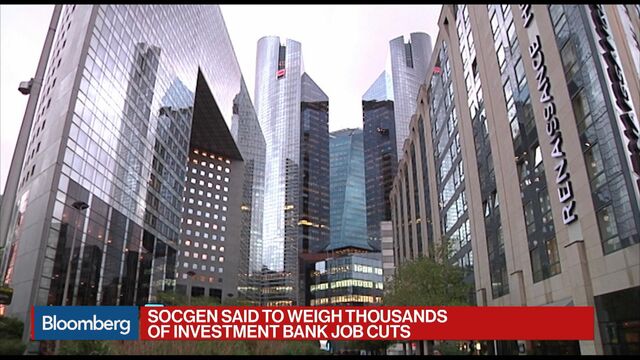 Want the lowdown on European markets? In your inbox before the open, every day. Sign up here.
Societe Generale SA is drawing up plans to cut jobs at its investment bank and find a partner for its cash-equity business in a bid to offset increasing cost pressure from regulation, people familiar with the matter said.
The bank could cut hundreds or even thousands of jobs at its global banking and investor solutions unit, including roles in support functions such as finance and human resources, one person familiar with the situation said, asking not to be identified because the matter is confidential. SocGen is still weighing up which parts of the business would bear the reductions, the person added.
SocGen declined to comment.
SocGen's GBIS unit has more than 20,000 employees. One of SocGen's main French labor unions said Feb. 8 that the bank is bracing for significant cuts to trading jobs. Chief Executive Officer Frederic Oudea has said it's too soon to comment on any headcount decisions.
"In 2018, SocGen's investment bank wasn't in line with its own script in terms of revenue and cost-to-income," said Jonathan Fearon, an investment director at Aberdeen Standard Investments. "There needs to be remedial action."
SocGen rose as much as 2.7 percent in Paris trading and was up 1.8 percent at 25.43 euros as of 12:37 p.m. Still, the stock has fallen about 9 percent this year, missing the rebound of Europe's Stoxx 600 banking index.

The Paris-based group is seeking to cut 500 million euros ($567 million) of costs and review less profitable investment-banking activities after a grueling fourth quarter. The organization said earlier this month that the reductions would focus on some fixed-income and currencies activities.
Oudea reorganized his top management and hired senior traders from Bank of America Corp. last year to help reboot the global-markets business after the shock departure of investment-banking boss Didier Valet. Deputy CEO Severin Cabannes is now in charge of the GBIS unit and is readjusting a business plan that was crafted under Valet in 2017, when economic and market conditions were better.
Cabannes has recently told personnel representatives that top management will provide details on the cost-cutting measures within four to eight weeks, the CGT union representing SocGen employees said on a web posting Friday. The French bank has said that its top management contacts unions regularly as a part of a "constructive dialog" established over several years.
SocGen's board last year took the step of proposing a new four-year term for the CEO, and shareholders will vote on it at their annual meeting in May.
The bank has so far resisted the trend in France to hive off cash equity and research. However, it is now considering options to set up a joint venture, the person said.
Finding a partner for the stock brokerage business may take weeks or months, and keeping it within the group would be the default solution, the person said.
Several new ventures in equity brokerage could serve as a blueprint. Kepler Cheuvreux SA has partnerships with European banks including Credit Agricole SA to secure distribution of its research. Franco-German banking group Oddo BHF struck a deal with Natixis SA in 2017, which left French equity brokerage and research activities with the former, while the latter took on capital markets.
The reshuffles came as the European Union's MiFID II directive forces brokerages to charge clients separately for research and trading, leaving smaller players under pressure to consolidate.
"A good strategy of cost management is essential, but it must come with a strategy of revenue increase," Jean-Francois Gregoire, the new head of SocGen's global-markets business, wrote to involved teams, according to the CGT union posting. "Months to come will be difficult, but also exciting."
(
Updates with investment manager comments in fifth paragraph, union posting from 8th.
)