Markets
U.S. Stocks Rally Amid Trade Talk; Dollar Declines: Markets Wrap
By and
U.S. Stocks Rally Amid Trade Talk; Dollar Declines: Markets Wrap
By and
Ten-year Treasury yield drops; West Texas crude advances

Tech shares lead gains, Kraft Heinz plunges 28 percent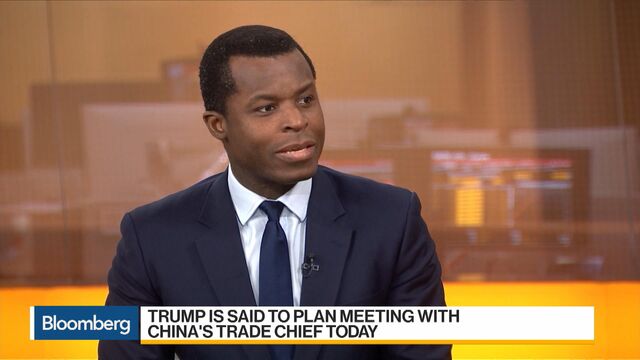 Want the lowdown on European markets? In your inbox before the open, every day. Sign up here.
U.S. stocks rallied on signs that negotiators are making headway in trade talks between America and China. Treasuries advanced and the dollar declined.
The S&P 500 rose for a fourth-straight week after President Donald Trump said if he sees progress he will extend a trade truce to avoid more than doubling tariffs on some imports from China at the end of the month. The benchmark padded gains after the Chinese delegation said it was extending its stay in Washington past Friday to continue talks. The greenback fell against the yuan traded offshore after Treasury Secretary Steven Mnuchin said the two sides had reached a final agreement on currency. The 10-year Treasury yield dropped below 2.66 percent.
"On the margin, this is probably going be digested as positive news as it should be, I mean we're making progress on the cage-rattling that could lead to a potential trade war," Terri Spath, Sierra Investment Management's chief investment officer and portfolio manager, said in an interview on Bloomberg TV. "But I think a lot of the market gains that we've seen year to date are processing and digesting and incorporating that news as already happening."
A plunge in Kraft Heinz shares weighed on indexes after the company announced a $15 billion writedown and a subpoena from the Securities and Exchange Commission, dragging down consumer-staples stocks and also Berkshire Hathaway, the top investor in the packaged-food giant.

Markets are cautiously optimistic on a truce as China and the U.S. face a March 1 deadline to avoid a further escalation in tariffs. Expectations of an accord between the world's economic superpowers combined with a less-hawkish stance from some of the biggest central banks has sent an MSCI global gauge of stocks surging 15 percent in less than two months. Still, concerns about global growth persist.
Elsewhere, emerging-market stocks increased for a fifth day, the longest streak since May. Oil rose above $57 a barrel in New York.
And these are the main moves in markets:
Stocks
The S&P 500 Index advanced 0.6 percent as of 4 p.m. New York time.
The Stoxx Europe 600 Index gained 0.2 percent.
The MSCI Asia Pacific Index rose 0.4 percent.
The MSCI Emerging Market Index rose 0.7 percent, rising for the sixth-straight day, the longest streak since May 14.
Currencies
The Bloomberg Dollar Spot Index fell 0.2 percent.
The euro was steady at 1.1332.
The British pound gained 0.1 percent to $1.3052.
The Japanese yen was little changed at 110.66 per dollar.
Bonds
The yield on 10-year Treasuries declined four basis points to 2.65 percent.
Germany's 10-year yield sank three basis points to 0.096 percent.
Britain's 10-year yield fell four basis points to 1.158 percent, the biggest tumble in more than a month.
Commodities
The Bloomberg Commodity Index advanced 0.4 percent, its fifth straight advance.
West Texas Intermediate crude gained 0.4 percent to $57.18 a barrel.
Gold rose 0.2 percent to $1,331.00.
— With assistance by Sarah Ponczek, Todd White, and Luke Kawa