Politics
GM's Job Cuts Draw Angry Reaction in Heartland That Backed Trump
By and
GM's Job Cuts Draw Angry Reaction in Heartland That Backed Trump
By and
Cutbacks hit Ohio, Michigan -- states that Trump won in 2016

'Not happy' Trump presses GM CEO to keep work at Ohio plant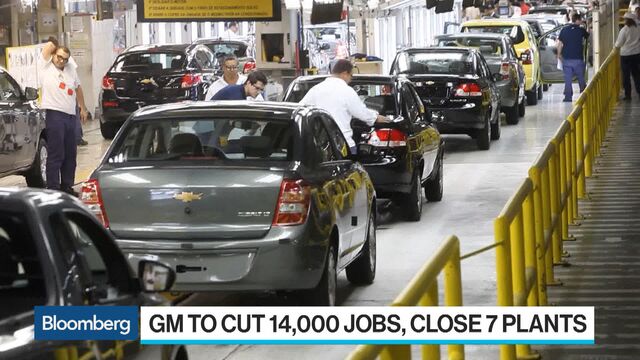 General Motors Co.'s plan to cancel production at U.S. factories and cut thousands of jobs drew a swift rebuke in the industrial heartland where President Donald Trump posted surprising electoral wins premised on his pledge to restore manufacturing.
Members of both parties criticized the move announced Monday, citing the government aid the company has received in recent years, from the 2009 federal bailout of the auto industry to the $1.5 trillion tax cut that became law last December.
"The company reaped a massive tax break from last year's GOP tax bill and failed to invest that money in American jobs," Democratic Senator Sherrod Brown tweeted, calling GM's move "corporate greed at its worst."
GM said on Monday that it would cease production at vehicle assembly plants in Ohio, Michigan and in Ontario by the end of next year as part of a restructuring plan the company expects will include shedding some 14,000 salaried and factory workers. The plan also will end operations at plants that make transmissions and other components in Maryland and Michigan.
Trump ran for the White House on a pledge to revitalize beleaguered industrial communities across America, promising more jobs and more factories. In a 2017 rally in Youngstown, Ohio, near one of the factories GM announced it would cancel production, Trump said "after years and years of sending our jobs and wealth to other countries, we are finally standing up for our workers and for our companies."
Related: GM Plans More Than 14,000 Job Cuts, Seven Factory Closings
Trump's victories in Ohio and Michigan helped seal his electoral vote total and the presidency. Trumbull County, Ohio, where the village of Lordstown is located, backed him with 51 percent of the vote after four years earlier giving Barack Obama 60 percent of the vote.
On Monday, Trump said he was unhappy with GM's plans to end Chevrolet Cruze output in Ohio, telling reporters he was "very tough" with GM Chief Executive Officer Mary Barra during a conversation in which he pressed her to build a different vehicle at the plant.
"I stressed the fact that I am not happy with what she did," Trump said as he departed the White House for campaign rallies in Mississippi. "You know, the United States saved General Motors and for her to take that company out of Ohio is not good."
Lordstown Mayor
Barra was scheduled to meet with White House economic adviser Larry Kudlow on Monday following the automaker's announcement, a White House official said.
Arno Hill, the mayor of Lordstown, home of the hulking factory where GM now plans to stop producing the Cruze next year, said the mood in the village of about 3,000 people was "somber."
"I will say I'm not the happiest guy in town," Hill said in a phone interview. Still he added he was holding onto hope GM would use the massive facility to build a new product. "They said they were ceasing production, not shuttering."
Jim Graham, the former president of the United Automobile Workers local that covers employees at the Lordstown plant, called the announcement "depressing," adding: "Hopefully we can do something."
Representative Tim Ryan, a Democrat whose district includes the Lordstown plant, called for congressional hearings on how GM spent what he said was billions of dollars in tax cuts.
Tax Overhaul
"The American people deserve to know if the tax cuts they paid for are being used to inflate corporate profits at the expense of their economic security and the survival of American workers," Ryan wrote in a letter to leaders of the House Ways and Means Committee. He urged them "to investigate the outcome of this corporate tax handout."
Senator Rob Portman, a Republican from Ohio, helped shepherd through landmark corporate tax cuts last year as a senior member of the Senate Finance Committee, of which Brown is also a member.
"I am deeply frustrated with General Motors' decision," Portman said in a statement.
The progressive group Not One Penny estimated GM's savings from the tax plan total more than $500 million. The group opposed to the tax overhaul and said GM's decision to close factories and cut jobs show the legislation was a failure.
"General Motors' decision to gut its workforce epitomizes the bad corporate behavior Republicans in Congress have incentivized for generations," said spokesman Ryan Thomas. "Instead of using its massive tax savings to increase employee wages or invest in its workforce, GM is shuttering plants and cutting jobs to increase profits and further enrich shareholders."
Bailout Aftermath
In 2009, GM and Chrysler filed for Chapter 11 bankruptcy reorganizations guided by the Obama administration and bankrolled in large part by taxpayers.
Steve Rattner, the head of former President Barack Obama's auto task force who oversaw the GM and Chrysler bailouts, said the announcement shouldn't be construed as a violation of the bailout agreement because the industry has changed and the companies need to be able to adapt.
"No, I don't think these violate the 2009 agreement, in part because we always made clear that GM should be free to run its business in the ordinary course," Rattner said. "It's important for GM to be free to adjust its business accordingly."
In a statement announcing the decisions, GM said the restructuring would generate cash savings of about $6 billion that will be needed as the company races to develop autonomous vehicles and a larger portfolio of electric cars.
"The actions we are taking today continue our transformation to be highly agile, resilient and profitable, while giving us the flexibility to invest in the future," Barra said in a statement.
— With assistance by Laura Davison
(
Updates with Trump comments starting in seventh paragraph.
)