Markets
Cannabis Industry Is Facing a Shakeout, Aphria President Says
By
Cannabis Industry Is Facing a Shakeout, Aphria President Says
By
Midsize Canadian firms may struggle to survive: Ripshtein

Shortages are likely to be resolved by early next year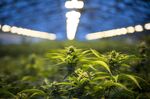 There's a shakeout coming to the Canadian cannabis industry and midsized companies may find it hardest to survive, according to the new president of Aphria Inc.
"There will be a group of companies at the top, the big producers, and some smaller producers at the bottom, like craft beer," Jakob Ripshtein said in an interview at Bloomberg's Toronto office. "I suspect there will be some in the middle who will be very challenged to stay around."
Canada legalized recreational marijuana on Oct. 17 and many in the industry believe it's headed for a wave of consolidation as companies adjust to the realities of the market.
Ripshtein joined Aphria, the fourth-largest cannabis company by market value, as chief commercial officer in May and was promoted to president earlier this month. Prior to that, he spent 10 years at Diageo Plc including a stint most recently as chief financial officer of Diageo North America. Diageo is watching the cannabis business "very closely," Chairman Javier Ferran said in September, as several big beverage companies explore the possibility of cannabis-infused beverages. In August, Constellation Brands Inc., maker of Modelo Especial beer and Robert Mondavi wine, plowed $3.8 billion into Canopy Growth Corp.
Read More: Pot Stampede Quickens as Beer and Soda Makers Vie for New Market
Ripshtein declined to say whether Aphria has spoken to Diageo except to say it's had "conversations with a variety of industries." He said a large, established partner would be beneficial to any company trying to develop recreational cannabis products.
"Can you create a better consumer adult-use outcome if you partner big corporations with cannabis? I do believe that," he said.
Aphria Chief Executive Officer Vic Neufeld predicted five days before legalization that Canada would face shortages of legal pot, a forecast that proved to be prescient. Citing supply-chain issues, labor shortages and delays in getting licenses and excise stamps from the government, Neufeld said Aphria would be unable to meet demand in the first two to three months after legalization.
Ripshtein said he believes the shortages will be fixed quickly. "I think you'll find early next year it's going to resolve itself," he said.