deals
The Breakup of a German Icon Hands Activists a Big Win
By , , and
The Breakup of a German Icon Hands Activists a Big Win
By , , and
Investors have argued that Thyssenkrupp was too complex

Thyssenkrupp shares recorded the biggest gain in nine years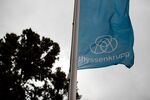 The breakup of Thyssenkrupp AG will hand activist investors their biggest win yet in Germany.
The company on Thursday announced a plan to split itself in two, buckling to pressure from Swedish firm Cevian Capital AB and Paul Singer's Elliott Management Corp. Unions, local politicians and even Chancellor Angela Merkel had argued for keeping Thyssenkrupp intact.
While activist-led boardroom fights are common corporate practice in the U.S., it's still rare in Germany, where the traditional approach to decision-making is based on consensus between employees and shareholders. That's quickly changing as European companies find themselves under scrutiny by large, vocal shareholders.

Nestle SA has bought and sold businesses at an accelerated pace after pressure from Third Point, the activist fund run by Dan Loeb. Elliott took control of Telecom Italia SpA's board in May, and has argued for changes including a spinoff of the phone network.
Thyssenkrupp's new model is welcome because it will help avoid a bigger break up of the firm, said Knut Giesler, regional chief of the powerful IG Metall labor union.
"It offers an opportunity for all areas of the company to develop a sustainable business strategy," he said.
Thyssenkrupp shares slipped 0.5 percent on Friday, paring yesterday's 9.9 percent rally, which was the biggest in nine years.
The company will divide business two categories. One, called Thyssenkrupp Industrials, will combine elevators, automotive supplies and plant construction. The other, called Thyssenkrupp Materials, will run steel and metal-focused operations.
Read more about Thyssenkrupp and other German conglomerates:
While Thyssenkrupp's overhaul happened under duress, it underscores a trend sweeping through Germany's traditional corporate icons: the dismantling of conglomerates.
Through a series of spinoffs, disposals and joint ventures, engineering giant Siemens AG is in the midst of transforming itself from a lumbering aircraft carrier into a more nimble fleet of ships, in the words of CEO Joe Kaeser. Daimler AG is breaking up into three legally separate units -- cars, commercial vehicles and mobility services -- to eventually open the door to deals and spinoffs.
As digitalization accelerates the pace of business and globalization creates new competitors, conglomerates like Thyssenkrupp have become a dying breed. General Electric Co. is exiting oil and health care, and Philips in 2016 split into lighting company Signify NV and health-care specialist Philips NV.
In the case of Thyssenkrupp, the restructuring follows months of turmoil sparked by executive resignations, pressure from activist investors and losses at its industrial division. The company has run without a permanent chairman and chief executive officer since July.
The breakup comes weeks after the labor union initiated talks with Cevian and the top shareholder, the Alfried Krupp von Bohlen und Halbach Foundation, about Thyssenkrupp's future, bridging what's been a contentious divide.
"The labor representatives are backing the move," said Markus Grolms, secretary at labor union IG Metall and Thyssenkrupp's interim Chairman.
Cevian, the second-largest shareholder, said on Thursday that it also supports the split. The investment firm had argued that a complicated business structure was responsible for Thyssenkrupp's weak performance.
"This will reduce complexity, promote entrepreneurial freedom and agility," said Lars Forberg, co-founder of Cevian. "This strategic decision is an important step to tackle the underperformance of the past."
— With assistance by Chris Reiter
(
Updates with quote in the sixth paragraph, share price in the seventh.
)