politics
Trump 'Wants Answers' From Rosenstein and Justice, Sanders Says
By and
Trump 'Wants Answers' From Rosenstein and Justice, Sanders Says
By and
Press Secretary won't say if Trump will fire Deputy AG

Meeting Thursday follows report Rosenstein suggested taping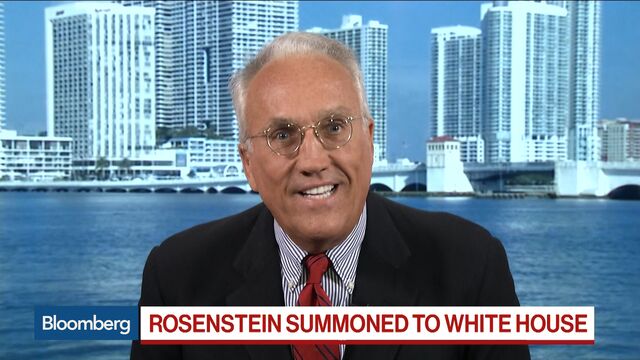 President Donald Trump is disappointed with Justice Department actions, including some related to Deputy Attorney General Rod Rosenstein, and those will be discussed by the two on Thursday along with Rosenstein's fate, according to a White House spokeswoman.
"The president has been disappointed by a number of actions that have taken place at the Department of Justice and he wants answers to some of the questions that he has," White House Press Secretary Sarah Sanders told Fox News Tuesday.
"Some of them have to do with Rod Rosenstein and some of them have nothing to do with him, but it is the Department of Justice and it should work to actually fix and hold up law and order not complicate or undermine law and order," she added.
The two men are scheduled to meet face-to-face Thursday to discuss Rosenstein's future, after a person familiar with the matter said Rosenstein told White House Chief of Staff John Kelly that he was resigning. Rosenstein's current status and future intentions were mired in confusion Monday in the aftermath of reports that he'd suggested to colleagues last year that he would secretly record conversations with Trump.
Sanders declined to say whether Rosenstein would be fired or whether his resignation would be accepted, if offered. "I'm not going to get ahead of the president's decision-making," she said in a separate interview with ABC Tuesday. "The president wants to make sure they're focused on what they should be."


Trump on Monday didn't answer a question about what may happen to Rosenstein.
"I spoke with Rod today and we're going to have a meeting on Thursday when I get back to the White House," he said.
Rosenstein, who oversees the Russia probe run by Special Counsel Robert Mueller, visited the White House Monday for a previously scheduled meeting. Other media reports said that the deputy attorney general expected to be fired.
The dispute concerning details of what Rosenstein discussed with his colleagues last year about covertly taping the president set off a firestorm in Washington.
A person who was present at that meeting said he was joking, but the New York Times, which first reported the incident on Friday, cited secondhand accounts indicating Rosenstein was serious about the proposal. The Times said Rosenstein also discussed identifying cabinet members willing to invoke the 25th Amendment, which provides for the removal of a president who's unfit for office.
The departure of Rosenstein, who named Mueller to be special counsel in May 2017, has enormous implications for the Russia investigation and for the president. A successor to Rosenstein would have the power to fire Mueller or rein in his investigation. Rosenstein's resignation was reported earlier Monday by Axios.
QuickTake: All You (and Trump) Should Know About Impeachment
Democratic Senator Kirsten Gillibrand said Mueller's probe into Russia's interference in the 2016 election -- including whether anyone close to Trump colluded in it and whether Trump sought to obstruct the inquiry -- needs additional protection in light of Rosenstein's expected departure.
Protecting Mueller
"The Senate must step up to protect the Special Counsel immediately," she said in a tweet. "We must pass the bipartisan bill to protect the Mueller investigation. The American people deserve answers about Russian interference in our democracy."
Current and former government officials, including lawmakers, had long warned Trump against firing or pushing out Rosenstein. Senate Democratic Leader Chuck Schumer warned Trump against seizing on the report that Rosenstein suggested covertly taping him.

"This story must not be used as a pretext for the corrupt purpose of firing Deputy Attorney General Rosenstein in order install an official who will allow the president to interfere with the Special Counsel's investigation," Schumer said. He added that many "White House and cabinet officials have been reported to say critical things of the president without being fired."
A number of Republicans also voiced support for Rosenstein.
John Cornyn, the second-ranking Senate Republican, said Rosenstein has "done a good job in a tough position. But it's not my call." He added, though, that it would be "problematic" for Trump to win Senate confirmation of a successor as deputy attorney general.
Senator Orrin Hatch of Utah, a member of the Judiciary Committee, said,"I like Rosenstein, and I think the president does too."
'Witch Hunt'
Mueller has charged 25 Russian people and companies for election interference. He also has won guilty pleas and cooperation agreements from people around Trump, including former campaign chairman Paul Manafort and former National Security Adviser Michael Flynn. Trump has often dismissed as a "witch hunt" the inquiry into possible collusion with Russia and whether Trump conspired to obstruct justice.
Rosenstein made the decision to name a special counsel days after he took charge of the Russia probe, which he inherited when Attorney General Jeff Sessions recused himself from the matter. Trump has mocked and criticized Sessions for doing so.
Naming Replacement
Trump can install a temporary replacement as deputy attorney general until he nominates a successor to Rosenstein who would have to be confirmed by the Senate.
However, the Justice Department has a line of succession that could let Solicitor General Noel Francisco assume control of the investigation. One question is whether that would be considered inappropriate given that Francisco is a former partner of the Jones Day law firm, which has represented Trump for years.
As solicitor general, Francisco has staunchly defended Trump administration policies while pursuing long-held conservative legal goals.
He successfully defended Trump's travel ban, drawing criticism for saying at argument that the president had "made crystal clear" he wasn't trying to impose barring Muslims. Francisco later sent the court a letter saying he had misstated the date on which Trump supposedly made those comments. 
He reversed what had been the Obama administration's position on a number of high-profile issues in the court's last term.
Earlier this year, Francisco was photographed having dinner in downtown Washington with Sessions and Rosenstein in what some viewed as a show of support for an attorney general who was being sharply criticized by the president. 
Francisco has been studiously silent about the Mueller probe, at least in public.
Rosenstein, 53, was chosen by Trump to be the No. 2 official at the Justice Department last year. He previously served for 12 years as U.S. attorney for the District of Maryland during the administrations of Presidents George W. Bush and Barack Obama. Rosenstein joined the Justice Department in 1990 and has been viewed as a respected public servant, credited with helping reshape the department's priorities.
Republican Critics
In May, he stood up against Republican lawmakers who drafted articles of impeachment against him for refusing to turn over internal Justice Department documents that they said would reveal the questionable origins of the Russia probe.
"There are people who have been making threats, privately and publicly, against me for quite some time," Rosenstein said at a Law Day event in Washington. "I think they should understand by now the Department of Justice is not going to be extorted. We're going to do what's required by the rule of law."
Republican Representative Jim Jordan, a House Judiciary member who has been among the lawmakers most critical of Rosenstein and the Russia probe, said on Twitter Monday that the deputy attorney general needs to appear before the panel regardless of whether he keeps his job.
"You can't have the head of the Justice Department (even if it's sarcasm) talking to subordinates about recording the Commander in Chief," Jordan said. "He needs to answer our questions."
But Rosenstein also riled some of Trump's critics in 2017, when he wrote a controversial letter outlining the case for firing then-FBI Director James Comey, saying he made "serious mistakes" in his handling of the probe into Hillary Clinton's use of a private email server. Trump cited Rosenstein's letter in firing Comey, although he later said it was because of the Russia investigation.
Trump grew increasingly angry at Mueller's investigation, and at Rosenstein's supervision of it. He discussed dismissing Rosenstein with aides at the White House in April, a person familiar with the matter said.
Trump and some Republican lawmakers have pressed the argument that Mueller's inquiry should be shut down because it was irreversibly tainted by improper actions early in the inquiry, well before Mueller was appointed.
Rosenstein named Mueller as special counsel after Trump fired Comey, who had been overseeing the investigation. Rosenstein took control of the inquiry because Attorney General Sessions, an early Trump campaign supporter, recused himself from any matters related to the 2016 election, a move the president has openly derided.
"I don't have an attorney general. It's very sad," Trump said in an interview with Hill.TV, the Capitol Hill newspaper's online TV channel, that aired on Sept. 19.
— With assistance by Jennifer Epstein, Sahil Kapur, and Greg Stohr