Business
ING to Pay $900 Million to End Dutch Money Laundering Probe
By and
ING to Pay $900 Million to End Dutch Money Laundering Probe
By and
Bank acknowledges shortcomings in case tied to Russian company

No additional fines expected from U.S. regulators, ING says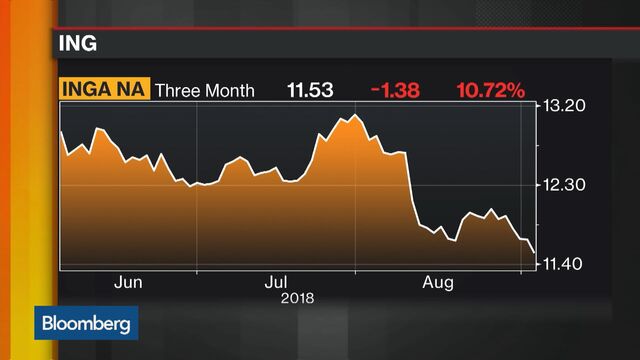 ING Groep NV agreed to pay 775 million euros ($900 million) to settle an investigation by the Dutch prosecutor into issues including money laundering and corrupt practices in one of the biggest fines ever given to one of the country's banks in a criminal case.
The settlement consists of a 675 million-euro fine and a 100 million-euro "disgorgement" payment, with the total amount taken as a one-time charge in the bank's third-quarter results. Executive Board members will give up their bonuses in 2018, according to a statement from the Amsterdam-based bank on Tuesday.
Chief Executive Officer Ralph Hamers said "preventing the bank from being used for money laundering is a top priority for ING." The size of the team that handles customer due diligence in the Netherlands has tripled to 450 full-time positions, and more measures are being taken, he said.
ING shares declined as much as 3.4 percent on Tuesday after the announcement, and were down 2.9 percent at 11:43 a.m. in Amsterdam.
'Serious Shortcomings'
The lender acknowledged "serious shortcomings" in executing customer due diligence policies to prevent financial crime at its Dutch unit from 2010 through 2016. ING is taking action against a number of current and former senior employees in relation to the case, though it expects to resolve the matter with the U.S. Securities and Exchange Commission without further fines, according to the statement.
The investigation focused on the bank's role in matters including unusual payments by VimpelCom Ltd. to a company owned by a Uzbek government official, the Dutch public prosecution office has said. VimpelCom, which has changed its name to Veon, pleaded guilty in 2016 to violating U.S. corruption laws and agreed to a $795 million settlement with U.S. and Dutch authorities in a case related to its subsidiary in Uzbekistan. ING is suspected of failing to report unusual transactions or not reporting them in time, the prosecutor said.
The settlement removes uncertainty, but adds to the bank's capital pressures, Bruce Hamilton, an analyst at Morgan Stanley, wrote in a note. The 775 million-euro outlay equates to a 24 basis-point hit to common equity Tier 1 capital, a key measure of financial strength, in the third quarter, he said.
Dutch Finance Minister Wopke Hoekstra said ING's money laundering case is "extremely serious," ANP reported. He plans to discuss the case with the regulator soon, and will ask ING's Supervisory Board for an explanation.
The 100 million-euro disgorgement payment "represents the underspend by ING Netherlands over the period in scope on staffing for implementation and execution" of customer due diligence policies and procedures, the bank said.
The measures against a number former and current senior employees include withdrawing bonuses and "suspension of duties," according to the bank. ING announced a raft of new measures intended to strengthen its compliance and know your customer requirements, including client risk committees across business unit and a program to strengthen the bank's internal compliance culture.
(
Updates with comment by Hamers in third paragraph.
)