Markets
China's African Swine Fever Outbreak Could Spread to Korea, SE Asia
Bloomberg News
China's African Swine Fever Outbreak Could Spread to Korea, SE Asia
Bloomberg News
FAO urges Asia regional collaboration on African swine fever

China investigating sources of outbreaks in four provinces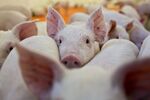 The Korean peninsular and Southeast Asia may be next to report outbreaks of African swine fever after the rapid onset of the deadly pig disease in China, according to the United Nations Food and Agriculture Organization.
China announced its fourth case of the disease last week in the province of Zhejiang, four days after it was reported in neighboring Jiangsu, and some 1,200 kilometers (745 miles) from where an initial outbreak was discovered Aug. 3 in northeastern Liaoning province.
"Its detection and diverse geographic spread of the outbreaks in China have raised fears that the disease will move across borders to neighboring countries of Southeast Asia or the Korean Peninsula where trade and consumption of pork products is also high," the FAO said Tuesday in a statement.
The outbreak in China is significant as the nation is home to more than half the world's hogs, and pork is the country's principal source of dietary protein. Pork is also popular in the Korean peninsular and Southeast Asia. China has so far culled 24,000 pigs in the four affected provinces, according to the FAO.
Besides being capable of killing every pig it infects, the virus is highly contagious and persistent. There's no vaccine to protect hogs from catching it and culling infected animals and imposing strict containment measures are the way to limit further spread. 
The FAO is communicating with authorities in China and neighboring countries to raise preparedness should the disease spread, the FAO said in the statement.
The strain found in China is similar to one that infected pigs in eastern Russia in 2017, but so far China Animal Health and Epidemiology Center hasn't found evidence of the latest outbreak's source or linkages, the FAO said.
Read More: The Deadly African Virus That's Killing Chinese Pigs
"The movement of pig products can spread diseases quickly and, as in this case of African swine fever, it is likely that the movement of such products, rather than live pigs, has caused the spread of the virus to other parts of China," said Juan Lubroth, FAO's chief veterinarian.  
Chinese authorities are making nationwide checks on individual farms and have offered to compensate farmers for any loss of livestock. The measures are intended to improve containment measures after an outbreak of another viral disease, porcine reproductive and respiratory syndrome virus, known as blue-ear disease in China, in 2006 caused the death of millions of pigs and led to a quadrupling in pork prices the following year.
— With assistance by Shuping Niu