If Your Car Is Stuck in Traffic, It's Not Uber and Lyft's Fault
Cities have been congested and transit has been poorly used for years before ride-hailing companies set up shop.
Robin Chase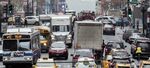 City streets are a scarce resource, and they can get very congested. During peak times, we want to move as many people through these corridors as efficiently as possible. On this, I think we all agree.
But some people want to lay the blame for urban traffic congestion on the growing popularity of ride-hailing services like Uber and Lyft, and a recent report by transportation consultant Bruce Schaller gives support to this idea: Schaller's analysis shows that, over the past six years, ride-sharing services have added 5.7 billion vehicle miles traveled and increased trips by 241 percent in nine major U.S. cities.
That sounds like a lot! But Schaller's framing sets us up for failure. Cities have been congested and transit has been poorly used for years before these companies set up shop.
According to the 2018 Federal Highway Administration travel survey, in urban areas that also have rail (that is, probably including the nine major cities referenced) taxis plus ride-hailing plus carsharing account for just 1.7 percent of miles travelled by urban dwellers, while travel by personal cars account for 86 percent.
Many riders—60 percent, Schaller notes—are using ride-hailing services instead of more sustainable modes of transport, like public transit, walking, or bicycling. Ridership of these transportation network companies (or TNCs) is soon expected to pass local bus ridership.
But when we look at the whole, we see that people choose to ride by bus for 4 percent of their trips, and by personal car for 73 percent. Why wouldn't we presume that the same fraction of trips taken in a personal car could also have been accomplished by foot, bike, or transit? Good question! But neither the federal travel survey, nor New York's own mobility survey thought to ask.

Transportation is a network of multiple modes: by foot, bike, scooter, metro, bus, for-hire car, shared car, personal car, or a combination. We usually have choices, based on price, duration, convenience, and ability. And these choices are profoundly influenced by government policy: parking requirements for buildings, public rights of way and lane/curb space allocations, and basic price signals. Is metered parking appropriately priced? Is there congestion pricing?
The primary point of Schaller's analysis is that the ride-hailing companies that are expanding their shared-trip offerings like Lyft Line and UberPool do little to reduce congestion (and might add to it), that people use these services instead of transit, and that therefore we should apply surcharges to trips and cap their vehicle volumes before ... before what? Streets are congested and too few people choose mass transit now, like last year and the year before that and the year before that.
Needless to say, as a co-founder and former CEO of the car-sharing service Zipcar, I am a fan of the potential for shared trips and shared cars. What I learned from Zipcar is that when people give up their personal vehicle and have to start paying full costs each time they use a car, they will start to choose to walk, bike, and ride transit a whole lot more. In cities with great public transit networks, ride-hailing has encouraged some people to give up their own car. These new economics have surely come into play for them as well.
I am disappointed that the shared trip offerings aren't yet delivering on getting more people into each vehicle. But we are at the earliest stages of this whole shift. We need more people participating to get the origin-destination-timing match volumes we need to make it sing. Today, 75 percent of personal car commutes are alone.
What we need is not demonizing of ride-hailing services for "new" traffic problems but fair user fees across all modes to encourage more efficient use of our streets. So far, more than 100 cities and companies, including Uber and Lyft, have committed to supporting this idea through the Shared Mobility Principles for Livable Cities.
Part of the reason this debate is so important now is the shift to autonomous vehicles in urban settings appears to be just around the corner. Schaller notes that "without public policy intervention, the likelihood is that the autonomous future mirrors today's reality: more automobility, more traffic, less transit, and less equity and environmental sustainability." I totally agree.
Special taxes, fees, and caps on ride-hailing vehicles are not the answer. My strong recommendation for cities is to make walking, biking and all shared modes of transit better and more attractive than driving alone—irrespective of the vehicle (personal car, taxi, or autonomous vehicle). Reallocate street space to reflect these goals. And start charging all vehicles for their contribution to emissions, congestion, and use of curbs.