business
Traditional TV Has an Answer to Netflix: 'Love Island'
The British broadcaster's show has become a must-watch in prime time, proving linear programming may just have a future after all.
By
Traditional TV Has an Answer to Netflix: 'Love Island'
The British broadcaster's show has become a must-watch in prime time, proving linear programming may just have a future after all.
By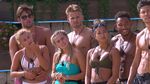 This summer's escapist relief for Brexit-bruised Britain comes from a group of scantily clad millennials cavorting on a Mediterranean Love Island.
Six nights a week, millions of viewers young and old assemble in front of their screens in a distinctly retro ritual, to watch an hour of linear TV that becomes the hot topic of country-wide water-cooler talk the next morning. The show is now in its fourth season, but it's bigger than ever. On average, it draws 2.7 million a night—4 million with catch-up viewing included—a windfall for ITV Plc.

"It's becoming quite a phenomenon," said Kelly Williams, ITV's commercial head. "It's genuinely one of those shows which is part of British culture now."
Frequently the most-watched program in the highly competitive 9 p.m. viewing slot, Love Island is a cornerstone in Chief Executive Officer Carolyn McCall's defense against the shift in ad spending to Facebook Inc. and Alphabet Inc.'s Google and viewer defection to formidable streaming competitors. Next week, McCall, who joined in January from EasyJet Plc, will make her first pitch to investors about the future of the free-to-air broadcaster, best known for "Coronation Street," the world's longest-running soap opera.
In Love Island, contestants couple and re-couple, seeking their best match. Periodic evictions and the arrival of new islanders adds drama, and viewers vote for their favorite and least favorite duos.
"It's a big success in the Big Brother mould," said Mostyn Goodwin, a partner at OC&C Strategy Consultants in London, referring to the hit reality-TV show that also focused on everyday people living together, isolated from the outside world.
The show's strong ratings among those aged 16 to 34—many of whom stream the show on ITV's digital on-demand service—is evidence traditional media companies can ward off the threat of Netflix Inc. and Amazon.com Inc., provided they have the best programs, said Paul Lee, global head of research for technology, media and telecoms at Deloitte in London.
ITV is reaping the commercial benefits: the average cost of a 30-second ad spot during Love Island is about 50,000 pounds ($65,000), seven times the norm for an ITV2 show because of the inflated ratings, according to a person familiar with the matter, who asked not to be identified discussing sensitive commercial information.
The show has a range of product-placement deals and partnerships. Contestants get texts on Samsung Electronics Co. phones, use makeup from Coty Inc.-owned Rimmel London and raved at a Ministry of Sound-themed pool party on July 5. The next day, the Ministry of Sound's "Pool Party" album went to No. 1 in the U.K, with ITV sharing the royalties.
Online fashion outlet Missguided, one of 11 official sponsors, gives contestants outfits to wear, which viewers can then buy through the Love Island app. The clothing lines have been selling out within hours of the broadcast.
"Every garment that we've had an islander on the show wear has gone into the top 10 and most have sold out," said Kenyatte Nelson, Missguided's chief customer officer.
Having Love Island plus the soccer World Cup—where England  reached the semi-finals—has buoyed ITV this year. In May, the broadcaster predicted that first-half ad sales would be up 2 percent. Concern about ITV's strategic positioning has weighed on the stock, which is little changed over the past year and down 38 percent from a peak of 280.70 pence three years ago.
Netflix plans to spend $8 billion on content in 2018. ITV's 2019 programming budget is 1.1 billion pounds, meaning it could be outgunned for the best writers and actors, said Neil Campling, an analyst at Mirabaud Securities.
Rising global spending on content can be an opportunity for ITV too, however. Netflix recently bought the catalog rights to seasons one and two of Love Island, and ITV has sold the format to Denmark, Norway, Germany and Australia.
McCall will need to work hard to grow viewing at ITV, including in streaming, after the latest season of Love Island ends, said Bloomberg Intelligence analyst Matthew Bloxham.
"It's one show," Bloxham said, adding that ITV needs to grow its non-advertising related revenues such as subscriptions. "They clearly need to find other genres and content that can replicate that success."