The Reluctant Undertakers
What does a city do when homeless people die?
Molly McCluskey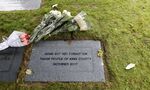 WASHINGTON, D.C.—When Reverend Dr. Catriona Laing arrived at her office several weeks ago, she found a note from a parishioner that a homeless member of her congregation had committed suicide on a construction site nearby. Citing confidentiality, the city wouldn't provide any information on the man's death. Through the grapevine of churches like hers who serve the city's homeless, however, she was able to determine the details, confirm that his next of kin had been notified, and host a memorial service.
"He was a regular member of our community," said Laing, the associate rector of the Church of the Epiphany. "It was fitting that we have a good send-off for him, a proper send-off."
There is no formal tracking of nationwide mortality rates among the homeless, and advocates who work with homeless communities often struggle to get information when someone passes away.
"More often than not, we'll hear through the grapevine that someone's died," Laing said. "It could take a while to put the pieces together, to find out if they had family or how to reach them."
Once the pieces are put together, however, religious organizations and charities often step in to honor the lives of those who may have died without identification, or a readily identifiable next of kin. These same advocates, however, say cities need to do more to ensure that their residents have the dignity in death that they often weren't provided in life.
"The person becomes a whole person again in death," Laing said, "where in life, they may have been just a number."
Some 553,742 persons experienced homelessness on a single night in 2017, an increase of .7 percent from the year before. Of those, 192,875 persons were sleeping rough. And some major cities including New York City and Los Angeles have seen greater increases over the past few years. According to a December, 2016 report on homelessness from the U.S. Conference of Mayors, Washington, D.C., has a homeless rate of 124 people per 10,000, the highest in the nation that year, and nearly double the national average.  

Among that homeless population in Washington, 45 people are known to have died without a home, according to Jesse Rabinowitz, an advocacy specialist with Miriam's Kitchen in Washington, who organizes an annual advocacy and memorial march to end homelessness.
"We tend to think of the homeless as dying from exposure in the winter, but the truth is they can suffer heat, a freak accident, or any number of fatal conditions that would be prevented with a basic medicine cabinet and a bed for rest," said Rabinowitz.
"Our mission as social services providers is to keep people alive," said Julie Turner, a social worker with the Downtown Cluster of Congregations Homeless Services Unit. "But the reality is, people who have problems, and lack healthcare, and sleep outside, at some point, are probably going to die. And they're going to need to be buried."
Policies for caring for the remains of someone who dies on the street vary greatly by city. Factors include whether they can be identified, if s/he was a military veteran, and if a next of kin can be located. Some counties like Los Angeles County and King County, Washington, hold the remains for unclaimed individuals and then host ceremonies to memorialize them in mass graves, featuring simple music, a blessing, and a farewell.
In King County, which contains Seattle, a simple cemetery marker reading, "Gone But Not Forgotten These People of King County" and the date belie the sheer number of those buried in one plot together.  In Los Angeles County the cremains of approximately 1,500 people were buried in the last ceremony in 2017, comparable to rates in years past in a tradition that dates back to 1896. In Las Cruces, New Mexico, a full police escort accompanied the ashes to the cemetery, in what is expected to become an annual tradition.

In addition to the unidentified, many cities also have procedures for burying those whose loved ones can't afford the costs of a burial or cremation. New York City offers $900 to low-income residents to help offset burial costs. And the Washington D.C. government allows $800 for a burial and $450 for a cremation at a city-designated funeral parlor. But the program can be difficult to access, as Turner has repeatedly discovered.
In 30 years as a social worker, Turner has attempted to access the funds on numerous occasions, most recently in 2016 to get assistance with the burial of one of the vendors of Street Sense. "It's always hard," she said. "We're often turned away. When we tried to access the fund the last time, we were told it was empty. Nobody pays as much attention to the fund as they should." (Multiple calls and emails to D.C.'s Department of Human Services, which oversees the fund, and the city's public affairs office, requesting comment on the program, were not returned.)
Other hurdles exist for people attempting to access financial assistance for burial. D.C. requires proof of income and resources. Maryland requires a verification of assets.
When such hurdles become insurmountable, charitable organizations, religious groups and even in one reported case, a coroner, have stepped in to pay for proper burials of those who have died on the streets. Local churches, many of which have their own affiliated cemeteries, have been known to donate plots, and absorb the costs of the service.
For Laing, holding memorial services for the members of her community that have passed away is essential not only to honor the deceased, but to celebrate the humanity of those left behind. In creating personalized services, with the individual's favorite music, and stories from their friends, and using his or her name, Laing said, the community reminds itself of the fullness of that individual.
"People have a right to die with dignity," Turner said. "There are many people who love and care for the homeless, and want to give them the burial they deserve, but the funds just aren't there."