CityLab Daily: We Need to Talk About Homelessness
It's growing, it's pervasive, and it's intractable. #USHomelessProject
By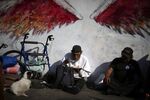 Keep up with the most pressing, interesting, and important city stories of the day. Sign up for the CityLab Daily newsletter here.
---
What We're Following
There's a lot of news in America right now. But today CityLab is joining outlets across the U.S. today to confront a more slow-simmering crisis: homelessness.
Some 553,742 people experienced homelessness in January 2017, according to HUD's 2017 Annual Homeless Assessment Report to Congress. That marked the first nationwide increase in seven years. The challenge is particularly acute in some of the largest and most expensive cities. New York and Los Angeles account for nearly a quarter of America's homeless population, with L.A. reporting an astounding 26 percent increase in 2017, as CityLab reported in December.
CityLab has over the past several years joined this consortium to spotlight the expansive nature of homelessness. It's growing. It's pervasive. And it's "intractable."
That's how the San Francisco Chronicle has described the problem in an ongoing and ambitious series on homelessness it hosts on its site. Audrey Cooper, the Chronicle's editor in chief, wrote of the project this week:
Homelessness has always been a fraught issue in the Bay Area. So many of us know we haven't done enough, while many others argue that we spend millions of dollars each year on ineffective or misguided programs. We should be able to have these informed and respectful debates: To what extent will we, as a community, help that man sleeping on the bench next to a lemonade stand? It is a responsibility of the media to intelligently provoke that dialogue, but it is up to you to do something about it.
Over the last year, CityLab has explored many potential solutions. The use of blockchain and other technologies to count and identify the homeless; the effectiveness of giving people access to running water; and efforts to rethink the design of homeless shelters. We have also confronted some of the changing politics. For one, new federal policies and proposals are rapidly trickling down to cities. For another, as some of the most expensive and unequal cities struggle with how to keep housing affordable, new questions are emerging about how much the largest corporations occupying those cities should contribute to that effort.
Nowhere was this more apparent than in Seattle, where a proposal to pass a so-called "head tax" to fund affordable housing and homelessness initiatives became the subject of intense conflict between city leaders and some of the largest corporations, most notably Amazon. A compromise tax that would have raised $47 million a year was passed unanimously by the Seattle City Council, to great celebration by city advocates. But it wasn't long before Amazon and other Seattle corporations bankrolled an aggressive effort to revoke the tax through ballot initiative. It took less than a month for that effort to result in a repeal of that very same law by the council.
"[T]his is not a winnable battle at this time. The opposition has unlimited resources," said Lisa Herbold, a council member who voted for the tax, and then for the repeal.
Was the tax the right solution? Many people didn't think so. But its fate raises questions about whether any kind of bold action can survive, as the crisis rolls on.
For more stories throughout the day, follow the hashtag #USHomelessProject.
—Nicole Flatow and Andrew Small
---
More on CityLab
What does a city do when homeless people die?
Molly McCluskey
The Supreme Court's swing vote on the 2015 "disparate impact" case shored up the Fair Housing Act.
Kriston Capps
Criminalizing Homelessness Doesn't Work
"Anti-vagrancy" laws are cruel, costly, and counterproductive. They make it even harder to escape homelessness.
Joseph W. Mead and Sara Rankin
Emergency shelters-of-last-resort are being squeezed out of America's downtowns. And the federal government isn't likely to help them out.
Kriston Capps
A new data project aims to help people understand one of the country's most complex and enduring challenges.
Tanvi Misra
---
Gimme Shelter

The chart above comes from a 2016 study on homelessness in various cities by the National League of Cities. It shows that Washington, D.C. had the highest rate of homelessness per 10,000 people, followed by Portland, Maine; Atlanta, Georgia; New York City and San Francisco.
Among the 32 U.S. cities examined by the study there's a higher rate of homelessness compared to the national average. The cities studied had 50.9 people experiencing homelessness per 10,000 people in the general population, compared to 16.9 homeless people per 10,000 people nationally. But those cities actually had a lower share of homeless people who went unsheltered, with just 24.7 percent sleeping rough compared to 31.6 percent in the U.S. overall.
---
More From the U.S. Homelessness Project
---
Tell your friends about the CityLab Daily! Forward this newsletter to someone who loves cities and encourage them to subscribe. Send your own comments, feedback, and tips to hello@citylab.com.