politics
New Jersey's Capital City Elects Gusciora as Its First Gay Mayor
By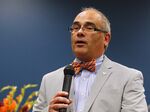 New Jersey's capital city of Trenton elected its first gay mayor, Reed Gusciora, a state legislator who co-sponsored a bill granting same-sex couples the right to marry.
A Democratic assemblyman since 1996, the 58-year-old Gusciora beat businessman Paul Perez in a Tuesday runoff, 52 percent to 48 percent, according to the Mercer County clerk's office. The two were the top vote-getters in a seven-way nonpartisan race in May.
Eric Jackson, Trenton's mayor since 2014, didn't seek a second term. Jackson's predecessor, Tony Mack, was removed from office and sent to federal prison after being convicted of corruption.
Turnout was 22 percent in the city of about 85,000, which has had budget struggles as a large portion of its property is owned by the tax-exempt state government. About half of the population is black and 36 percent Hispanic, and more than a quarter live in poverty. Less than half the residents are registered to vote.
Before it's here, it's on the Bloomberg Terminal.
LEARN MORE