markets
Latvia's Finance Chief Says ECB Is `Neutral' on Governor Scandal
By and
Governing Council meets in Riga this week to discuss QE end

Governor Rimsevics barred from office amid corruption probe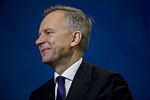 Latvia's finance minister praised the European Central Bank's "neutral" attitude on the corruption accusations against the country's governor.
"They have been very constructive with their public statements and been neutral, and I appreciate it highly," Dana Reizniece-Ozola said in an interview in her office in Riga on Wednesday. "They want to clarify the situation and create a precedent for the future."
ECB President Mario Draghi and his Governing Council colleagues are in the Latvian capital this week for a their annual session outside of Frankfurt. While the future of large-scale bond-buying will be the key topic of the meeting, the stand-off over Governor Ilmars Rimsevics is likely to come up during the press conference on Thursday evening.
Rimsevics is barred from exercising his office and from leaving the country after being briefly detained in February by the country's anti-corruption office. The restrictions -- which de facto deprive Latvia of a vote on the Governing Council -- are the object of a case at the European Union's highest court, with the ECB accusing Latvia of violating the principle of central-bank independence.
Read more: ECB meeting in Riga may be rather awkward
Rimsevics denies all the charges. On Wednesday, he said the measures preventing him from attending the meeting are a "a violation of the law."
"This is of course a clash between the national criminal prosecution laws and the principle of the independence of the ECB," Reizniece-Ozola said of the case currently being examined by the Luxembourg-based European Court of Justice. "That's the difficult task for the court to figure out where the fine line of the compromise lies."
The minister said the investigation against Rimsevics is still ongoing but reassured that the case will be closed and handed over to prosecutors in a "few more weeks." She stressed that the ECB has been informed about the allegations against the governor.
"The information as far as the prosecutor could give it was delivered to the ECB a while ago, so they could understand the context," she said. "As for the details, me or even the prime minister are not supposed to know the details while the investigation is going on to not disturb the activities with the law enforcement institutions."
Before it's here, it's on the Bloomberg Terminal.
LEARN MORE