politics
Italy Summons French Ambassador in Row Over Migrant Ship
By and
Foreign minister acts after Macron called Italy 'cynical'

Italy, Malta blocked access for migrant vessel Aquarius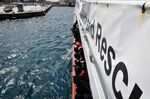 Italy's foreign minister summoned the French ambassador to Rome in an escalating row over the Italian government's decision to block access for a migrant rescue ship.
Foreign Minister Enzo Moavero Milanesi summoned the ambassador to a morning meeting "following the statements made yesterday in Paris on the Aquarius affair," his ministry said in an emailed statement on Wednesday.
French President Emmanuel Macron said on Tuesday that Italy was "cynical and irresponsible" over the migrant vessel which had been left stranded in the Mediterranean after Italy and Malta refused to grant it permission to dock. International law says the country with the nearest coastline is responsible for welcoming ships in distress, Macron told a cabinet meeting, according to government spokesman Benjamin Griveaux.

Italian Interior Minister Matteo Salvini, of the anti-immigrant League, has spearheaded a hardline stand on curbing arrivals from across the Mediterranean as a priority for the new populist coalition with the anti-establishment Five Star Movement. The Aquarius, with some 600 people saved from the sea over the last few weeks, is sailing to Spain after the country agreed to welcome the ship.
Defend Borders
"The plan is that the European Union should at last really take care of defending its borders," Salvini told newspaper Corriere della Sera on Wednesday. "The French act superior but they have pushed back more than 10,000 people at the borders with Italy."
French Foreign Minister Jean-Yves Le Drian told CNews television that the EU today is "not equal to the challenge" of handling migration "collectively, efficiently and humanely." He called for stronger external controls, cooperation with Africa, sending home migrants who were not entitled to remain, and countering traffickers.
"The law is when a boat is in trouble it's the country and the port that's closest that provides the rescue," Le Drian said. "It's because of the geographic situation of Italy that it's the one that receives the most boats, but we have to share this burden."
Gabriel Attal, a spokesman for En Marche, Macron's political vehicle, told Public Senat television on Tuesday that "the Italian government's position is sickening," adding it was "unacceptable to play petty politics with human lives as is happening now."
(
Adds Salvini stand, remarks from fourth paragraph.
)
Before it's here, it's on the Bloomberg Terminal.
LEARN MORE